Eirene Njeri Kamau proudly leads the way to present her achievement. The route is not simple: we go out of the house, along the wall surrounding her property, then through a gate to the site that was once her garden. Situated here are eight small corrugated-iron huts, which the 72-year-old Kenyan rents out.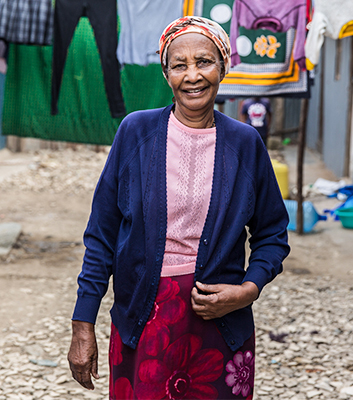 Over in the corner, however, is what we have really been brought here to see: four cabins containing squat toilets. The toilets belong to the huts and are fitted with a flushing system, a septic tank and a siphon that prevents odours escaping from the tank. A special lorry visits regularly to empty the sewage, which is then pre-treated at a local facility before being discharged into a river.
'I wanted my tenants to have access to a proper toilet,' Kamau says. She was able to afford her new toilets thanks to a programme to reform the water sector in Kenya. Through the programme, Kamau received a subsidy of 80,000 Kenyan shillings (around EUR 680), and then only had to pay the equivalent of EUR 430 herself. Kamau's tenants benefit from improved hygiene, fewer unpleasant odours and less time spent queuing. Previously, 40 people had to share a single latrine.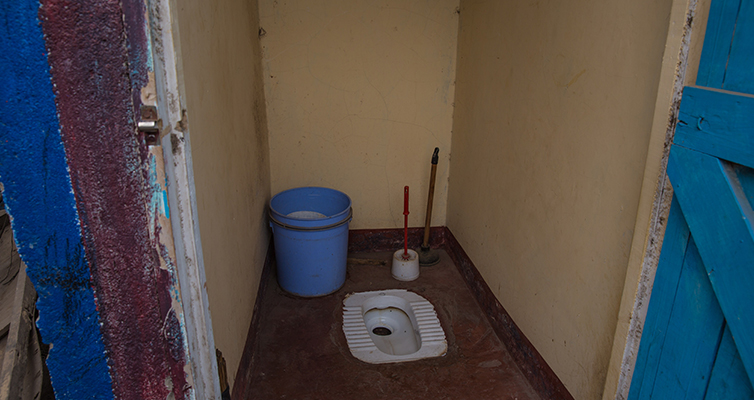 Improvements for 2.5 million people
The new toilets in Ongata Rongai, a town just over 15 kilometres south of the Kenyan capital Nairobi, are an example of the improvements in sanitation and clean drinking water supply that have been achieved in poor urban areas in Kenya. The project, which GIZ launched 15 years ago on behalf of the German Development Ministry, has improved sanitary facilities for half a million people and supplies clean drinking water to a further two million people.
New legislation on the water supply
Although access to clean water and proper sanitation has been acknowledged as a human right since 2010, for many, including in Kenya, it is not always a reality. Hygiene conditions are often dire, especially in the slums, and the population is growing. Kenya is home to some 52 million people, with this number expected to rise to 90 million by 2050. More than half of the population will live in cities – in areas that still lack a water infrastructure. In some cases, a single toilet is shared by hundreds of people, making living conditions undignified and allowing infectious diseases such as diarrhoea and cholera to spread faster.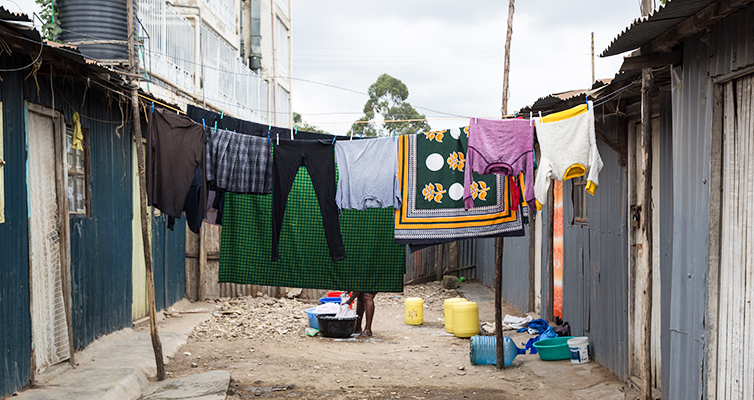 The project therefore focused primarily on improving the situation in poor regions. This was done through investment and reform. A new law regulating the water supply was introduced in Kenya in 2016, requiring the organisations concerned to commit to realising the human right to access clean water and sanitary facilities. In addition, the market has been made more professional. The utility companies, which often used to be informal suppliers, now require a licence. Previously, many suppliers were overwhelmed by financing and logistics. This left local people without water time and again, and wastewater disposal was often disorderly.
Consumers have their say
Consumer participation was also boosted systematically as part of the water programme, with consumers setting up 680 associations at local level. The associations are a point of contact for governmental institutions, end users and the 70 utility companies that now operate nationwide, and are involved in water supply planning. This is an important change. People are playing a part in realising the right to water, even in poor areas.
Having run for 15 years, the programme, which was supported by Germany, concluded in late 2018. 'We are confident that the Kenyan organisations now have sufficient knowledge to continue developing the water supply and sanitation without us,' says country director Stefan Opitz. Despite this success, he is aware of the reality: 'Challenges still remain.' Some 45 per cent of the urban population still have no access to clean water. And in rural areas, the first steps towards improving the situation have yet to be made.
Contact: Stefan Opitz: stefan.opitz@giz.de
August 2019