A school where the head teacher's office is a treehouse is not your average school. And a head teacher who has made peace education a priority of the curriculum is breaking new ground in Colombia. 'Peace isn't something you can simply learn. You have to fully embrace it, which is what we're doing here,' Ana Beatriz Rintá explains. She has been head teacher of the Puente Amarillo school near Villavicencio, some 70 km south-east of the capital Bogotá, for more than ten years. The classrooms are situated on a vast green campus, like little bungalows in a forest.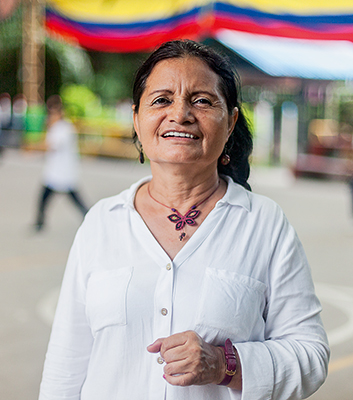 This peaceful, serene setting is in stark contrast to the history of the province in which the school is located. In Departamento Meta alone, with its population of 800,000, some 300,000 people were the victims of violence during the 50-year armed conflict. These rural areas, where the state was largely absent, were the main battlegrounds for the right-wing paramilitaries and left-wing guerrilleros. To date, the Colombian Government has registered nine million victims of the violent clashes nationwide – and this with a total population of 49 million. Hopes were high when the peace treaty entered into force at the end of 2016 following lengthy negotiations between Colombia's Government and the FARC, the largest guerrilla group. But the country is still a long way from stability, with political murders, attacks and illegal structures jeopardising peacebuilding efforts. For head teacher Rintá, however, there are no alternatives to the current path. 'We want a peaceful Colombia,' the 58-year-old says. 'It would be crazy to keep on going as before – and expect a different result. Future generations need to grow up in a different environment.'
This is what her staff are working towards. At the edge of a small area of marshland, the students are observing dragonflies. Away from the school buildings, there is a quiet reading corner with wooden benches nestled between trees. There are workshops for furniture making, swimming, music, gardening or making art from recycled materials. Alongside a staircase, a slide also leads down from the head teacher's treehouse. 'If the students are bored, it means the teacher has lost,' Rintá says. She wants to inspire the next generation – and spark their enthusiasm for peace.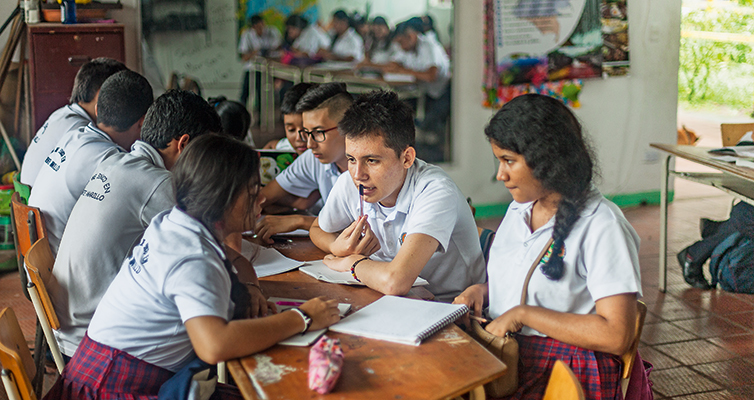 A state school like Puente Amarillo that is attended by children from families in all income brackets is a rarity in Colombia. This is because the country's social inequality is also reflected in its education system. Although state schools are free, they have a bad reputation: classrooms are often overcrowded and staff are overworked. The education system is organised at local level, meaning that poorer districts lack the necessary equipment and materials. So anyone with money sends their children to a private school.
A toolbox to support teachers
Puente Amarillo, by contrast, is a flagship project. Teachers from outside the area regularly come and sit in on sociology lessons. Teachers can use a toolbox for reflecting on memories when working on coming to terms with the past. The materials, which are available to all schools in Colombia, were put together by the National Center for Historical Memory with support from GIZ. The toolbox contains role play ideas, accounts of contemporary witnesses and songs. Because many Colombian teachers and schoolchildren are themselves victims of the violent conflict, the materials need to take these highly sensitive circumstances into account. And people in Puente Amarillo already have ample experience of this, not least thanks to regular ongoing training workshops for teachers, which are organised by GIZ. This is all part of the programme known as ProPaz II (English: 'for peace') through which GIZ, on behalf of the German Development Ministry and the European Union, is supporting stability and peace in Chile.
The workshops also foster a teaching network that was set up in July 2017, where teachers can support one another in their mission to help others come to terms with the past. Jhon Cuervo is a teacher in the network. He stands at a chunky black desk at the front of the classroom. On the wall next to the door is a quote by the Danish philosopher Søren Kierkegaard: 'Life can only be understood backwards; but it must be lived forwards.' Thirty 16-year-olds sit behind long rows of desks. One topic that they are particularly concerned with is the murder of representatives of social movements. Violence in the country has not ceased since the peace deal was signed in 2016. According to NGO Indepaz, more than 1,300 people working for social causes or to protect human rights have been murdered. The students have written a play about this, in which smallholders are about to be forced off their land by a multinational corporation. They fight back – and are threatened and killed by paramilitaries. Cuervo, who teaches sociology, supervised the students and is proud of their achievements. 'We want to encourage critical thinking at this school.' However, in a country with deep political rifts, do parents appreciate this? 'We need to proceed with caution,' Cuervo says. 'We're never going to be party political and we won't name names. We give the students the basic details – and they have to draw their own conclusions.' So the school works in the spirit of Kierkegaard – for a future that learns from the past.
Songs about the 'inherited war'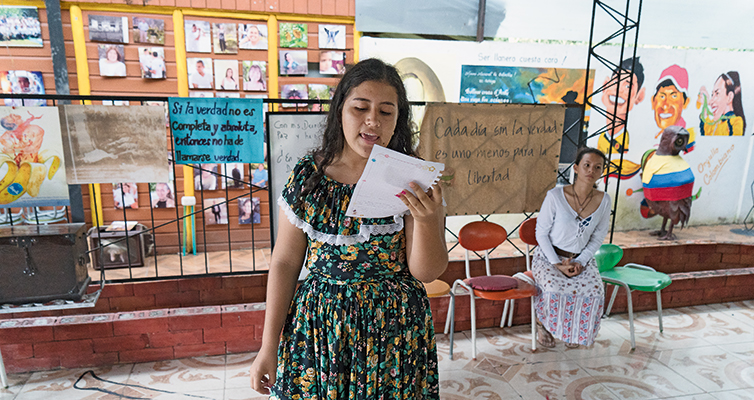 More than 400 kilometres away on the Venezuelan border, Pepe, Estefania and their sister Sara sit at a garden table beneath a mango tree. All three live in the city of Cúcuta, where they have helped to set up a creative collective called '5ta con 5ta', after the street corner where its work began in 2008. The 17-strong team run workshops to encourage young people to deal with the past through art – be it graffiti, dance projects or music. GIZ is supporting this cultural initiative through ProPaz II. Jorge Botello, known as Pepe, shows video clips on his laptop that were filmed at the workshops. 'This isn't our war, we just inherited it,' raps a boy in one of the videos. Other young people sing about violence against women, about people discarded as though they were rubbish, but also about how they are a new generation that wants to live in peace. The collective organises workshops in local schools and cultural centres. Pepe outlines their three main objectives: 'Victims have to be given names. They can't just be numbers in the statistics. The young participants have be inspired to learn and to recognise that this is the way. And they need to understand what's going on in their part of the world at the moment – and why.' The region along the Venezuelan border is one of the main centres for illegal coca cultivation in Colombia and is still very much a battleground, with guerrilla groups, drug cartels and paramilitaries all vying to control the smuggling routes and become the dominant power. As to whether peacebuilding work in this environment might be dangerous, Pepe says: 'We aren't viewed as a threat. People just see us as crazy artists.'
'My grandfather was killed harvesting the fields'
A class taught at the Puente Amarillo school shows just how complicated it is to address the violent conflict in Colombia. The teacher starts by asking her students to form two rows and get into pairs: original and mirror. If those in the original role scratch their ears, their mirrors do too. If they rub their stomachs, so do their mirrors.Some students laugh, while others look annoyed because the exercise is not working in synch. 'See? We can't coordinate what we're doing without talking to each other,' says the teacher. 'We are all different; we have all experienced different things in life.' The role play served as an introduction to a discussion about the students' own memories: who am I? What have I experienced? The aim is for the students to understand that their experiences of the violent conflict are all completely different. And listening to one another helps them to understand one another.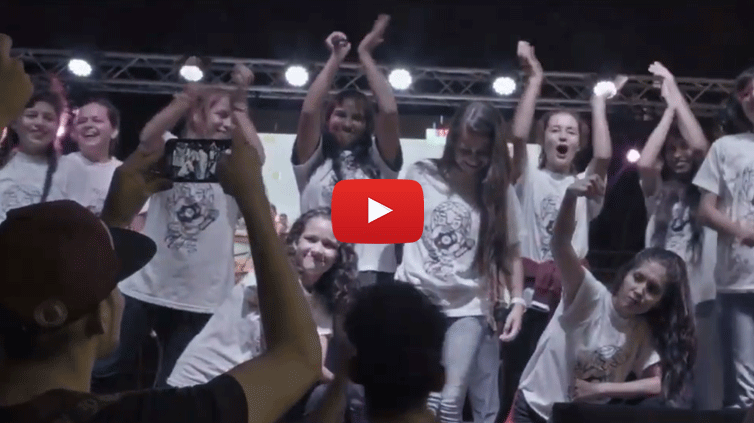 'Guerrilleros killed my grandfather while he was harvesting the fields. They thought he was a paramilitary. But they'd got him mixed up with someone else,' says a boy. Another says: 'I'm glad the military came to our village and forced the guerrilla group out, else they'd have taken me with them and I'd be a fighter by now.' The teacher is full of praise for how the children are sharing their experiences with each other: relating their stories without accusations. And she recounts how she was forced to watch with others as someone she knew was killed by paramilitaries. 'We've all been through so many terrible things in this country,' says the 40-year-old. She is keen to remain anonymous as she is still scared about sharing her experiences. Nevertheless, she firmly believes that schools have to do their bit in coming to terms with the past. 'This is why I'm also committed to peace and take part in every training course!' —
COLOMBIA

 

Capital: Bogotá / Population: 49.4 million / GDP per capita: USD 6,190 (1) / Economic growth: 2.7 per cent (2) / Human Development Index ranking: 90 (out of 189)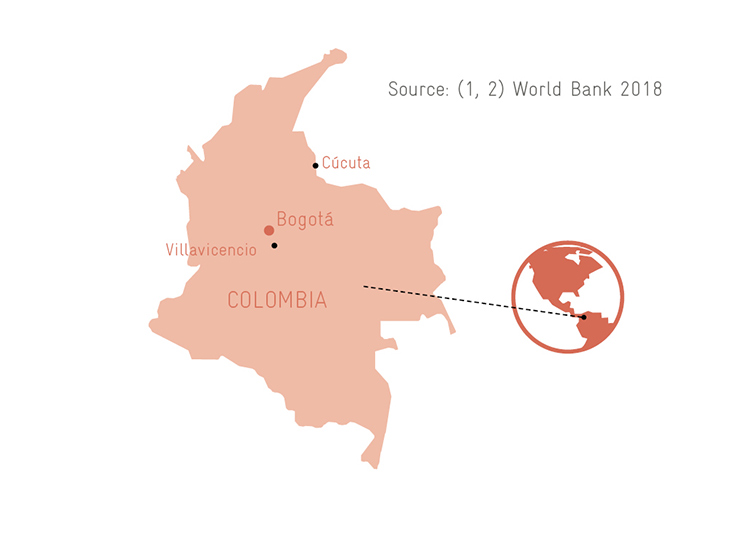 As well as peacebuilding and coming to terms with the past, the broad-based approach with which GIZ is supporting the peace process on behalf of the German Government also includes collective memory construction. Thus more than 50 social organisations as well as formal and informal educational institutions have used innovative and/or digital educational concepts on truth, justice and reparation for victims.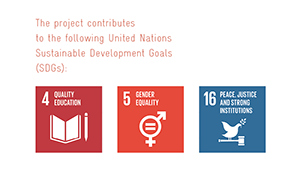 published in akzente 2/19  (updated 9/22)