Climate is part of our DNA
Global climate protection and why it's essential for GIZ too. By Jörg Linke, Head of GIZ's Competence Centre for Climate Change
Energy crisis versus climate protection?
Climate protection has slipped down the agenda on account of the energy crisis. It's all about mobilising every possible resource at this time – without consideration of the global climate consequences. This may be a common refrain right now, but does it actually hold water? It's true that coal is currently experiencing a renaissance, with plants being recommissioned and new facilities built. This is happening in Germany, but also in Africa, for example.
However, that's not the full picture. It fails to take account of a crucial factor also linked to the crisis: never before has there been greater awareness of our dependence on fossil fuels. And never before have the consequences of this dependency been more painfully felt.
That's why I hold the view that the energy crisis unleashed by the war in Ukraine will drive global expansion of renewables and therefore benefit climate protection. Dependency is one factor and price is another. Gas prices are currently skyrocketing. Oil markets, too, are volatile. Following the initial investment in them, however, renewable energies have very manageable and stable costs.
'The current energy crisis will drive global expansion of renewables, thereby benefiting climate protection.'
This is a persuasive argument for many governments, not to mention a whole lot of private companies as well. Consideration of climate issues is seen as less and less of a burden and instead as an opportunity, as a driver of innovation and sustainable development. Accordingly, we're likely to experience a global push for sustainable forms of energy in the medium term.
How the climate crisis accelerates conflict 
In general, the risks posed by climate change are now recognised in practically all parts of the world. The sceptics are in the minority. The overriding view is that the rise in the Earth's temperature is one of the greatest challenges of our time and may also serve to accelerate conflict. The question is no longer if, but when, how and where climate change will intensify discord and friction.
However, the climate action measures proposed worldwide to date put us on course for a global temperature increase of 2.5 to 3 degrees Celsius. This is far too high, and the consequences would be devastating. The planet's limits would be exceeded. It would no longer be possible to stave off many processes with an extremely adverse impact, such as the melting of the polar ice fields and permafrost soils or the loss of the climate-stabilising function of the tropical rainforests.
And yet there is still a lack of insight, vision, ambition and stringent implementation of climate-friendly technologies and practices. In other words, we know what is needed, but we are failing to act. This is partly due to psychological reasons, as such a fundamental shift requires behavioural change and people find this difficult. But it's also on account of certain stakeholders who continue to persistently resist out of economic or political self-interest.
Image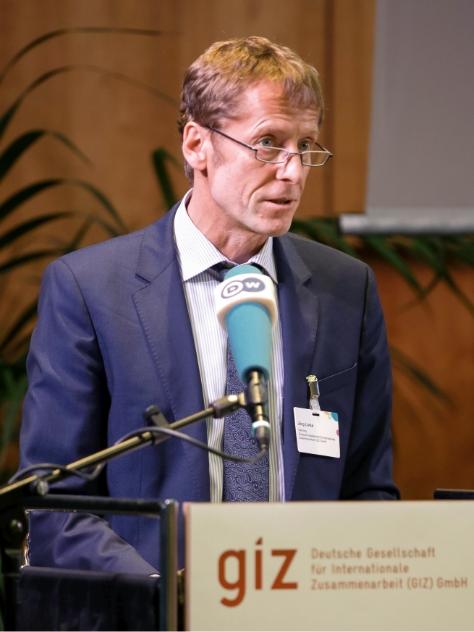 Climate change figures highly on the political agenda
This was noticeable at the recent UN Climate Change Conference in Glasgow, for example. Climate-damaging coal power generation was included in the final document for the first time there – a milestone in climate negotiations. However, although there had initially been talk of a coal phaseout during the negotiations, unfortunately only a 'phasedown' of coal power generation made it into the final wording. Just a few countries were able to get their way on this on account of the principle of consensus.
Overall, however, climate change now figures highly on the political agenda for most countries in the world, including many of our partner countries. Accordingly, it is a focal area of GIZ's work. Our climate-related portfolio has grown steadily in recent years and now amounts to more than a third, at 37 per cent. Our task over the coming years is to push for mainstreaming – in other words, consistent alignment of GIZ's work with climate issues. The environmental and climate impact assessment is particularly helpful in this regard, with all GIZ projects now required to be examined under its criteria.
Climate risk analyses based on medium- to long-term projections of how the climate in a country or region will change by 2030 or 2050, for example, provide information on which population groups, sectors and regions will be affected by climate change and how. They form – pre-emptively – the basis for preventing or de-escalating risks through relevant adaptation measures.
Climate focus at GIZ
In addition to 'factoring in' climate aspects, we are also implementing many projects that directly aim to achieve climate protection or adaptation to new circumstances. Take for example in India, where GIZ runs a Climate Smart Cities programme that helps cities to implement smart and climate-friendly measures for their urban infrastructure development. With Costa Rica, we are developing plans and strategies for its target of becoming climate-neutral by 2050. An energy partnership with Morocco should assist in ramping up sustainable energy production there. We're helping Mexico to adapt its tourism to a world with rising temperatures. And these are just some examples from our extensive portfolio that show that climate is now part of our DNA.
Considering climate and biodiversity together
In the future, there'll be even greater emphasis on adaptation in the developing countries that will especially suffer from the effects of climate change, even though they have generated very few greenhouse gas emissions themselves to date. And on the nexus, the connection, with other topics, such as biodiversity. We're already aware today of the mutual dependencies between climate and biodiversity, both positive and negative. But this interrelationship is still given far too little consideration in practice and in development cooperation work. We want to change this.
The next two COPs will help address this – the climate summit in Sharm El-Sheikh in November and the biodiversity meeting in Montreal shortly afterwards in December. The two conferences will also determine the pace of further implementation of climate and environmentally friendly measures. As too will the war in Ukraine, which is driving the expansion of renewables and is likely to reduce dependence on raw material and food imports in the medium term. But first and foremost, the war is a major burden and enormous threat – to us all.