Transporting the diversity of GIZ to the digital world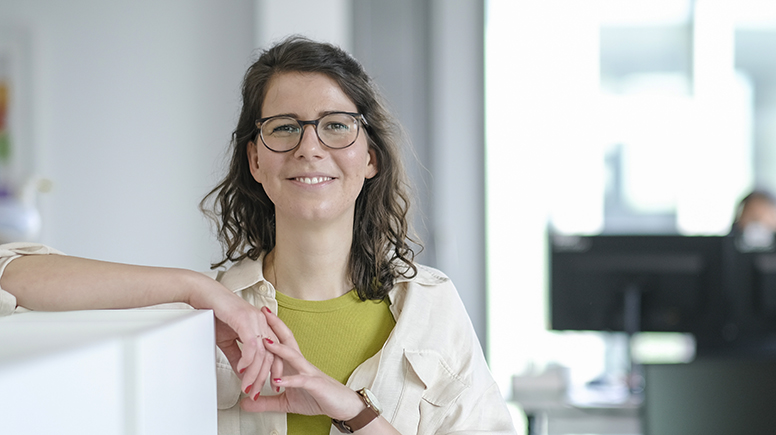 Hello from Cologne!
For a year now, I've been working as a junior expert in GIZ's Corporate Communications Unit in Bonn, where I'm mainly responsible for social media. It's an exciting time to be working in this area. Social media communication is very fast paced. How can we reach our target groups? What new functions do platforms offer? It's demanding work, but every day it offers me the chance to test myself anew, which I really enjoy.
Online working has become the norm more and more due to the pandemic, and of course it's been common practice at GIZ for years because of our worldwide cooperation. We are a team of some 700 communicators around the globe. My immediate team consists of colleagues in Bonn and Eschborn, so our meetings were always hybrid affairs, even before the coronavirus hit. But what sort of an online team would we be if we hadn't managed that?
What I find particularly exciting in my job is the contact and discussions with colleagues worldwide – whether it's an advisory meeting with a colleague in Rwanda or our regular online morning meeting with the entire Corporate Communications Unit. We always attempt to reflect the full spectrum of projects, countries and issues in GIZ's Twitter and LinkedIn accounts. And we need to weigh up which stories best suit the GIZ website and akzente.
Alongside our corporate accounts, many projects and country offices have their own social media channels. They don't all have the same resources, though. While one team might be considering opening an additional account, other colleagues are grappling with teething problems like an unstable internet connection caused by power outages. But we have seen that adverse circumstances can often lead to particularly creative ideas. Next year, I would like to get an insight into everyday project work on the ground and complete an internship in a country office or project in a partner country.
Since I took up my job during the pandemic, I have generally worked from home in Cologne. So it will be all the more special for me when I can work regularly with the team on the Bonn Campus. Until then, I'll just make the best of things in my new flat, turn my balcony into a green oasis, and at the weekend work my way through Cologne's cafes enjoying breakfast.
Best regards,
Franziska Schmülling
akzente 1/22