Image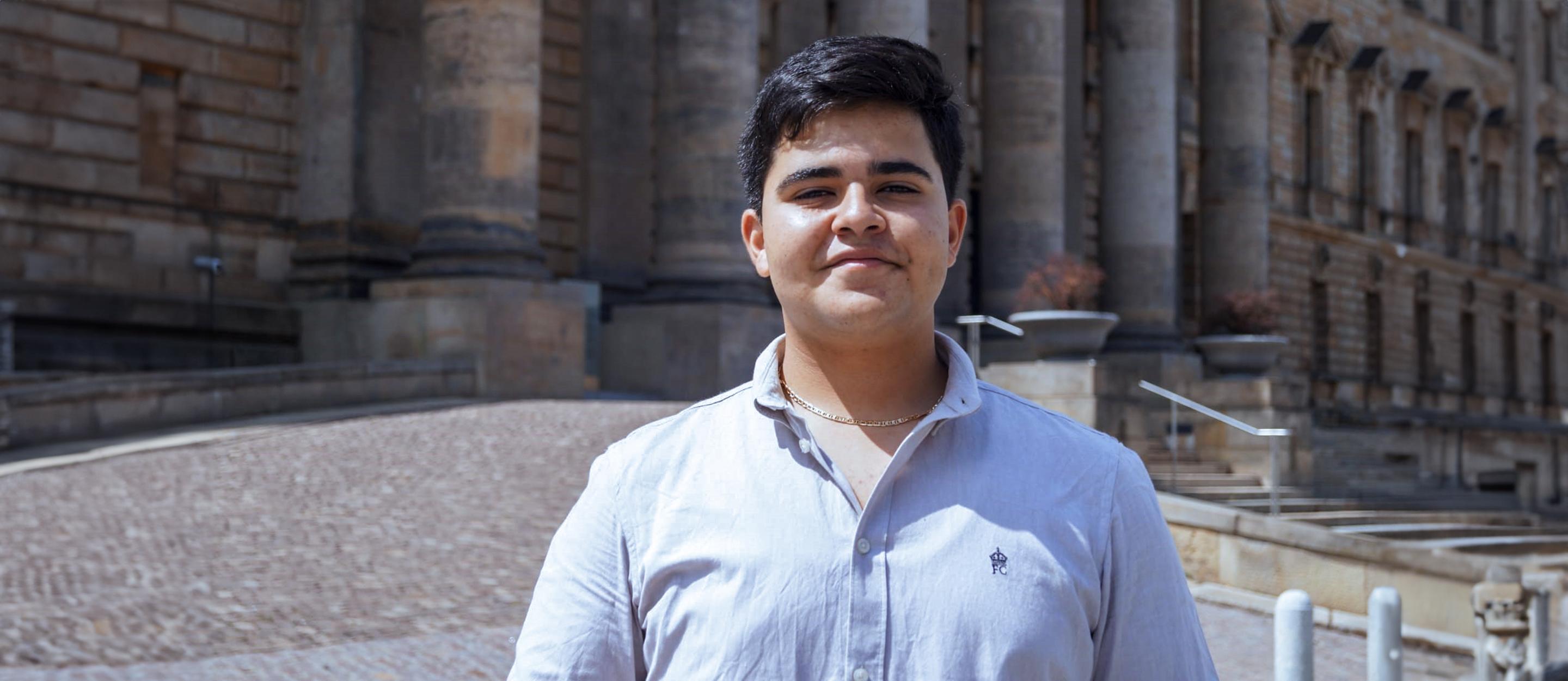 Learning progress
Omar Alkadamani fled to Germany from Syria as a child. He knows exactly how important the United Nations Sustainable Development Goal 4 'Quality education' is – for him personally and for every country that strives for a better future.
'Education is the key to everything,' says Omar Alkadamani. This is a firmly held belief for the Syrian, who left the small town of Shaqqa in southern Syria with his father for the safety of Germany in 2017, aged just 12. As his mother and other relatives had already left the war-torn region, they were able to move to the state of Saxony under the family reunification scheme.
Omar is now 19 and lives in Leipzig. He has just completed his Abitur, the German school leaving certificate. 'I learned the language quickly. If you can speak to people, then you're not a stranger anymore,' says Omar, reflecting on his arrival in his new home. After just a few weeks, he sat his first language exam, and it wasn't long before he switched from middle school to grammar school. 'I've always been really interested in history and biology.' But he also found time for his hobbies, like playing the guitar and the oud, a lute-type instrument. Thanks to the internet, he still maintains connections to Syria, to his relatives and friends. Today, Omar feels at home in two languages and two cultures.
At school, he was elected student representative, and in 2019 he became involved in a political youth organisation. 'There was a very welcoming culture there,' says Omar. He has since expanded his commitment to politics and has been actively involved in the City of Leipzig's Youth Parliament for two years. In 2021, he became a member of the Youth Advisory Council of the German Federal Ministry for Economic Cooperation and Development (BMZ). 'I am now a spokesperson for the Youth Advisory Council,' he says. Omar also recently joined the youpaN youth forum, in which young people participate in implementing the German National Action Plan on Education for Sustainable Development (ESD). 'Volunteering is my hobby,' he says, laughing cheerfully.
Image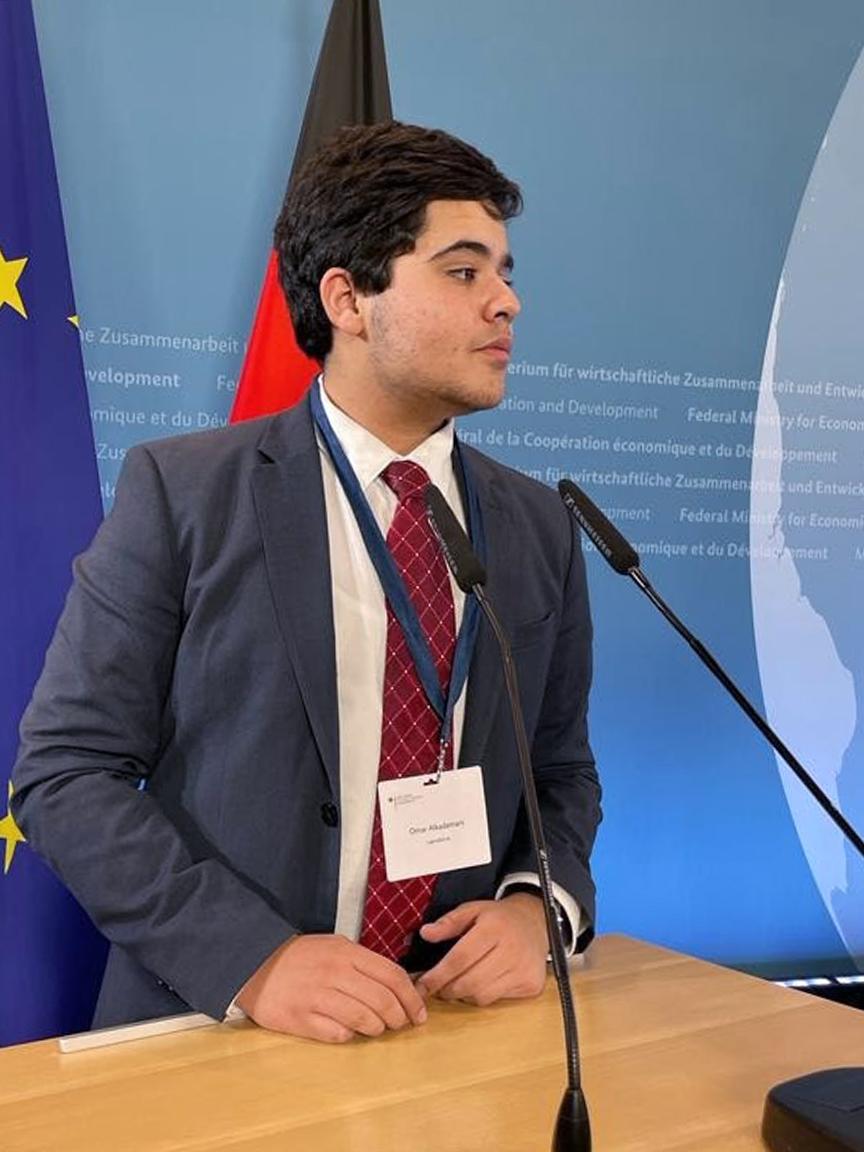 Education as a prerequisite for economic success
According to Omar, you can see that education is crucially important for a country's success all the world. 'There is no country that neglects education and still achieves economic success.' He believes that good education is beneficial and is immediately reflected in progress. That's why if he were a politician, he would campaign for standardised, free education. 'An education system in which digitalisation is promoted and social freedoms exist.'
The internet as a learning tool
The fact that he comes from an education-focused home has benefited him, says Omar. 'Because my mother is a teacher, I was encouraged from an early age,' he says. 'Right from the start, school was very important to me.' He feels that the internet helped him a lot, especially in picking up German quickly, and later English too. 'I went on YouTube every day.' He had fun learning languages, sometimes until late into the night.
Omar also believes it is important to provide political education at school. 'I learned a lot about democracy and basic values at school,' he says. 'In ethics class, we focused on interpersonal relationships and our relationship to society.'
School has shaped him a lot. 'If I can be involved in decision-making from a young age, for example as a student representative, and it really makes a difference, then I will also play a greater role later on as an adult,' Omar argues. People who get involved in politics from a young age will then almost certainly take part in elections, too. 'That is precisely why I feel that much more needs to be done for schools, not only as a place of learning but also as a fixture of day-to-day life.'
Omar believes that when people leave school, it is important that they choose a career that they are best suited to and enjoy. The 19-year-old has a very clear idea of what his immediate future holds. In October, he will embark on a degree in biology and information technology in Halle.