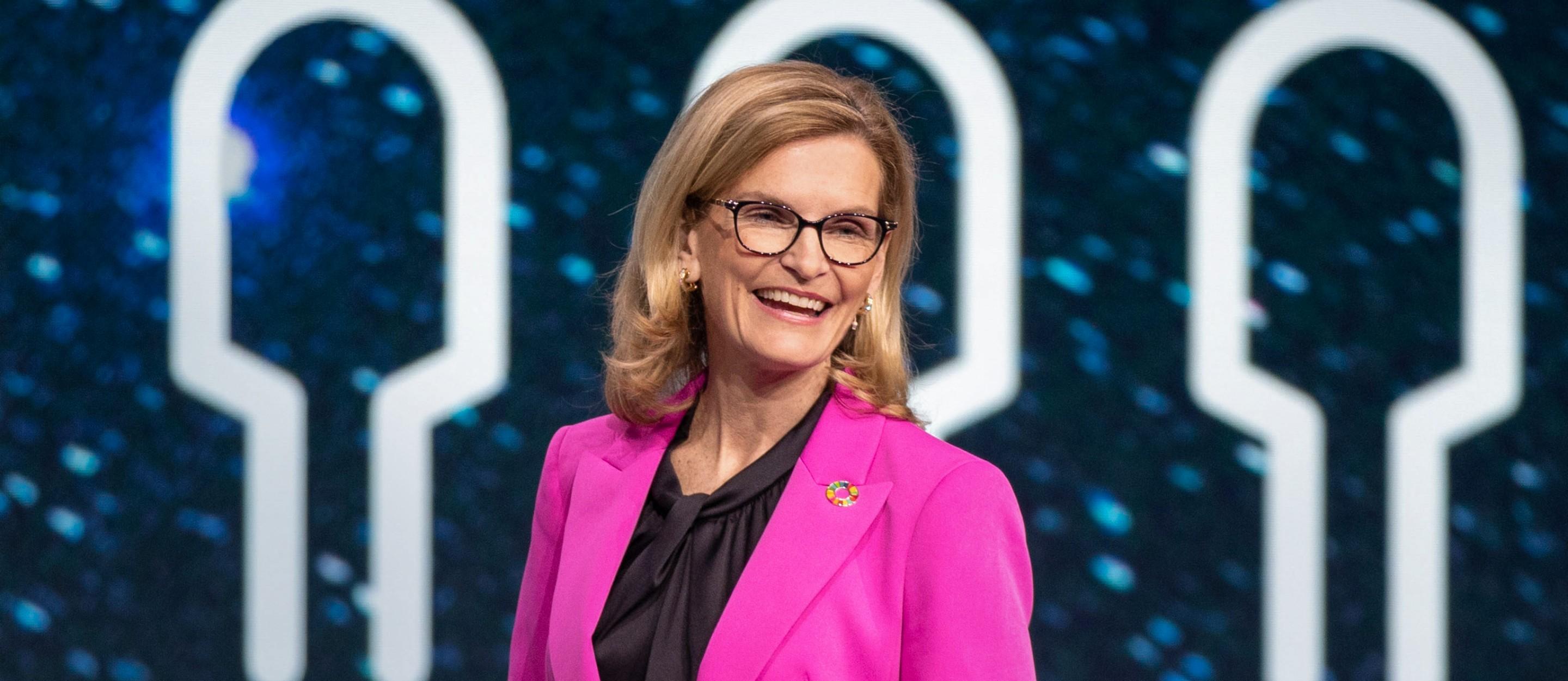 'One thing is for sure: the risks of inaction far outweigh the human, economic and social costs'
An interview with Doreen Bogdan-Martin, Secretary-General of the International Telecommunication Union (ITU), on talent and how digital technologies can help to get back on track towards the UN Sustainable Development Goals (SDGs).
Photos: ITU/ M. Jacobson - Gonzalez; ITU/D.Woldu
Ms Bogdan-Martin, what are the consequences of the digital divide?
One immediate and very tangible consequence of the digital divide is that we're leaving one third of humanity behind. I'm talking about the one third of humanity that is still offline around the world. Who are they? These are people who still don't have access to a mobile broadband network. When they do, they don't go online because it's too expensive, because they don't have the digital skills or because the experience isn't safe or meaningful enough.
Right now, even a phone priced at USD 20 represents a significant one-off cost for too many people. The Least Developed Countries – where about two thirds of the population remain offline – have the least affordable devices at 53% of the average monthly income. Not only are we leaving these people behind, we are also depriving the global community of all the talent, resources and diverse perspectives we need to tackle our most pressing challenges and innovate to our fullest potential.
Now, it's hard to predict exactly what will happen if we don't take immediate steps to address the digital divide.
In one scenario, the failure to bridge the divide prevents us from rescuing the SDGs – development is stalled or going backwards; wealthier countries are the ones who are reaping the benefits; and more and more people question the very value of connectivity.
But a whole different scenario is still possible – one where there are no more digital gaps of any kind anywhere, where everyone has the digital skills they need to succeed and where digital technologies help put the SDGs back on track. One thing is for sure: the risks of inaction far outweigh the human, economic and social costs.
Prioritising connectivity and digital infrastructure in underserved and marginalised communities can help foster opportunities for socio-economic development.
Doreen Bogdan-Martin
Secretary-General of the International Telecommunication Union (ITU)
What other impacts do you see?
The consequences are many. People on the wrong side of the divide may be cut off from the online educational resources they need to succeed in an increasingly digital world. During the pandemic, students without reliable access were at a learning disadvantage compared to their connected peers. Distance learning failed to reach at least half a billion students, including 72% of the poorest, and many did not have the devices or connectivity required for quality education.
Then, when the time comes to find a job, there is strong demand for digital skills across every industry, in every occupation and in every country. In sub-Saharan Africa alone, over 200 million jobs will require digital skills by 2030.
Countless government services have also moved online, making it difficult for those who need assistance most to apply for it or access essential services, such as unemployment and health care benefits.
To what extent does it help to focus on people in digitalisation?
Technology needs to work for people, and we need to prioritise people-centred digital development. Artificial intelligence (AI) is a good example. As AI models are rolled out into products and services used by millions of people, putting human values first could not be more important.
That is why people need to be at the heart of how we design AI – and that's why we need to collectively develop human-centric digital policies and regulations that protect privacy, ensure data security and promote the ethical use of tech.
People are at the heart of the SDGs. As UN Secretary-General António Guterres said earlier this year, we must make these goals real in the lives of people everywhere. We need human ingenuity and creativity to harness digital and address the real-world challenges of each SDG in ways that measurably improve lives and livelihoods
Do you see any other advantages?
Putting people at the core of digitalisation is the first step to making it more inclusive. Prioritising connectivity and digital infrastructure in underserved and marginalised communities can help foster opportunities for socio-economic development.
Emphasising the human aspect of digitalisation is also key to empowering people with the skills and knowledge they need to fully participate in the digital economy. This includes not only technical digital skills, but also critical thinking and problem-solving, all essential for navigating our increasingly complex digital world.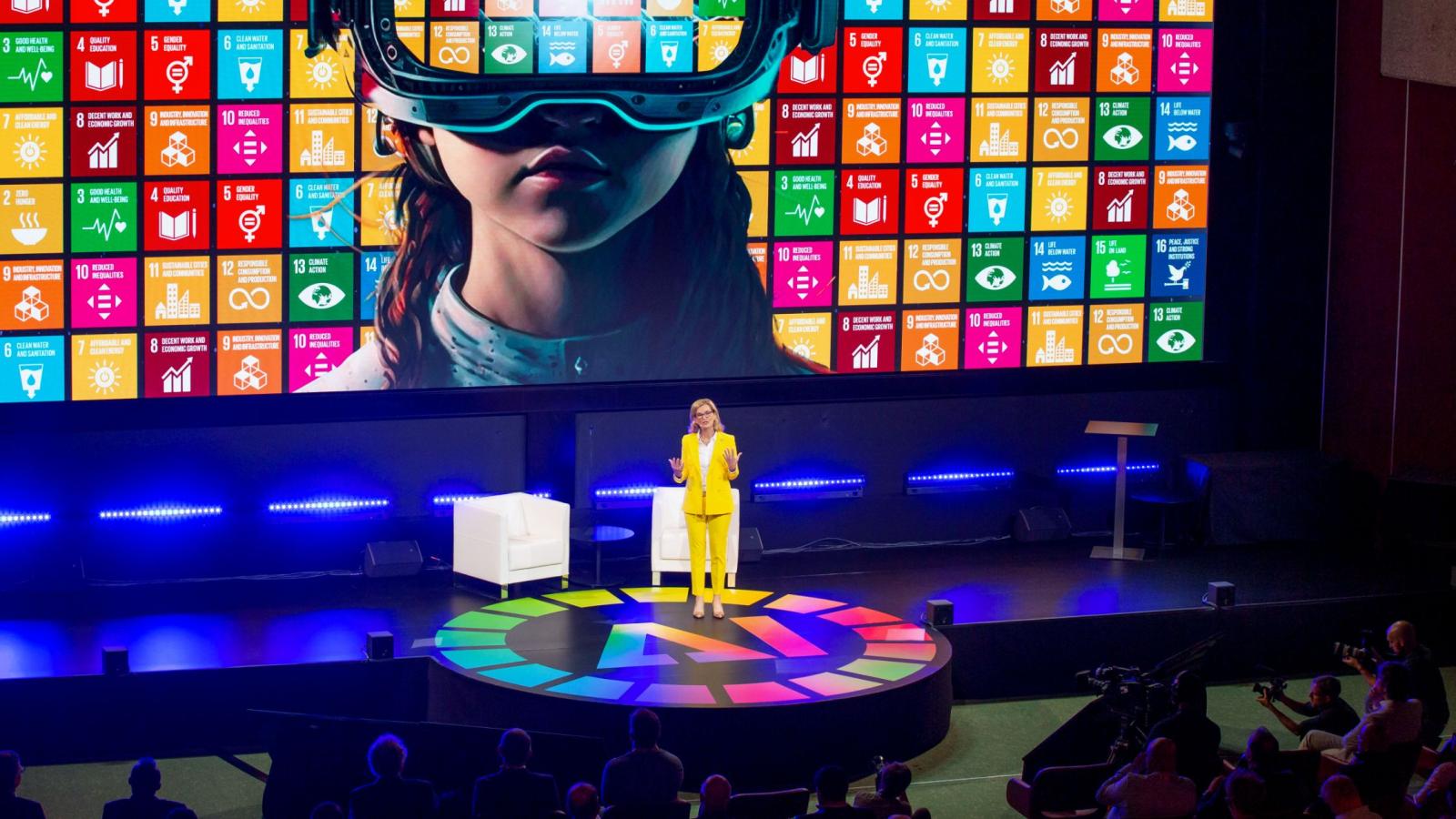 How can we create AI that is non-discriminatory and that benefits everyone, including the people that are still offline?
We need to show, not just tell, the world what inclusive, safe, responsible AI can do for humanity, and we cannot leave one third of humanity out of the discussions that will determine our shared digital future.
While ITU is primarily committed to ensuring that the billions of people offline around the world get connected, we are also committed to ensuring that AI benefits everyone, everywhere. That's why ITU is focused on promoting standards development and capacity building to support responsible AI development and deployment and on driving strong collaboration with all stakeholders, including countries that are still largely offline.
Many AI breakthroughs are laser-focused on industries and issues that primarily benefit developed countries. Together with UN partners, ITU is working towards non-discriminatory AI by integrating AI capacity support into our digital transformation offerings and undertaking sector-focused AI readiness work in critical areas, such as smart mobility, smart cities and universal health care.
By investing in research and innovation in areas such as agriculture, health care and disaster management, we can help make sure AI serves the needs of everybody, including the most vulnerable among us. Ensuring that countries with low technological capabilities receive the support they need is paramount.
Where do you see the main opportunities of digital technology, particularly in the fight against hunger and climate change?
Digital is mentioned 47 times in The Sustainable Development Goals Report 2023: Special Edition published in July. The big challenge is that only 15% of the SDG targets are on track at the midpoint of the 2030 Agenda.
Last year, ITU Member States made universal connectivity and sustainable digital transformation our two strategic goals going forward. These next few months give us the opportunity to progress on both fronts.
On 17 September, together with UNDP and our partners, ITU will convene SDG Digital, an event that will put data and digital technologies at the core of SDG rescue efforts, showcasing proven and scalable solutions that leverage digital for each SDG.
Take SDG 2, which is about creating a world free of hunger: digital technologies can help optimise agricultural practices, monitor crop health and predict yields, ensuring the efficient use of resources and reduced waste and allowing farmers to make informed decisions about irrigation, fertilisation and pest control.
Digital technologies are also essential in helping us model and predict the impacts of climate change. Earth observation satellites provide real-time weather data to predict and monitor hurricanes, floods and wildfires, enabling more efficient disaster response and management.
These are just some of the examples where digital can help put the SDGs back on track.
How can digital technology enhance gender equality and where is it an obstacle?
The year 2023 marks the 25th anniversary of ITU's first resolution on gender. It's a time to take stock not only of what we have achieved, but also of all the work that remains to be done, because women still account for a disproportionate and growing share of the global offline population, outnumbering male non-users by 18%.
The digital gender gap is not just about access; it's also about skills and tech leadership. It can become an obstacle because gender disparity impacts everything, often resulting in flawed product or service design, algorithmic bias and exclusionary decision-making.
Inclusive partnerships are key to achieving digital gender equality. Leveraging these partnerships to invest in digital skills development at every level is one of the most impactful actions we can take to reach as many women and girls as possible. Initiatives like EQUALS, Women in Cyber and Girls in ICT Day are three examples of how ITU is working to close the digital gender divide globally.
All three partnership-driven programmes aim to motivate, mentor and inspire women and girls to start their own businesses or careers in science, technology, engineering and mathematics (STEM) – and we need to get girls into STEM at an early age.
We also need more women in top digital leadership positions, especially in government, where the share of women ministers holding the information and communication policy portfolios is just 16% globally.
That's why I launched the Network of Women Digital Ministers with Minister Svenja Schulze at the 67th Session of the Commission on the Status of Women in New York in March.
We are working to make sure women are not only at the table, but also actively participating in key decisions and policy-making processes at the international level.