Photos
Brigitte Spitz und GIZ
Chino is the picture of concentration when he washes his hands. At just four years old, he already knows exactly what to do. A quick rinse is not good enough. You need to use soap and do the seven steps. It's best to hum a little song as you go. This is what he learned at pre-school in the Laotian capital Vientiane, and at home he shows his little sister.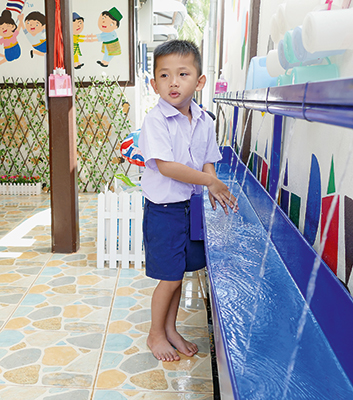 Such exemplary behaviour is by no means the norm in the Lao PDR – or anywhere else in the world! Although often neglected, even in developed countries, hand washing before meals and after using the toilet is an effective way of preventing the spread of diseases. In poor countries, regular cleaning is often difficult because many people have no access to clean water and washing facilities. This has serious consequences. According to UNICEF, around 1,400 children worldwide die every day from diarrhoea. Of these deaths, 800 can be attributed directly to poor hygiene. Every year, diseases caused by dirty water, inadequate sanitation and poor hygiene cause more deaths among children under the age of five than HIV/AIDS, malaria and measles combined.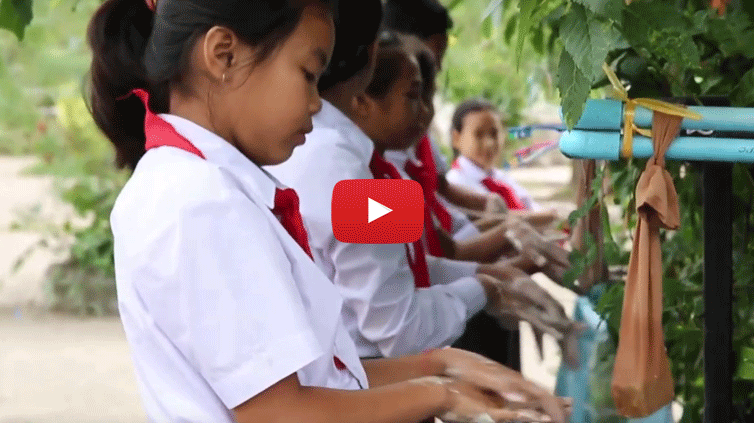 In the Lao PDR, which is one of the least developed countries in the world, only half of the country's 6.9 million inhabitants have direct access to clean water. The resulting lack of hygiene has clear consequences: infectious diseases, malnutrition and tooth decay are the most common diseases affecting children in the Lao PDR. 'Children who are sick a lot often miss school, their physical development is delayed, and most families cannot afford to pay for treatment,' says Bouachanh Chansom, who runs a GIZ water, sanitation and hygiene programme in the Lao PDR. 'Fit for School' is supported by Germany's Federal Ministry for Economic Cooperation and Development (BMZ), and began as a pilot project in the Philippines in 2009. On behalf of BMZ, it was extended to Indonesia, Cambodia and the Lao PDR in 2011.
The idea behind 'Fit for School' is simple: schools need to be healthy places. Water and soap must be available so that the children can perform their daily hygiene routines together. Access to toilets and washing facilities is being improved, as are cleaning and maintenance standards. The GIZ team works with the education ministry in each partner country to develop viable strategies and practical training materials, and make it easy for head teachers and their staff to incorporate routine hygiene activities into everyday school life. Video materials, specifically designed for each country, play a key role here. They are really important because they allow all those involved to keep updating their knowledge using their smartphones. GIZ's country teams develop national monitoring systems with the respective education ministries to keep track of the number of participating schools and ensure that the programme is being properly implemented. 
EUR 1.25 for soap and a toothbrush
In the Lao PDR, the Ministry of Education, together with the Ministry of Health, adopted the 'Fit for School' approach at the end of 2011 and initially provided a small budget for 22 pilot schools – to allow the local education authority to construct or refurbish washing facilities, for example. Work began in the metropolitan area of the capital, Vientiane. As part of the overall strategy, the next step was to extend the programme to one school in each of the country's 18 provinces. In just over seven years, almost 30 per cent of the roughly 8,700 state primary schools in the Lao PDR have got involved. The aim is to incorporate 'Fit for School' into school development plans, thus improving water and sanitation facilities and integrating good hygiene practices into everyday life at primary schools throughout the country.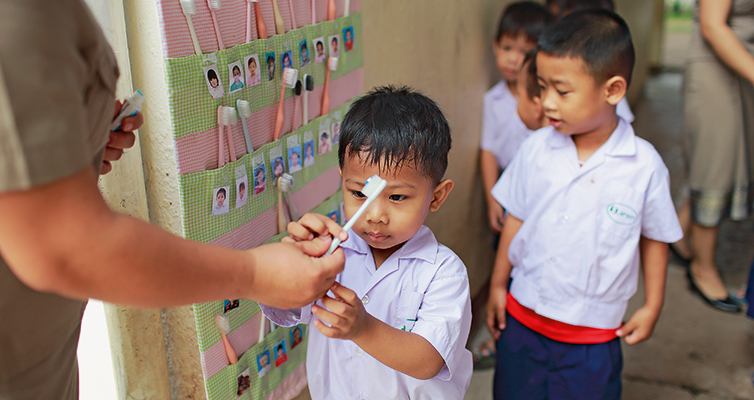 'At first, people in rural areas were sceptical. They worried that it was an expensive idea being imposed on them by people in the cities,' recalls Chansom. But eventually they were persuaded by the results from the pilot schools, which showed that a great deal can be achieved to improve children's health even with limited resources. 'The facilities are built using locally available materials,' she explains. In the poorest areas, where there are no water pipes, for example on the border with Myanmar or Viet Nam, plastic bottles were attached to bamboo poles fixed into the ground by villagers. Once the bottles are filled, the children simply turn them upside down to wash their hands with soap. These very simple devices are known as tippy taps. Families are asked to pay about 12,000 Laotian kip, roughly EUR 1.25, per child per year for soap, a toothbrush and toothpaste. 'For most, this is affordable, and the school pays anyway in cases of extreme poverty,' says Chansom, who is also a trained paediatrician.
The Laotian Government now wants to incorporate the 'Fit for School' approach into pre-school education for younger children. Chino attends the privately run Vanhuisa nursery in Vientiane. Here, even the very youngest children practise washing their hands and brushing their teeth correctly. Teachers from other schools have visited, eager to find out how the programme works. Head teacher Khewavanh Manivong believes there is now greater awareness of the issue: 'This period of childhood is extremely formative. Things children learn at this stage stay with them for the rest of their lives.' The two to six-year-olds have just sung and danced to their hand-washing song. At first, it's just a 'dry run', a playful way of teaching them the various steps involved. Then they all troop off to the water pipe built by the school caretaker. The pipes have been painted blue, and water gushes out of a series of drilled holes when the main tap is turned on. The children rub soap into their hands and laugh about today's guests. Some of the more daring children splash the visitors and play happily with the water.
Severe tooth decay in nine out of ten children
After lunch, toothbrushes are handed out. Even for many children at this school, the daily routine did not previously include looking after their teeth, says the head teacher. However, because dietary habits have changed, especially in the cities, and children eat a lot of sweets, severe tooth decay is now very common. It can be found in nine out of ten Laotian primary age pupils, and on average, each child has seven rotten teeth when he or she starts school. Seventy per cent of all children have infections caused by tooth decay. Many children suffer from toothache, which has a significant impact on their concentration. Unfortunately, dental care is only available in larger cities and is unaffordable for most people. Regular cleaning with fluoride toothpaste can significantly improve oral health. A scientific study has shown that children in the 'Fit for School' programme in the Lao PDR develop 38 per cent less tooth decay than children in control schools.
Chino's little sister is very young and so far only has four shiny white teeth. But her big brother wants to make sure that they – and her new teeth when they arrive – remain healthy. And that's not all: 'Chino always reminds me to brush my teeth,' says Lee, his mother, who takes part in the hand-washing ritual with her children. She has got used to the idea that everything takes a little longer with all the singing and dancing. If only she could persuade her husband to join in with it in the evening, she says, laughing. —
THE LAO PDR

 

Capital: Vientiane / Population: 7.1 million / GDP per capita: USD 2,460 / Economic growth: 6.5 per cent / Human Development Index ranking: 139 (out of 189)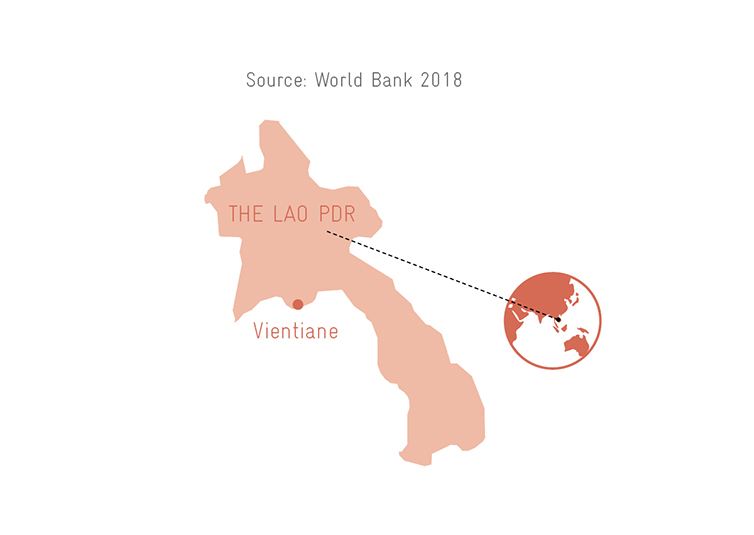 'Fit for School' started in the Philippines. In partnership with the Southeast Asian Ministers of Education Organization Regional Center for Educational Innovation and Technology (SEAMEO INNOTECH), the programme was later expanded to meet demand. Contact: Alexander Winkscha, alexander.winkscha@giz.de
THE PROJECT IN FIGURES

14.9 million children
attend schools in Indonesia, Cambodia, the Lao PDR and the Philippines where the 'Fit for School' programme has been introduced.
 

39,600 schools
participate in national initiatives to improve water, sanitation and hygiene (WASH) in educational institutions.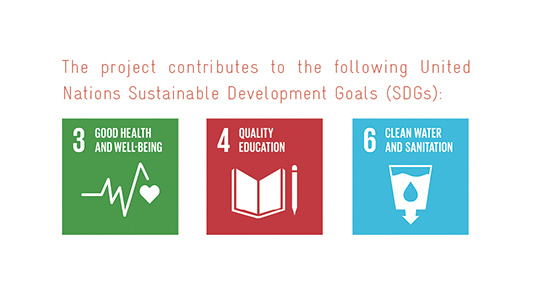 published in akzente 2/19