'Sport creates a connection between people'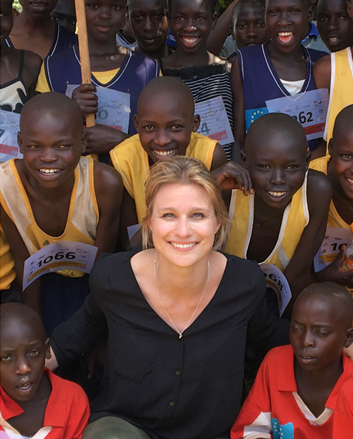 What do the Olympic Games mean to you?
Sport brings people together, from amateur enthusiasts to Olympic athletes. The Olympic Games are a celebration of sport and togetherness, uniting athletes from around the globe and from a whole range of sporting disciplines. These are really special moments. I had the opportunity to take part three times. I made some unforgettable memories and met so many fantastic people – when competing, in the German House and in my favourite place of all, the Olympic Village!
You've advocated for children and young people in developing countries as a 'Sport for Development' ambassador for a number of years now. What motivated you to get involved?
I'd always loved getting children interested in sport. Personally, I'm very grateful that my parents took me to sports activities from an early age. This allowed me to try out lots of different things, from gymnastics and swimming to athletics and fencing. While travelling internationally, I've seen that, for children in many areas of the world, playing sport is fraught with difficulty, but that even the most basic support can make a massive difference. Seeing children happily engaged in sport is a great source of motivation for me. With the right projects, we can achieve even more for these children and their future.
During your work, are there any moments that have stood out to you in particular?
On a visit to Jordan, for example, I saw how sport is being used to build bridges between Syrian refugees and the local population. Team sports of all kinds are helping to overcome linguistic and cultural differences and strengthen mutual understanding. I find it incredible how sport creates a connection between people.
The coronavirus pandemic has hit children and young people especially hard and limited their opportunities to take part in sport and exercise. How can we still harness the positive effects of sport?
Children and young people have a strong urge to be active. The coronavirus crisis saw playgrounds cordoned off and team sports and training activities prohibited. Many clubs and associations have responded to the situation by developing digital sports offerings and programmes to motivate children and get them moving. The German Olympic Sports Confederation (DOSB) is using the hashtag #HeimArena on YouTube to promote the wide range of digital services being run by sports clubs. And now that sport is possible again at clubs or in other groups, it's also important to make use of this. Dear parents – get your children playing sports together!
July 2021