Protecting Central America's forests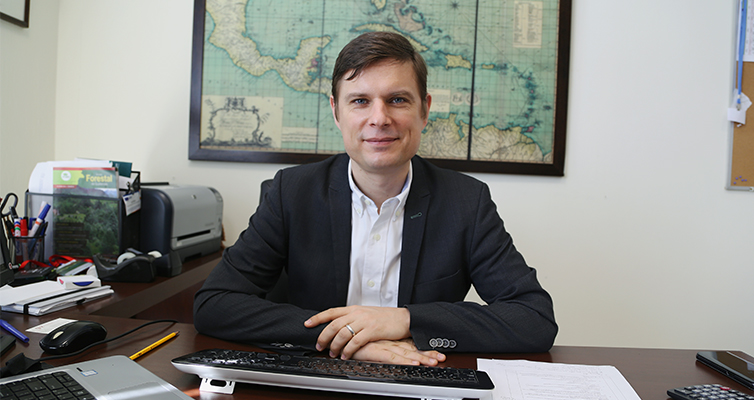 Buenos días from San Salvador!
 
I've always wanted to do what I've been doing here in El Salvador for the past three years. I studied forestry and it's very important to me that we manage natural resources sustainably. We cannot solve increasingly urgent issues such as how to deal with climate change, protect biodiversity and promote the rights of indigenous peoples without preserving forests and managing them sustainably. That's exactly what I and my team of 20 people are committed to doing in Central America. We work for two ­regional programmes covering eight countries, the aims of which include restoring woodland and protecting the forests. The forests here are under threat from overexploitation and the conversion of forest into farmland for cattle.
 
We're working with the Central American Commission for Environment and Development and the environment ministries of the eight countries involved. Due to the coronavirus pandemic, most of the partners are working from home at the moment, but I usually meet them regularly. About half of my work consists of business trips and half of it is a normal office job.
I've known Latin America for many years now, because I carried out research in Brazil, Paraguay and Argentina during my time at university and then worked for the German Development Service (DED) in Nicaragua. San Salvador actually has a reputation for being threatened by gang violence, but we feel safe in most districts. My wife and I have many friends from El Salvador, which I think is extremely important. We have barbecues or go and eat pupusas – stuffed corn tortillas – ­together. We also go on trips – it's a small country and it doesn't take long to get to the sea or the mountains. The climate is typical for the altitude: it's 'eternal spring' here. And the capital is very urban; there's a broad range of cultural activities on offer, such as concerts. Music plays a key role in my life. At the moment, I regularly record a podcast to celebrate the Beethoven Anniversary Year. I've also established contact with the local orchestra for the podcast.
What I really miss very much is cycling to the office or out into the countryside.
Best regards,
Jan Bock
published in akzente 2/20