Photos
Adrienne Surprenant
Paula Suárez-Buitrón looks a little worried. 'I imagine it's going to be very emotional.' She eventually pulls the oversized virtual reality glasses over her head, adjusts them and takes a deep breath. The interactive film she is about to see, which is just under four minutes long, describes the situation of people in refugee camps around the world in ultra-realistic 3D. Every now and then, the 40-year-old economist moves her hands, shakes her head or nods – and smiles as she takes off the glasses. 'It's very powerful,' she says.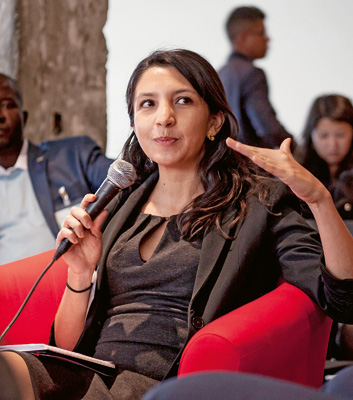 This is the type of experience of new technologies Suárez-Buitrón, who was born in Ecuador and now lives in Washington, had hoped for at the fifth Global Diplomacy Lab, which took place in Montreal in November 2016. The Lab is a platform that brings together diplomats, politicians, representatives of non-governmental organisations, entrepreneurs and creative professionals. Together they consider new approaches to diplomacy. The initiative was launched by the German Federal Foreign Office in 2014 in partnership with the BMW Foundation Herbert Quandt, the Robert Bosch Stiftung, Stiftung Mercator and GIZ.
From Afghanistan to Uganda: international participants  
The theme of the event in Montreal is 'Decoding Global Diplomacy: Balancing Power through Information Technology.' Suárez-Buitrón is interested in a number of aspects of this: 'I'm looking for ways to use modern technology to tackle problems and crises – or to make them more tangible.' She is hoping to find answers to questions such as: 'Can technology help us understand the world better? And where do the boundaries lie?'  
It is day two of the meeting and, all around Suárez-Buitrón, the room is a hive of activity. The 35 participants from almost as many countries worldwide – from Afghanistan to Uganda – are huddled in small groups in the foyer of the Société des Arts Technologiques, an organisation committed to the development of new technologies such as virtual reality. The high-ceilinged, grey concrete room is bathed in a warm light thanks to its colourful light ­installations and impressive windows. ­Subtle lounge music is piped through the loudspeakers.  
Prominent experts and lively discussions 
Today's topics include 'digital diplomacy as a new tool' and 'the crossroads of the digital economy.' Suárez-Buitrón surveys the room: 'I'm no expert in either of these fields.' She does, however, bring other skills to the table: until 2009, she was the undersecretary to the minister of economic ­affairs in Ecuador, whom she advised on financial, environmental and energy issues. Today, she works as a programme director at the President's Office in the World Bank. Her team develops strategies to facilitate the fast and effective implementation of the World Bank's objectives. A mother of two daughters, she has also lived in France and Germany.
Suárez-Buitrón is in Montreal as a member of GIZ's Global Leadership Academy network. This platform, which is financed by the German Federal Ministry for Economic Cooperation and Development, brings together prominent leaders from the fields of politics, business, academia and civil society. They discuss innovative working methods and share their experiences as decision-makers. 'I often turn to this network for inspiration,' says Suárez-Buitrón. For example, when she has become bogged down in a topic at work and needs a fresh, external perspective to take the crucial step forward.   
The role of social media in the run-up to elections
In Montreal, she encounters a similarly ­diverse group of experts and is looking forward to expanding her network further still. A quarter of an hour later, she gets her first opportunity to do so during a panel discussion. She has many questions for the experts on the stage from the fields of politics, diplomacy and technology. How can you prevent the misuse of social media such as Twitter in the run-up to elections? How can you ensure everyone has equal ­access to the internet? A lively discussion ensues.  
'The United Nations and countries such as the USA have been demanding recognition of internet access as a human right for some time,' says one participant. Daniel Domscheit-Berg, former spokesperson for the whistleblower platform WikiLeaks, agrees. 'But the question is how to develop an infrastructure that enables free access for all. Many countries and governments are not willing to relinquish control of regulation.' Domscheit-Berg, a computer scientist and activist for freedom of information and transparency, is a speaker at the conference.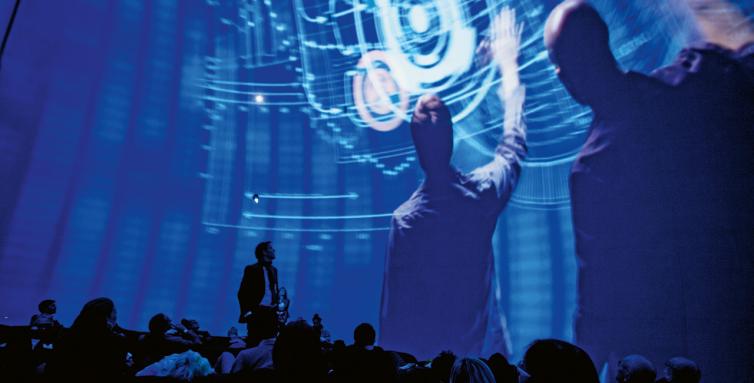 Picture gallery: Global Diplomacy Lab
The participants have been carefully selected. If there is one thing Senta Höfer from the German Federal Foreign Office, who co-organised the conference, hopes to achieve from the meeting, it is for participants to engage in 'lateral thinking'. For this to happen, however, she believes that 'not only decision-makers' should be allowed a seat at the table. 'You have to bring together creative professionals from a wide variety of areas.' 
GIZ's Global Leadership Academy, the most recent of the Global Diplomacy Lab's five partners, also contributes to this. The cooperation is beneficial to both sides, ­explains Wiebke Koenig, Head of the Academy. 'We share our networks and, in return, receive fresh impetus. And we jointly test different formats.' 
Immersion in new technologies 
This is exactly what participants are asked to do on day three in the 'Situation Room': the task is to develop a strategy for the ­creation of a digital diplomatic embassy. At round tables, participants design, discuss and elaborate. And most important of all: the result will not be confined to a filing cabinet; the final concept will be sent to Global Affairs Canada, the Canadian Department of Foreign Affairs.
During a 'digital break' between two events, Paula Suárez-Buitrón lies on a grey cushion, mesmerised by a futuristic short film. She is in the 'Satosphère', a high, domed room with a 360-degree cinema screen. The screen draws viewers into the images, allowing them to immerse themselves in films or games.
New opportunities for artificial intelligence
'You feel like you're right in the thick of it. This technology could also be used for communication with crisis areas,' Suárez-Buitrón says to her neighbour János Kóka. He points out that, 'Just because a technology works in the entertainment industry doesn't mean it can be used in exactly the same way in a political context.' This leads to a discussion about how the new technology could be used in each of their respective fields.
Kóka, a former Hungarian Minister of Economy and Transport, has been Chairman and CEO of Cellum Global Corporation, an international group of technology companies, since 2011. 'Tech companies have to realise that advances in the field of artificial intelligence and robots can also be used at other levels with completely different structures, such as diplomacy,' says the 44-year-old entrepreneur. 'The Satosphère is just one example of this. We have to use these tools.'
App to counteract water shortages in India 
Kóka has been impressed by an idea presented by an Indian participant in Montreal: a water marketplace app to ­combat the major problem of drought in India. 'Connecting suppliers directly with consumers could eliminate the need for many middlemen,' says Kóka. 'They often delay processes through corruption. The price of drinking water could fall by 90%.'
Day four: before she even sits down to breakfast, Paula Suárez-Buitrón has sent her colleagues at the World Bank in Washington a long list of project ideas.
Contact: Wiebke Koenig > wiebke.koenig@giz.de
published in akzente 1/17