Modern prosthesis for Cuba
Dancing salsa with a new leg
At some point that long morning, spent waiting and tweaking, Leisé González pulls her smartphone out of her bag and says, 'Look, that's me on the Malecón.' The video, taken on Havana's famous promenade, shows a young woman dancing salsa – spirited, elegant and passionate. 'And that was with my old leg – just imagine how I'm going to be able to dance with the new one.' Leisé González sticks her phone back in her bag and laughs as though she'd just been given the best present ever.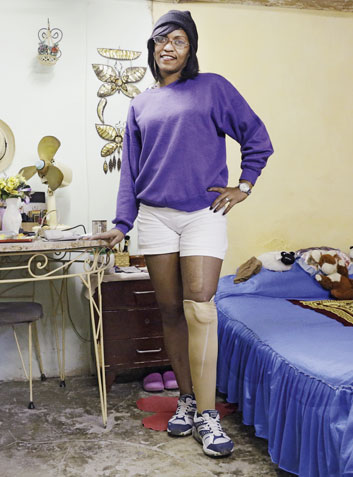 Modern materials and new research
The 28-year-old has already spent a quarter of a century without her lower left leg: a truck ran over her leg when she was a child. But she has a bubbly personality, and she loves sport. Today she is sitting in the workshop of the National Centre for Orthopaedic Technology in Havana, and getting to know her new prosthesis. She examines the unfamiliar material, moves the foot joint, strokes her new aid that is to make her life easier almost lovingly. It only takes her a few seconds to fit her new lower leg, then she leaps from her chair and walks up and down the workshop from one end to another. She nods barely perceptibly, smiles as though she is listening to her body. If she weren't wearing shorts, nobody would notice that one leg has been amputated below the knee, she moves so naturally. 'What a difference!' she shouts. 'I can walk so much more smoothly.'
The interpreter has just got her new leg, which Cuban technicians produced with German support. The lightweight materials, such as fibreglass and carbon fibre, and the modern foot for the prosthesis were supplied by the company Ottobock. The world leader in the field of prostheses and orthoses also provided the expertise needed. The company, based in the small Lower Saxony town of Duderstadt, has been training Cuban orthopaedic technicians since 2016. Experts from the company have introduced them to modern materials and familiarised them with the latest findings in the field of orthopaedic technology.
Within the scope of the develoPPP.de programme, which was set up by the German Federal Ministry for Economic Cooperation and Development, the Deutsche Gesellschaft für Internationale Zusammenarbeit (GIZ) GmbH is supporting this upskilling programme. Cuban specialists are trained both at the Ottobock International O&P School in Duderstadt and on the ground in Havana, a unique development partnership between Cuba and Germany.
'With the new technology and my training, I can give patients a better quality of life.'

Eriel Castillo, orthopaedic technician
One of the German experts is Karim Diab, international trainer for arm and leg prosthetics. About a dozen Cuban technicians in white lab coats are closely observing how Diab sits a patient down on a sort of bench and uses a plaster bandage to measure his femur stump. This has the advantage that the plaster moulds itself exactly to the stump under pressure, meaning that no major changes need be made to the actual prosthesis at a later date. This precise procedure is much less invasive for patients than the procedure formerly used. Diab has also shown his colleagues how to use plaster techniques for lower leg amputees. The great advantage of this technique is that the patient stands when the plaster is applied. The pressure points are thus the same as those the patient will have when he or she comes to use the actual prosthesis later.
The Cubans pass on their knowledge
The German experts held four two-week courses in Cuba in 2017. They explained how to produce arm and leg prostheses and leg orthoses – external supports – and how to adapt them to bring them into line with the needs of patients. A total of 33 technicians from 14 workshops across Cuba have been trained. They can now pass on their newly acquired expertise to their colleagues in their orthopaedic workshops to ensure that as many patients as possible benefit. Ottobock experts are to run another four courses in Cuba in the course of 2018.
The German partners have brought a mass of high-tech equipment with them. All the new equipment is to remain in Cuba so that Cuban technicians can continue to work with them – including, for instance, a laser-beam static meter. Markus Goldmann, Training Manager at the O&P School, explains how to use the equipment to ascertain with high precision whether the patient's posture, weight and prosthesis genuinely harmonise.
The high-tech equipment looks futuristic in the Cuban orthopaedic workshop, where the digital era has yet to dawn. The workbenches are fitted with vices, the surfaces are filled with plaster prints of stumps, retired prostheses, old wooden feet. All the new equipment dates from the part-modernisation of the workshop in 2015, financed by a personal donation from Ottobock President Hans Georg Näder. Two mechanics work on a leg orthosis made of metal, while another smooths edges on a lathe and yet another makes plaster casts. On the walls hang images of Fidel Castro and Che Guevara, the idols of the Cuban Revolution.
Cuba was long held to be exemplary in Latin America with its good-quality medical care. Orthopaedic surgeons and technicians understand their trade and have excellent basic training. But time seems to have stood still on the technology front. This is apparent even from the name of the workshop at the National Centre for Orthopaedic Technology – Cuba-German Democratic Republic. For as long as the GDR existed, East German orthopaedic technicians from Berlin's Charité Hospital advised and supported their counterparts from this fellow socialist state, and supplied materials. Virtually no technical progress has been made here since 1990.
Demand for well-trained technicians
Yet there is a huge demand for well-trained orthopaedic technicians and modern materials. About 16,000 of the 11 million inhabitants of the Caribbean island are amputees, having lost a lower extremity. Another 1,600 join them every year, mostly as a result of road traffic accidents or diabetes. The economic difficulties facing the island mean, however, that not all patients can be fitted out with the prostheses, shoes, braces or other aids that they need. The specialists required are also in short supply. The island has 350 orthopaedic technicians, but only about half this number are able to produce prostheses independently. And some have already reached retirement age. One of them is Armando Márquez, Head of the Cuba-German Democratic Republic workshop. He is 75 years old and has worked there for more than 50 years.
By contrast, Eriel Castillo is one of the new generation. The 35-year-old with the short brown hair is especially skilled. That is one reason why the National Centre for Orthopaedic Technology sent him and three colleagues to Ottobock's training centre in Duderstadt for a ten-month training course. With technicians from all over the world, Castillo was able to bring his expertise up to date. He finished the course in third place. The further training course was almost like learning a new profession for the Cuban. 'We were well trained, but our knowledge was not up-to-date,' he told us. 'Today making prostheses is practically a science – even laser technology is used. That was completely new to me.'
CUBA

 

Capital: Havana / Population: 11.2 million / GDP per capita: USD 7,602 / Economic growth: 4.4 per cent / Human Development Index ranking: 68 (out of 188)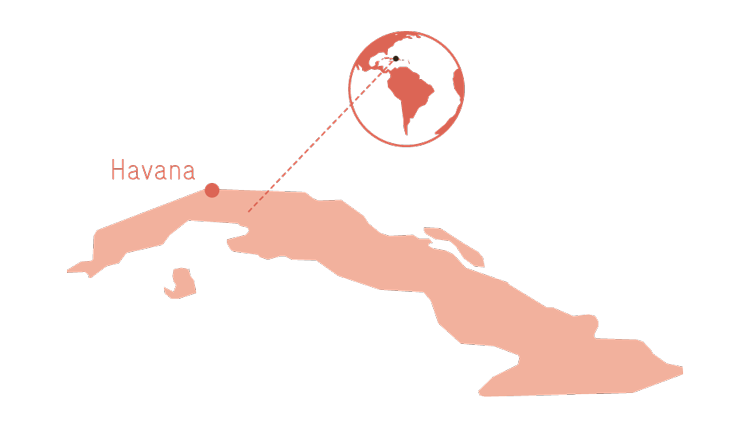 Cooperation with Ottobock is part of the develoPPP.de programme, which the German Federal Ministry for Economic Cooperation and Development uses to foster private sector engagement in areas in which business opportunities and the need for development action overlap. Companies receive financial and technical support and assume at least half of the overall costs.
www.developpp./de.en
Contact: Dominik Weidert, dominik.weidert@giz.de
This morning, Castillo is in great demand in the workshop. The patients tell him where their prostheses rub or are sore, and ask him to help. The Paralympic long jumper Malu Pérez is one of them. In 2016, she won bronze for Cuba in Rio. Ottobock fitted her out with a carbon spring. Pérez is now training for Tokyo in 2020 and she has her sights set on gold. Eriel Castillo is her personal technician.
New prosthesis with a carbon foot
But first it's Frank González's turn. He is a 45-year-old tourism manager from Cienfuegos Province. He has travelled for several hours by bus to get here this morning, so that Castillo can fit his new prosthesis. The technician has produced it using the new high-tech materials and the expertise he acquired in Germany. González was born with fingers missing on both hands, his left leg is far shorter than the right leg and he has no calf bone. A prosthesis was made for him at home, but it is too heavy and too short. Frank González was unsteady on his feet and did not feel safe.
When Eriel Castillo fits his new prosthesis with a carbon foot, the patient's mood changes instantly. The technician asks if he can roll his foot. He uses an Allen key to tighten a screw at the joint, and checks that the patient's hips are level when he stands. Then González takes his first cautious steps – and laughs for the first time today. Castillo joins in. 'The old prosthesis was too simple for such a complex disability,' he explains. The new foot is designed for energetic efficiency and ensures harmonious movement. In other words, care is taken that the patient hardly notices the prosthesis and wearing it should not tire him out.
Out and about without fear at last
'I always used to be afraid that the prosthesis would bend under me, when I wanted to walk to the bus stop, for instance,' says González. Technician Castillo is familiar with this fear from other patients too. Often simple prostheses are only a very rough and ready help. 'With new technology, better materials and my training, I can give patients like Frank and Leisé a much better quality of life.' The patients are selected by the National Centre for Orthopaedic Technology. The lion's share of the costs are shouldered by the Cuban state, but patients have to pay a contribution. For a lower limb prosthesis they pay the equivalent of USD 4.50.
Change of scene. Calle Pizarro in Mantilla, a district of Havana half an hour from the workshop. This is where Leisé González lives in a one-room apartment. It is now late afternoon. One of her neighbours is celebrating his birthday. Chicken legs are sizzling on a barbecue and salsa music floats out of an open window. González asks her neighbour for a dance and spins across the street with him. Later, quite out of breath, she says, 'I forget everything when I dance. And with the new prosthesis I can almost forget that I only have one good leg.' Behind her back the sun sets over Havana.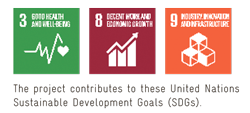 published in akzente 2/18