Starting a new life back home
With a bundle of brochures in his hands and eyes on the lookout for large chequered holdalls, Naim ­Basha can often be found waiting at the baggage carousel in Priština airport. 'Ura', the Albanian word for 'bridge', is printed on Basha's ­information leaflets. They address people who left Kosovo in the hope of being granted asylum and starting a better life in Germany. For most it is an illusory hope: after careful case-by-case assessment, few people from Kosovo are granted protection ­status on the grounds of asylum, particularly since it is seen as a safe country of origin. Some of them have abandoned everything to achieve their dream and invested all their savings in the journey. The holdalls, which they are given prior to repatriation – voluntary or otherwise – after their application for asylum has been dismissed, often hold all their worldly possessions.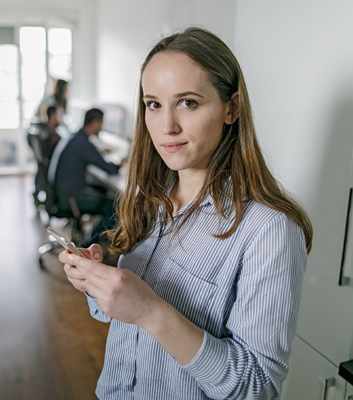 Psychologist Basha works for the Ura reintegration project. As part of a team of social workers and job placement officers, he provides guidance on starting a new life back home. Those returning voluntarily to Kosovo in 2015 and 2016 numbered 13,524 in total. During these two years, Basha and his ­colleagues counselled 9,763 returnees. In the first half of 2017, a total of 1,323 returnees joined them. GIZ is implementing the ­project on behalf of the German Federal ­Office for Migration and Refugees, which has been organising reintegration projects in ­Kosovo for 10 years.
The challenges facing returnees are enormous, since finding work in Kosovo is ­extremely difficult. The unemployment rate in the country was almost 28 per cent in the third quarter of 2016, and rose as high as 50 per cent among young people. In addition, around one third of the population lives in poverty. Vestiges of the war are visible in many buildings – many are just shells. Weak structures proliferate and corruption in the country is rife.
Listening to what people need 
Returnees, most of whom have spent many years in Germany, no longer have a network of friends and acquaintances who could help them find a job. And yet there are sectors in Kosovo – including call centres and IT – which offer good opportunities, particularly for returnees. Moreover, with 43.5 per cent of Kosovars aged under 25, the population is one of the youngest in Europe. That too harbours potential.
In his counselling office, Basha and his colleagues help returnees to develop prospects. In the first instance, that means listening closely to what people need, what they can do and above all what they want. Their aim is to find tailored solutions to individual needs. Counsellors tell of a single mother, who after the death of her husband fled to Germany with her two sons. Her request for asylum was turned down. On her return, the centre helped the widow to find a flat and buy clothing and materials for school. The woman was also under considerable psychological strain, Basha recounts.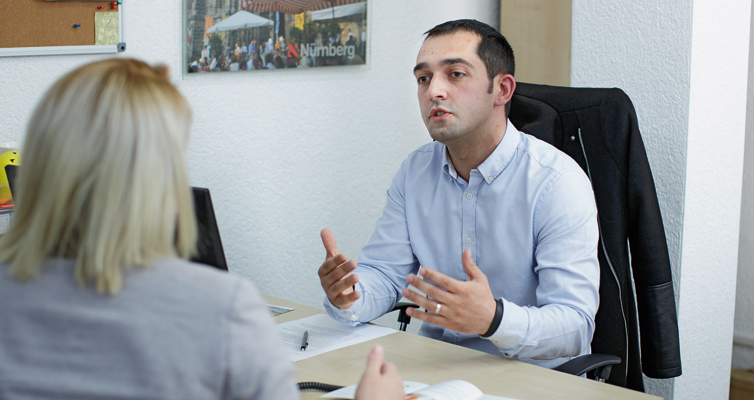 he centre for returnees also has a job placement service. Korab Lekaj, who sits at the desk next to Basha, is in charge of job placement. He knows from first-hand experience what it feels like to make a new start back home. During the war in Kosovo, Lekaj lived in Switzerland for five years. Since 2007 he has provided information to other returnees about opportunities on Kosovo's labour market – as well as on training courses and work placements.
Expanding IT sector 
'Sadly, their level of training is often inadequate,' says Lekaj. But many of the returning men and women have a major advantage: an additional language. 'There are currently excellent opportunities on the labour market for German-speaking returnees,' he says in German. Call centres have specifically relocated to Kosovo because many inhabitants speak several languages. There are no figures as yet showing how many of those seeking counselling from Ura have actually found work there.
The IT sector in Kosovo is also expanding. Blerina Berisha works for a start-up in Priština. The 22-year-old computer expert sits in a bright, modern office with a small kitchen and a view out over the city. A poster on the wall exhorts, 'Get shit done'. This is where the staff of eight, all in their twenties, spend their day programming apps. 'Kosovo is a popular destination for outsourcing app development,' says Berisha. The app they are currently working on is for the Austrian Automobile, Motorcycle and Touring Club (ÖAMTC). Berisha is thinking about applying for postgraduate studies in Germany. She has plans. 'There's an app I would love to ­create myself, but it's still in the early stages.' She has already found out about requirements for studying in Germany at the ­German Information Point for Migration, Vocational Training and Careers Advice ­(DIMAK) in Priština. 
The information point provides clarity on legal ways to move to Germany, as well as warning about the risks of illegal entry. At the same time, it offers information about ­employment and training opportunities in Kosovo. So the service is also open to returnees. It is a counselling service provided by the Centre for International Migration and ­Development (CIM), a joint initiative of GIZ and the German Federal Employment Agency's International Placement Services. The information point was created on behalf of the German Federal Ministry for ­Economic Cooperation and Development (BMZ).
Rural isolation meets cutting-edge digital technology 
Blerina Berisha's boss, Bujar Muliqi, has been running the Priština office of OpenResearch, the Austrian app developer, for two-and-a-half years. He is optimistic as far as his country's IT sector is concerned. ­'Kosovo will never be Silicon Valley, but it has potential,' he says. One of his staff members has already left the company to set up his own business.
Although call centres and the IT industry ­offer new opportunities in Priština, most of the 1.8 million people in Kosovo live some distance from the capital. Two-and-a-half hours' drive from Priština is the remote ­village of Reka e Allagës. After heading west along the main trunk road, the route ­becomes narrower and snakes round steep cliffs before turning off along a bumpy forest track. The children of Mustafë and Fetije Nikçi stay with their grandparents in the valley, while their parents remain on their farm up in the mountains, part of a nature reserve that ­borders Montenegro and Albania. 
'There's no internet here or any of the other things young people need,' says Mustafë Nikçi. He and his wife live in a large wooden house surrounded by forest and meadows overlooking snow-capped mountains. The setting is reminiscent of the Swiss Alps – and Mustafë Nikçi knows what they look like. The 54-year-old, his weather-beaten face ­hidden beneath a traditional felt hat, worked for a while in forest management in Switzerland during the 1990s.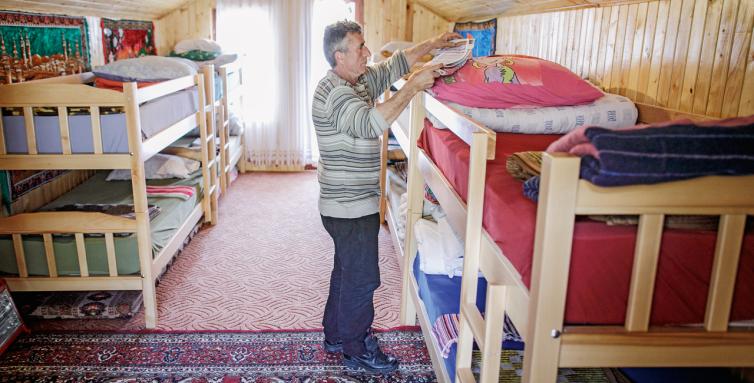 Picture gallery: Hikers can spend a comfortable night at his guesthouse Ariu
From his terrace he gazes into the ­distance, as a strong wind rustles through the trees. 'Everything was destroyed here ­after the war.' At one time there were 100 houses. Many are now no more than ruins, and only 30 families still live in the village. Nikçi rebuilt the burned-out shell of the ­family house, and added a guesthouse, which he rents out to hikers. With freshly laundered duvets on the bunk beds and warmly ­coloured rugs covering the wooden floor, the place is simple but welcoming. Up here in the mountains, Nikçi and his wife have ­developed a mini paradise for walkers.
Hiking tourism in the Peaks of the Balkans
GIZ has been waymarking routes and ­creating maps in this three-border region since 2010 – 192 kilometres of hiking trails are now in use. Since then the Peaks of the Balkans trail has been drawing tourists and hiking guides from Germany and elsewhere to the Nikçi's guesthouse. On behalf of the German Federal Ministry for Economic ­Cooperation and Development, GIZ has been helping the family business to tailor and expand its services to hikers – so that younger people living in the mountain region might also have prospects of a better future.
Over 700 tourists stayed here in 2016, says Mustafë Nikçi. He and his wife often ­offer lunches for guests staying elsewhere in the village. Paprika soup with roulades, homemade yoghurt, fresh bread and handmade cheese, as well as traditional flia, a labour-­intensive pie of pancakes and cream cheese – the spread covers every square inch of tablecloth. And, of course, no meal would be complete without home-distilled raki. 
Throughout the summer months the farm is visited mainly by Germans. Accommodation with full board costs EUR 25. Nikçi's children take care of all the reservations made online. Even they can't do entirely without IT.
Contact:
URA reintegration project > ura.kosovo@bamf.bund.de
Tourism: Ottilie Mooshofer > ottilie.mooshofer@giz.de
published in akzente 3/17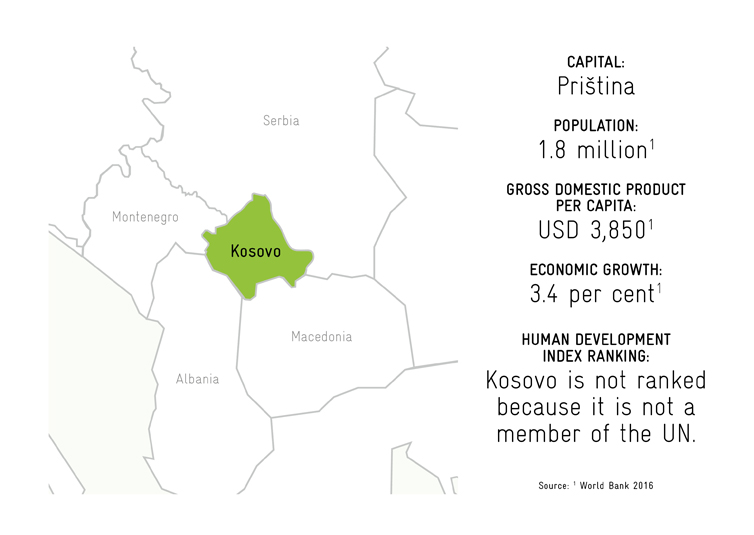 NEW PROSPECTS
Project: Ura reintegration project
Country: Kosovo
Commissioned by: German Federal Office for Migration and Refugees
Lead executing agency: Ministry of Internal Affairs of the Republic of Kosovo
Term: ongoing since 2016
Staff of the Ura – The Bridge project supported no fewer than 5,435 ­returnees in 2016 (and 1,323 in the first half of 2017). In addition to ­social counselling, the centre provides assistance with job placement and psychological guidance. In some cases, returnees can also be given ­financial support. The aim of the project is to create prospects for people in their former homeland. The counselling services, which have been available since 2009, are open to everyone. Demand for counselling has risen enormously as a result of the surge in returnees in 2015 and 2016 – in 2015 over 33,000 Kosovans applied for asylum in Germany. In 2016 the number was just under 5,000. Since the acceptance rate is very low, most are forced to return home. The project reflects the approach of the German Government to steer migration at inter-ministerial level and ­establish close ties with development cooperation.