Careers advice in Albania
Reality check for dreams
Adelina Cenku has a dream: to go to Munich. In broken German, she explains that she has dreamed of going abroad since she was a child. Cenku is 23 and is from the Albanian capital, Tirana. She has trained as a physiotherapist in her home country but would now like to go to Bavaria to work and specialise further. New therapeutic opportunities are being developed on almost a daily basis in Germany, she says. It is the country of her dreams.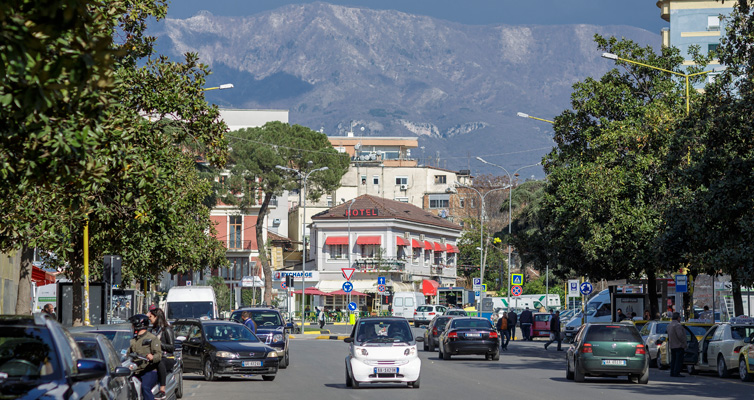 And Adelina Cenku is not alone in her dream of emigrating. In 2015, 53,805 Albanians applied for asylum in Germany. A further 14,852 did so in 2016. With an unemployment rate in their home country of 17% – and over 32% for 15 to 29-year-olds – many Albanians hope for a better life abroad. Their dreams are fuelled by inaccurate information on Facebook and 'success stories' that turn out not to be true. Germany classifies Albania as a safe country of origin, so asylum applications are almost guaranteed to fail.
Like virtually all her 2.89 million fellow Albanians, Cenku has friends and relations who have travelled to Germany in the hope of being granted asylum and finding employment – but who have failed. Since October 2016, Germany has therefore been running a contact point in Tirana for people like her – DIMAK, or the German Information Point for Migration, Vocational Training and Careers Advice. Advisors sitting at two desks in the Employment Office in Tirana, surrounded by piles of brochures and leaflets, provide information about opportunities for employment and training in Albania. They also advise on legal ways to find employment, study or access training in Germany.
DIMAK is run by the Centre for International Migration and Development (CIM), a joint venture between the Deutsche Gesellschaft für Internationale Zusammenarbeit (GIZ) and the International Placement Service (ZAV) of the German Federal Employment Agency. Working on behalf of the German Federal Ministry for Economic Cooperation and Development (BMZ), and in cooperation with the relevant national employment service, CIM currently operates four such information centres, in Albania, Kosovo, Serbia and Tunisia.
Learning German is essential
Florenc Qosja coordinates DIMAK and is staffing one of the desks. He says, 'When people come here, we put their dreams through a reality check. Many have already travelled to Germany, assuming that they will find a job and be able to stay there legally.' But as Qosja points out, Albanian nationals who want to work in Germany have to fulfil a long list of conditions: they need a firm job offer and an employment contract, confirmation from the Federal Employment Agency that nobody else is available to fill the post, and a work visa. 
DIMAK also explained to Adelina Cenku that to work in Germany as a physiotherapist, she would have to meet another condition: learning German to level B1 under the Common European Framework of Reference for Languages. The young physiotherapist is now taking daily German lessons. She also has to undergo an assessment to get her Albanian qualifications recognised in Germany. 
In less than a year, DIMAK in Tirana has already advised around 1,500 people, and when it first opened, 50 to 60 people at a time were queuing to use the service. In fact, says Qosja, so many people turned up that he and his colleagues were unable to see them all immediately. Many Albanians now use DIMAK's advice page on Facebook to post questions. As many as a quarter of those seeking advice are voluntary returnees whose applications for asylum have been turned down – in 2016, 17,000 Albanians returned home from Germany. Many lack the skills to make good job applications and are missing out on opportunities on the Albanian job market, so DIMAK runs seminars to help them. It also regularly organises jobs fairs, putting job-seekers in direct contact with companies. 
Ancient olive trees provide jobs
Around 70% of all employees in Albania work for companies with up to 80 employees, which are the main providers of employment in the country. Silvana Subashi has set up just such a company in a traditional sector of the Albanian economy. Around half an hour's drive from Tirana, she employs nine people in olive oil production. About 10% of Albania's agricultural land is given over to growing olive trees. The sector creates employment opportunities for people living in rural areas, where it is often harder to find work than in the towns and cities.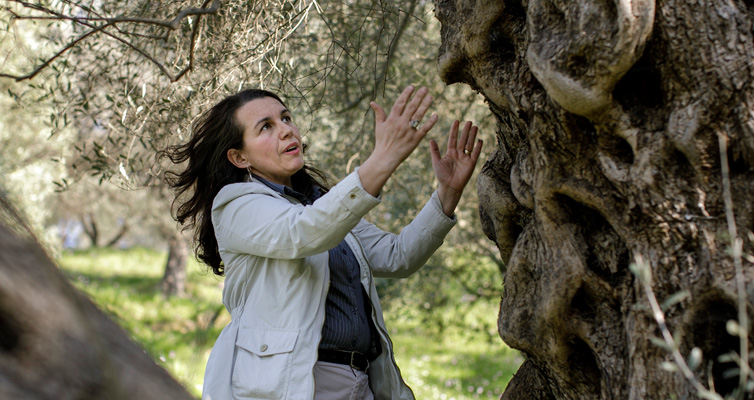 Subashi is standing up to her ankles in grass on a steep slope in the shade of a massive olive tree. 'This tree is between 250 and 300 years old,' she tells us. Each season, the tree yields around 200 kg of olives, enough for 50 litres of olive oil. Subashi gently strokes the bark of its broad trunk. This is just one of around 1,200 olive trees growing on the steep slopes here. The land has belonged to her husband's family and other families from the region for centuries. But harvesting these valuable resources is not easy.
Producing and selling olive oil efficiently requires expensive equipment, good marketing and quality assurance. Subashi has joined forces with other local farmers to form an olive oil cooperative, reducing costs and boosting competitiveness. She and her colleagues have been supported by the 'Nucleus Albania' network, which brings together small companies, particularly in rural areas. The network helps with improvements in quality and productivity and with marketing. GIZ launched the project in 2014 on behalf of BMZ. As Subashi explains, 'The network gives us better bargaining power. And we've taken down the fences between individual plantations, which makes it much easier to transport the olives.' Donkeys carry the olives down the steep hillsides to the road.
Near her ancient olive tree, Subashi has set up a table showing off other products: glass jars of chillies in gleaming golden oil flavoured with rosemary, a bowl of glossy olive honey, and a flask of tea made from olive leaves. Subashi is keen to distinguish herself from other producers and add value to her oil by flavouring it in new ways. And she is developing new products, which are already being stocked in shops back in Tirana.
Contact:
DIMAK: Luiz Ramalho > luiz.ramalho@giz.de
Olive oil production: Katja Röckel > katja.roeckel@giz.de
July 2017