His dark eyes focused straight ahead, Farhad Haidari, a young man from Afghanistan, absentmindedly runs his index finger over his top lip. A few metres in front of him, workshop leader Bernd Wenske is explaining what should be included in a German job application: 'If it says: "Please send your complete application", this means that you should send all certificates and references along with your CV,' he explains. 'The same applies if the terms "detailed", "comprehensive" or "full" are used,' he adds in German-accented English. With a soft click, he puts the lid back on the pen he used to write the key words on the flip chart. 
Haidari's neighbour, a woman with curly blond hair, bursts out laughing. 'Germans have so many words for exactly the same thing,' she says, shaking her head, but taking note of the terms nonetheless. After all, she does not want to make any mistakes.
Funded by the European Social Fund and the City of Hamburg
Together with ten other participants, they are sitting in a bright room in an old building near Hamburg's central train station. There are coffee cups, water bottles and laptops on the tables of the participants, who come from Cyprus, France, India, Poland, South Africa and, of course, Afghanistan. The atmosphere is one of concentrated silence, interrupted only by the occasional clicking of a keyboard.
In red letters, a poster on the window reads 'Make it in Hamburg!', the name of a project which is being implemented by GIZ. It aims to help foreign skilled ­professionals in Hamburg to find work. The three-day job application training workshop organised by cooperation partner ­Arbeit und Leben Hamburg complements the one-on-one advice provided by GIZ. The project is funded equally by the European Social Fund and the City of Hamburg.
Despite the shortage of skilled professionals, many companies are still cautious
All participants speak fluent English. Many have excellent university degrees, some even have doctorates. Yet they are still struggling to find a job on their own in Germany. This is due to the fact that, ­despite regular reports in the media about the shortage of skilled professionals in ­Germany: 'When it comes to employing foreign applicants, many companies are still very cautious,' says Florian Krins from GIZ. Native to Hamburg, he has seen this many times. Since the beginning of 2014, he has been advising well-educated foreign jobseekers through the Make it in Hamburg! project.
However, it is not just companies that need to expand their knowledge. Many ­foreign applicants do not know how the German labour market works. 'The application process in Germany is fundamentally different to that of other countries,' explains Krins.
Advice about job portals and CVs
More than 450 foreign specialists from over 70 countries worldwide have sought support since the project was launched. They are given advice and tips, and take part in workshops like the one run by Bernd Wenske. Not everyone who walks through the door of GIZ's Hamburg city centre office needs job application training. Some only need to be pointed in the direction of suitable job portals. Others have no idea where to start.
Job application training, such as the workshop completed by Haidari, can be a good place to begin. Jobseekers spend three days learning about the intricacies and ­idiosyncrasies of the German working world. The dos and don'ts of writing a CV. How to handle salary negotiations. And how to word a cover letter that will grab a company's attention. 'If a vacancy lists ten requirements but I only meet nine, should I bother applying?' asks Haidari, his eyebrows raised incredulously. 'Yes,' Wenske answers calmly. The grey-haired workshop leader dressed in jeans and a light, short-sleeved shirt adjusts his horn-rimmed glasses. 'A job advertisement is like a wish list. You can still apply even if you don't meet all the criteria,' he says, looking around the group.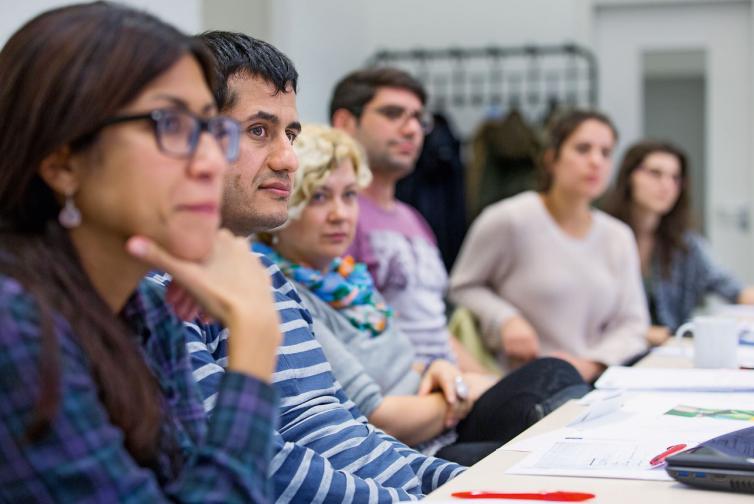 Picture gallery: A job application training with participants from all over the world in Hamburg.
Arunkumar Jayaprakash also knows how difficult it can be to gain a foothold on the German labour market. The 33-year-old aircraft engineer from Bangalore has lived in Hamburg for more than three years. He was brought to the city by an Airbus supplier to develop parts for the A350. The aircraft is now complete. And he is unemployed.
The engineer from India has been invited to a job interview
He needs to find a new job soon. But even contacting potential employers is proving more difficult than he anticipated. 'Most people just hang up the phone,' he explains, pulling a thread from his freshly ironed linen shirt. 'Maybe my name puts them off.'
After taking part in telephone training through Make it in Hamburg!, things are now looking up. 'We practised explaining the reason for our call to the person on the other end of the phone and learned that you should perhaps not mention your name first,' he says. 'I now always make a point of explaining which is my given name and which is my family name,' says Jayaprakash, with a mischievous glint in his eye. Just to be on the safe side, he has shortened his first name, Arunkumar, to Arun. Although he has yet to find a job, companies are now getting back to him. 'I also have a date for an interview,' he says.
Workshops for skilled professionals

Internationality has long been part of Hamburg's history – the port and city of commerce has always benefited from diversity. Skilled professionals with new ideas are in high demand here. The Make it in Hamburg! project helps these professionals to integrate into the labour market. Among other things, it offers a service point for jobseekers and companies. On behalf of the Hanseatic City of Hamburg, GIZ also offers job application training and intercultural workshops. The project is part-funded by the European Social Fund. Around 450 skilled professionals have already taken advantage of the services on offer. Roughly 300 have taken part in workshops, and more than 75 have subsequently found a job, training place or internship.
Zhuoli Li – or Linda Lee, as she calls herself here in Germany – faced a similar situation. The 32-year-old international sales specialist from China has been in Hamburg for over a year. She moved to Germany from Shanghai to work in customer services at an automotive supplier, but her contract is now about to expire. Li appreciates German social standards and wages and wants to stay in Germany. She has also built up an international circle of friends in Hamburg.
With the help of the job application training course, she learned how to formulate a cover letter. And this led to an interview with a technology firm. 'The interview went really well,' she says, beaming. A few weeks later, she has even better news: the contract is signed.
Nonetheless, Li is continuing to work on her German. That, she has noticed, is a key criterion for entering the German labour market. Even if English is the main working language, 'Companies still expect you to have good German skills,' she says.
> Contact: Florian Krins florian.krins@giz.de
published in akzente 1/16