The land of milk and honey
'When I was 16, a good friend gave me a book about bees and beekeeping. Since then, I've been fascinated. In 2009, I decided to make a career out of my hobby. Along with the friend who first got me interested in bees, I set up Geo Naturali, and now work as a honey producer. I'm interested in how we can modernise beekeeping in Georgia, replacing outdated methods with new ones, how bees can be moved around, what treatments are available for sick bees, and how honey is processed. All of these aspects are crucial, particularly if you want to export to the EU! And that has been our goal for the past three years. The biggest challenge has been to comply with all the European standards.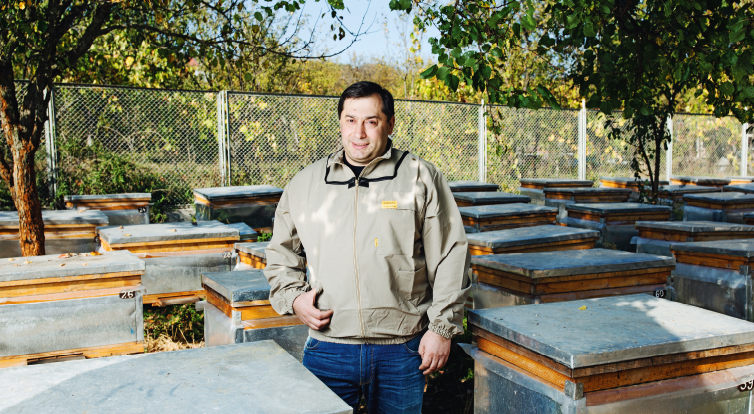 'We exported our first batch of honey to Berlin in 2019. I'm really proud of that.'
For example, the EU stipulates that honey must be pure and not contain anything extraneous, such as pollen or other constituents particular to honey. It also prescribes what information has to be included on labels. Fortunately, we had help. Our German advisors went through our entire production chain with us and gave us some really important support. They showed us how to avoid contamination from things like mites and pesticides. We had all our honeycombs tested to see if any of them were already contaminated. Another issue that we had to tackle together was that we work with wild bees and produce multi-flower honey from the nectar of a variety of plants in the Racha region in north-central Georgia. That meant that we did not know the exact composition of the honey we were producing, so we sent samples to Germany, where the University of Bayreuth analysed them. This specialist expertise and the invaluable European perspective has saved us a lot of time and money and enabled us to export the first batch of our TAPLI honey to Berlin in 2019. I'm really proud of that.'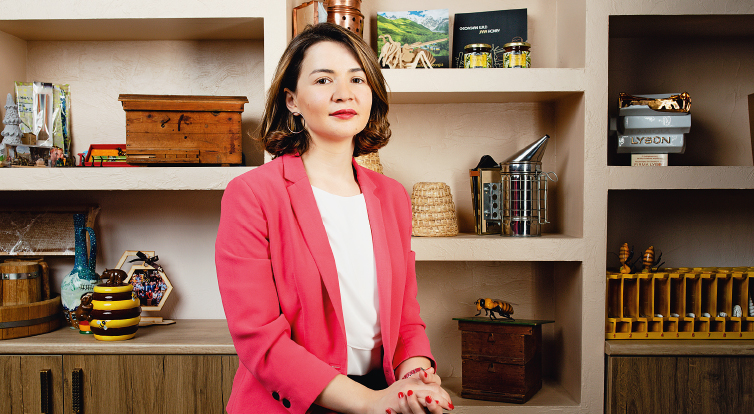 'Bees are crucially important to the entire human race.'
'My whole life revolves around bees. I was born into a family of beekeepers: my father and brother both keep bees, and our yard at home is full of beehives. But bees are crucially important to the entire human race, not just to my family. Without bees, we would have no plants and no food. As a little girl, I used to help my father with his bees. Now I'm studying for a doctorate at the Agricultural University of Georgia in Tbilisi and am Managing Director of the Georgian Beekeepers Association. The Association was established in 2018 and brings together nine Georgian beekeeping associations with a total membership of around 4,000. We are researching the problems beekeepers in different regions face so that we can put these on the government's policy agenda. We also want to boost the popularity of Georgian honey both here at home and around the world. The project has been an enormous help to our beekeepers and to our honey industry. The German experts helped us gain recognition from international importers and make contacts. Our honey has a very distinctive taste and is of a high quality, so it needs a very specific niche on the European market. We are not able to export vast quantities of honey – the most recent statistics show that Georgia produces around 2,500 tonnes a year – but we can offer a premium product for honey enthusiasts. Georgian wine is already very popular around the world, and our honey has the potential to be equally successful.'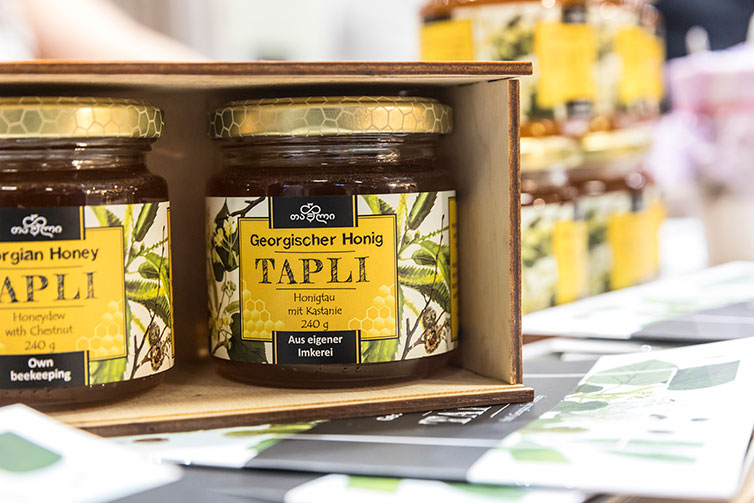 Promoting free trade opportunities
A Deep and Comprehensive Free Trade Area (DCFTA) between the EU and Georgia has been in place since 2014. This arrangement has intensified trade relations. To ensure that small and medium-sized enterprises (SMEs) in Georgia are also able to benefit from the free trade area and improve their competitiveness, the EU has launched the SME Development and DCFTA in Georgia project. On behalf of the German Development Ministry, GIZ has taken on responsibility for supporting the project and its implementation. The project is financed by the EU4Business initiative. Partners from the fields of politics, the private sector and research support the project with a scientifically based quality and authenticity guarantee and a marketing strategy tailored to EU consumers. Honey production is one example. Georgian honey producers made initial contact with German importers at the 2019 International Green Week in Berlin. Following that event, the first German importer placed an order – for 3,000 jars of honey. GIZ assisted producers with regard to the import regulations and customs clearance formalities.
Contact: Philipp Steinheim, philipp.steinheim@giz.de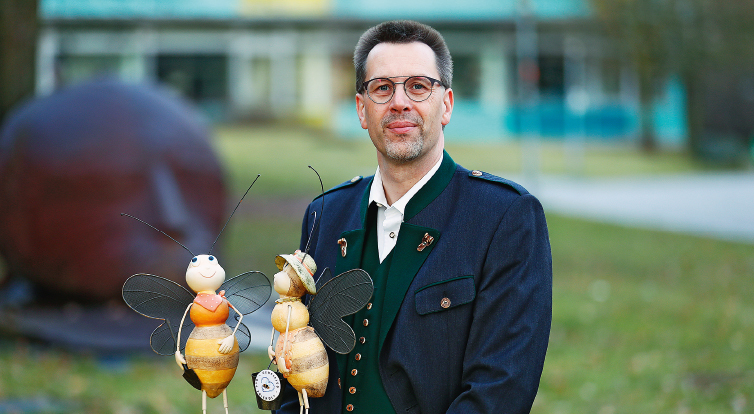 'Honey profiling has ­enabled us to pinpoint where the problems lie.'
'When I first visited Georgia in 2016 and travelled through the country, I was struck by the huge number of roadside stalls selling honey. It is immediately obvious how important this product is to everyday life in the country. Georgia really is the land of honey: the oldest honey in human history was found here. Unfortunately, though, the country does not have a similarly long tradition of detailed analysis, so the University of Bayreuth was an invaluable project partner. Years ago, we began developing an approach to enable us to establish the origin-specific properties of foodstuffs – in this case, honey – and to document them reliably on an individual basis, with the help of nuclear magnetic resonance (NMR) spectroscopy. Using this approach, which is now called NMR honey profiling, we are able to ascertain rapidly the quality, authenticity and origin of a particular honey by recording all of its many different components in quantitative terms.
I was deployed as a honey analysis expert and consultant in Georgia. We investigated local structures, trained and audited beekeeping associations and honey-filling companies, and supported the laboratory analysis of honey on a scientific basis. Laboratory analysis is an important step towards discovering where the problems lie and what mistakes beekeepers may currently be making. We looked at the veterinary medicines being used, how bees were fed in their hives, and how honey processing facilities were equipped. Many Georgian beekeepers are still using veterinary medicines in their hives, and the highly sensitive analysis methods that are applied nowadays have unfortunately found these substances in many of the samples of honey we looked at.
The Institute of Apiculture and Beekeeping in Bavaria was an important partner. Talks with Georgian beekeepers on the ground and the samples we have analysed in the laboratory have now showed what changes we need to make in order to meet international standards. Together, we have developed guidelines and tried to establish TAPLI as a premium Georgian honey brand: the TAPLI Premium Georgian Honey label will in future be a kind of hallmark for all Georgian honey with a distinctive quality, free of residues and produced in line with species-appropriate methods.'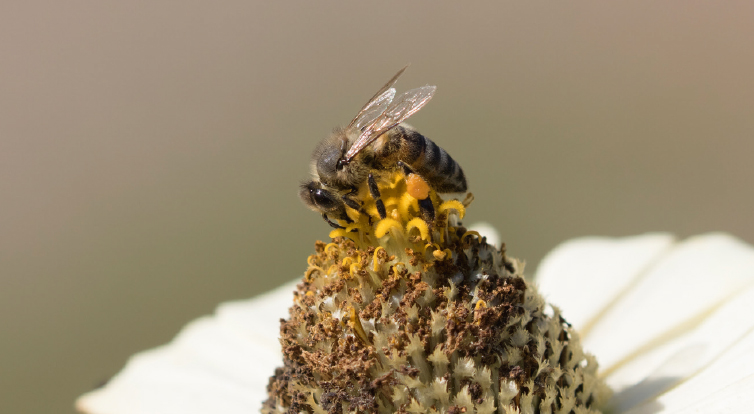 The bees' secret weapon – a long proboscis
The Caucasian honey bee (Apis mellifera caucasia) is known for its ability to extract nectar very effectively even under difficult conditions, such as rain. But the most distinctive characteristic of this species of bee is its particularly long tongue, or proboscis, which can be up to 7.2 mm long. The bees use their proboscis to extract nectar from nearly all flowers, even those with the deepest calyxes. In Georgia, bees are able to collect nectar and honeydew in areas with no human intervention and away from the chemicals used in modern agriculture. This pristine ecosystem, the particular characteristics of the Caucasian honey bee and Georgia's enormous biodiversity give Georgian honey a unique aroma.
GEORGIA

 

Capital: Tbilisi / Population: 3.7 million / GDP per capita: USD 4,068 / Economic growth:4.7 per cent / Human Development Index ranking: 70 (out of 189)

Source: World Bank 2018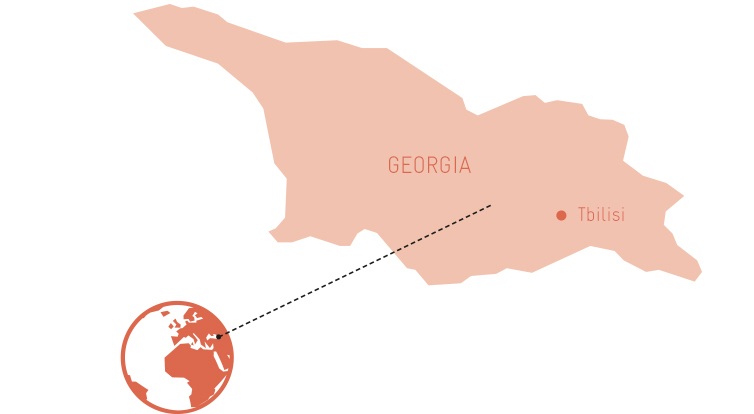 published in akzente 1/20