Displacement and starting afresh
A glimmer of hope
Text and Photos
Rajiv Raman
It's a damp winter morning. The light rain from the previous night has persisted well into the early hours of the morning, and the sun is barely visible through the clouds. Huddled in the cold, wet weather, a group of women are waiting for the first delivery of the day: 'Perhaps the truck is late because of the rain.' We are at a compost packing facility in Khaldiya in the Mafraq Governate in northern Jordan. The job of the 17 women who work here is to pack, weigh and seal the compost that arrives. The group includes two Syrian women. Together with their families, Sarah Qasim Hilal (41) and Suad Abd Al Kaeem Shaaban (52) have sought refuge here from the violence in their home country.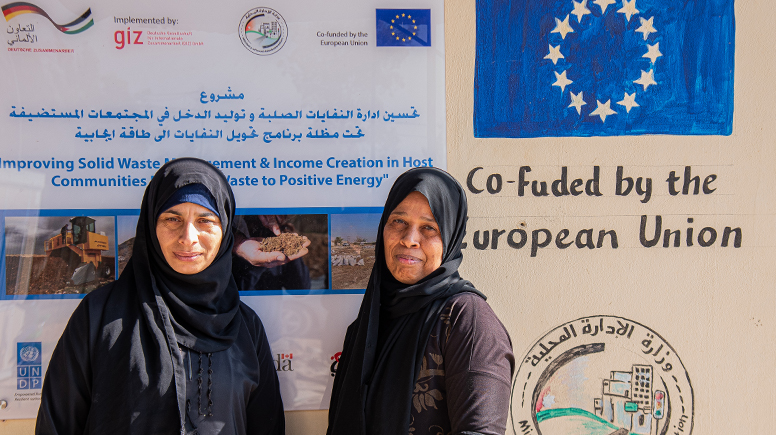 Suad first thought about going to Jordan in March 2011. At the time, the Arab Spring had awakened hopes of democratic reform in Syria, and the first arbitrary arrests of peaceful demonstrators in Damascus were being reported. In 2013, when two of her cousins were abducted and killed, Suad decided to flee her home in Daraa in south-western Syria. Accompanied by her husband and eight children, she asked a friend to drive her as far as the Jordanian border. Together with around 100 other refugee families, they were taken from there to Zaatari refugee camp in buses arranged by the Jordanian authorities. For just over three months, Suad and her family lived in a tent with the few belongings they had managed to bring with them from Daraa. Eventually, with support from a relative, they were able to move to a nearby town.
A mother with a family to feed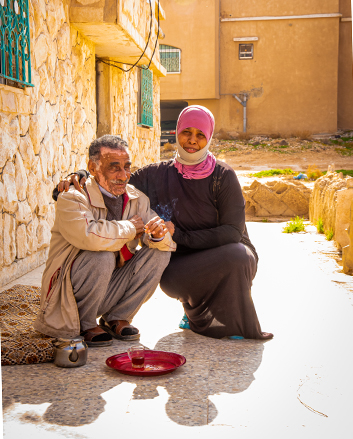 With five of her children still of school age and a blind husband, the financial burden of looking after her family landed on Suad's shoulders. From 2014 to 2017, she scraped by on food coupons worth around EUR 180 a month from UN aid organisations and with a little help from friends and relatives. Her eldest daughter Hanin got married at 24 and moved out. Mansoor (22) earned money as a cleaner, and Sawfan (21) worked in a restaurant. 'I was doing odd jobs too, here and there, to bring in a bit more, but it was not enough. My real break came when a friend sent me an advert for a job at the composting site run by a local women's cooperative,' she explains. Suad joined the packing team in 2018 and since then has earned a large part of the income.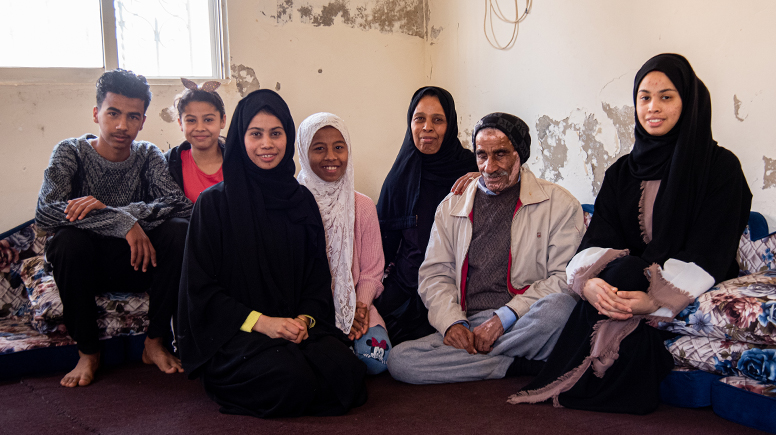 Displaced after the murder of her father
Sarah Qasim Hilal, also from Syria, works alongside Suad. She fled her home in Al Naseeb in south-western Syria after her father was killed in 2011. 'He was innocent and had nothing do with the revolution, but still he was killed and his body burned,' she recalls. Ten years later, her eyes still show that trauma and grief. Sarah had a husband when she made the decision to flee, but he was living and working in the United Arab Emirates at the time. In 2012, taking matters into her own hands, she packed whatever she could and fled across the border into Jordan along with her three children aged 14, 12 and 10. Shortly after she arrived at Zaatari refugee camp, she found out that her husband had another wife. From then on, she had to cope on her own.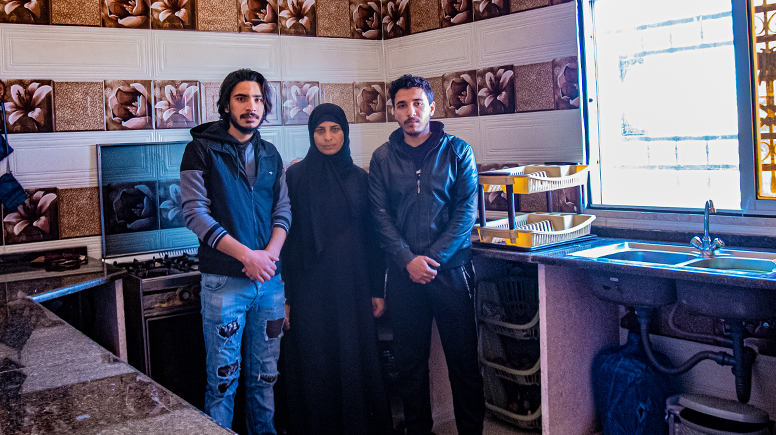 Back in Syria, Sarah worked at a factory making the traditional dessert kanafeh. After fleeing the country, she began baking and selling the sweet pastries to make ends meet. At first, she received support from neighbours and friends, and in 2013 the Red Cross intervened and started paying the rent for the house she had moved into. 'My sons helped out by picking rubbish from the streets and selling it to a recycling centre. 2014 to 2018 was very difficult time for us. We just about survived on the bit of extra money we earned and the aid we received from the UN in the form of cash and food coupons.' Then Sarah saw an advert for the Waste to Positive Energy (WtpE) project and decided to apply for a job.
The project is jointly financed by Germany's Federal Ministry for Economic Cooperation and Development (BMZ) and the European Union through the EU's Regional Trust Fund in Response to the Syrian Crisis, known as the Madad Fund. Its objective is to improve living conditions in the refugee camps and in Jordanian communities by setting up more efficient waste disposal and wastewater treatment systems. The project aims to promote social integration by creating new opportunities to work and earn money. GIZ currently operates twelve sorting stations and three composting facilities in Jordan as part of the WtpE project. There are two sorting stations at the refugee camp in Zaatari and one at the camp in Azraq. To date, more than half a million people have benefited from these improvements in waste management in the region of Mafraq and the refugee camps alone.
More than 30,000 Jordanians and Syrians are employed through the project on a cash for work (CfW) basis. To ensure that as many people as possible have an opportunity to earn an income, at least for a short time, and learn how to do the work involved, CfW jobs are usually limited to three months. The women's cooperative in Khaldiya is an exception, with the option to stay longer. The compost packing facility was run by the United Nations Development Programme (UNDP) until 2019. When funding ran out, GIZ stepped in and has since been cooperating with a local NGO. The facility fits in well with the objectives of the Waste to positive Energy project.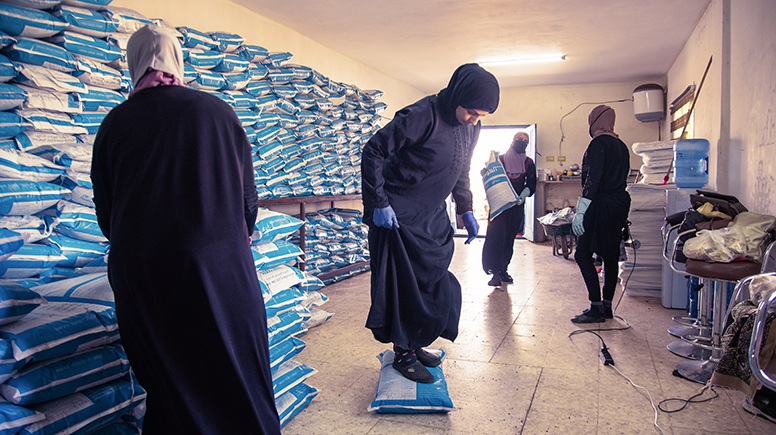 When the first truck arrives and the delivery is unloaded, the women get to work. They fill sacks with compost until they weigh exactly 15 kg. Sarah takes the sealing machine and gets in place next to the weighing scales. It's a smooth process, as sack after sack is filled, weighed and then sealed. 'We work two shifts from 8 am to 2 pm every day, except Fridays,' says Sarah, as she seals another sack with precision. 'Each shift is about three hours, and in that time we pack approximately 400 sacks.'
Her colleague Suad is a bit further away. Today her job is to arrange the compost sacks into neat piles so that they can be collected later by the distribution trucks. 'We earn around 265 dinars (approximately 310 euros) a month. Along with the food stamps and the aid provided by the UN, that helps us to get by,' she says. 'But the most important thing is that we can share our problems and our difficulties here. This cooperative has helped me fight my worst fears. Being in the company of other women who have been through similar situations helps us forget our past and look forward to a better and brighter future.' For Suad, that future is in Jordan, at least for now. Her five youngest children go to school here, and she hopes that her contract will be extended beyond 2021. 'Things are certainly not easy for me, but the last three years have been a blessing.' Her blind husband longs to go back and spend the remaining years of his life in his homeland, but Suad is afraid that the regime would conscript her sons into the army.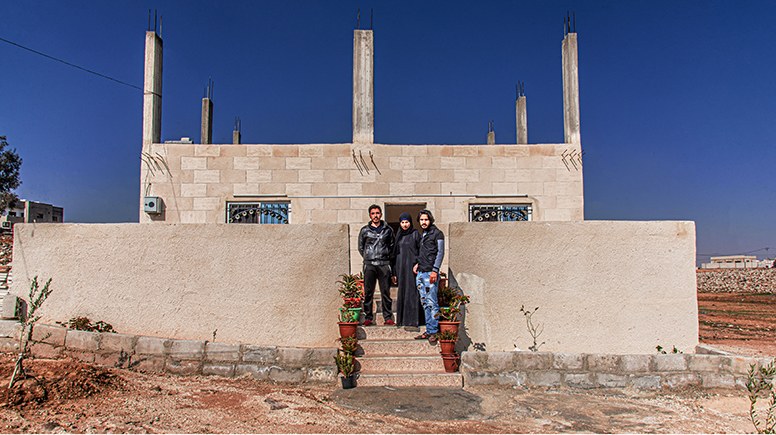 Sarah has sold her house in Syria and built her own home in Jordan: 'I feel better now. I hope my contract is extended so that I can pay off the loan I took out to build the house.' She is proud of what she has achieved as a single mother. In the last few years, she has attended various courses organised by NGOs in Jordan and received information about her rights. 'It allowed me to keep learning,' she explains. Sarah is a strong and determined woman, with her eyes on the future. As the women work in tandem to fill the sacks, the clouds gradually clear, and the sun breaks through.
Contact: Ulrich Thüer, ulrich.thueer@giz.de
April 2021