Without SMS, I would have forgotten about this appointment,' says Neliswa, folding her hands over her baby bump. The young woman from South Africa is 22 weeks pregnant. She has no partner – and no support from her family. Even so, she is looking forward to having the baby. 'But I don't know much about pregnancy,' she admits.  
Her midwife advised Neliswa to register with MomConnect. Since signing up, she has received regular text messages on her phone, reminding her about those all-important check-ups, telling her which signs of possible complications to watch out for, and giving her tips on healthy eating. There's a help desk to answer her questions as well. 'I feel less isolated now,' she says.
Free basic health care has to be improved
On the face of it, South African health care is in good shape. People with private health insurance can access quality care in state-of-the-art hospitals whenever they need it. But when it comes to free basic health care, it's a different story. The problem is particularly acute in provinces like KwaZulu-Natal, where 40 per cent of the population and 25 per cent of women under 21 are living with HIV.
It is vital to protect the health of their unborn babies, so pregnant women with HIV need to be identified, given medication and monitored continuously. However, some of the mothers-to-be are teenagers or survivors of violence. Some prefer not to be tested for HIV, so they don't turn up for ante-natal appointments. And in some cases, the health centre is too far away.
'He who has health, has hope; and he who has hope, has everything.'

Proverb
This is where MomConnect comes in: it leverages the use of mobile phones – now available even to most people living in poverty – to empower women. Any woman who thinks she might be pregnant can register with MomConnect right away. The first few text messages encourage her to attend an ante-natal appointment and register for care. Electronic patient records are set up for her and can be updated by any clinic, midwife or health worker in her district. The information is also entered into the national pregnancy database. 
With the electronic medical record system, the women then receive automatic alerts and tailored messages appropriate to their stage of pregnancy. After the babies are born, new mothers continue to get text messages for up to a year. 'If Neliswa misses an appointment, the system will flag it up,' says her midwife Lerato Molefe. 'And then we send someone along to check on her.' 
Adequate treatment not yet the norm
A review of the MomConnect pilot project in KwaZulu-Natal showed that the text messages have helped to reduce mother-to-child transmission of HIV from more than 20 per cent to roughly 2 per cent and that baby care skills have greatly improved. MomConnect, which is supported by various international donors, is now one of the South African Health Ministry's flagship projects. The free service targets all expectant mothers across the country and has empowered 900,000 users to access health care.
Substantially reducing child and maternal mortality worldwide is one of the international community's major goals. By 2030, it aims to cut maternal mortality to less than 70 per 100,000 live births and child mortality to no more than 25 per 1,000 live births. These targets form part of the Sustainable Development Goals (SDGs) adopted by the United Nations in the 2030 Agenda for Sustainable Development in 2015. But for many of the world's countries, these goals are hard to reach – and South Africa is one of them.
Reduction in child mortality
Nonetheless, remarkable progress in improving health has already been achieved with the Millennium Development Goals, including a sharp reduction in child mortality to 43 per 1,000 births today. These improvements have saved the lives of 48 million children, as a team of United Nations and World Bank researchers led by Danzhen You report in the medical journal The Lancet. Even low-income countries such as Bangladesh, Ethiopia and Cambodia have made progress despite very challenging starting conditions. What's more, between 2000 and 2015, malaria mortality rates fell by 60 per cent globally and the number of new cases decreased by 37 per cent. The number of AIDS-related deaths has fallen by 41 per cent, and new infections have decreased globally from 3.1 million to two million a year. As these figures show, real progress has been achieved. 
122 years is the longest human lifespan on record, achieved by Frenchwoman Jeanne Calment (1875–1997).
Even so, access to appropriate care is still not the norm. In the developed countries, it is sometimes a lack of insurance coverage which puts health care out of reach. Some life-saving cancer drugs are now so expensive that even high-income countries are reaching their limits – at a time when cancer seems set to overtake heart disease as the number one killer. In the low-income countries, infectious diseases are still the leading cause of death, but here too, diseases of civilisation, such as diabetes and cardiovascular disease, which are associated with rising living standards, are now on the increase as well.
Many countries and regions are a long way from achieving the type of comprehensive health care envisaged in the SDGs. The gap is widest in West Africa. The World Health Organization (WHO) recommends a minimum threshold of 23 doctors, nurses and midwives per 10,000 population – but before the Ebola epidemic, the figures for Liberia, Sierra Leone and Guinea were just 0.1, 0.2 and 1.0, respectively. Lack of access to electricity and clean water is a problem everywhere: even hospitals rarely have a reliable supply.
Disease surveillance is also very limited in many developing countries. After the Severe Acute Respiratory Syndrome (SARS) outbreak caused panic around the world, WHO members agreed that every country should implement more stringent infection control and establish an appropriate basic infrastructure. Outbreaks posing a risk to human health should henceforth be reported to WHO in Geneva within 24 hours. However, two thirds of the WHO member states have still not met the standards set out in the International Health Regulations. 
So no one noticed when, in 2013, a two-year-old boy suddenly fell ill with diarrhoea that was black with blood and died soon afterwards. Emile and some of the other children from Meliandou, a remote village in south-east Guinea, had climbed into a hollow tree to catch bats. One of the animals is thought to have been infected with the thread-like Ebola virus. Emile was extremely unlucky, but the chain of events sparked by his illness in 2014, plunging three countries – Guinea, Sierra Leone and Liberia – into crisis and reversing these countries' development progress, could have been prevented. 
Mobile technology-based monitoring system
A similar situation might have arisen in Uganda in 2014, when a young male radiologist came down with diarrhoea and began vomiting blood. His doctors near Kampala transferred him to one of the major hospitals. He died, but the Marburg virus which killed him, although similar to Ebola, was successfully contained and while his death was a tragedy, it remained an isolated case.
So how did Uganda come through the outbreak relatively unscathed? It was all down to effective prevention. After suffering a particularly severe Ebola epidemic in 2000, Uganda – with the international community's support – set up a mobile technology-based monitoring system. The Uganda Virus Research Institute (UVRI) also underwent a programme of capacity building, and a Viral Special Pathogens Laboratory was established. Trained health workers are now able to identify suspected cases of Ebola or Marburg, even in remote villages, and report them to the central database by mobile phone. The patient is immediately sent to an isolation unit. In the case of the radiologist, a total of 197 contacts were identified by the mobile team and monitored for three weeks. All tested negative for Marburg and were given the all-clear.
Lessons learned from Ebola
It was a very different scenario in Meliandou: Emile's death sparked a chain of events with tragic consequences. According to WHO statistics, a total of 28,646 Ebola cases were reported in Guinea, Liberia and Sierra Leone, with at least 11,323 deaths. In mid-2014, the health systems in these three countries at the epicentre of the outbreak came close to collapsing under the weight of Ebola. Malaria patients were no longer treated nor children immunised, and mothers-to-be no longer had access to ante-natal care. 
But lessons were learned from Ebola, as the recommendations published by four international commissions showed. 'Infectious disease pandemics represent one of the potent threats to humankind, both in terms of po­tential lives lost and in terms of potential economic disruption,' according to the Commission on a Global Health Risk Framework for the Future, chaired by Peter Sands from Harvard University. And yet this dimension of global security is often neglected. Implementing the Commission's recommendations on pandemic prevention would cost around 4.5 billion US dollars per year.
Every outbreak a risk to the world's people 
Of this total, about 3.4 billion dollars relate to the costs of upgrading public health and early warning systems, and the international community needs to invest a further one billion dollars in research and development of diagnostics, therapeutics, vaccines and other equipment. However, the main responsibility, according to the Commission, lies with national governments. The WHO, it says, should define minimum standards against which countries should identify their weaknesses and determine ways of addressing them.
'Resilient health systems are the first line of defence,' says WHO Director-General Margaret Chan, for diseases not only have the potential to adversely affect economic development but can also cross borders unhindered. 'In a profoundly interconnected world, there is no such thing as a local outbreak.' Judith Rodin, President of the Rockefeller Foundation, which has made health one of its core issue areas, agrees. 'If all we did was to build health centres, we would have failed,' she says. Every small hospital must be integrated into a cohesive network that extends from remote villages to the capital cities.
Digitalisation: creating new opportunities
Initial efforts to share information and knowledge more efficiently are already under way. Basic mobile phones are all that's needed. In Liberia, for example, mHero – a two-way, mobile phone-based communication system that uses basic text messaging, or SMS – connects the Ministry of Health and local health workers. During a crisis or emergency response, messages are targeted to health workers based on unit, location, or skill set. The health workers, in turn, collect and pass on critical information about supplies and staffing levels, hospital closures or the progression of a disease in their locality. Guinea, Sierra Leone, Senegal and Mali are also trialling the system. 
When a dengue fever epidemic struck Punjab in Pakistan in the summer of 2011, the province did not yet have a properly functioning disease control system. Faced with very large numbers of patients, the hospitals in cities such as Lahore struggled to cope. So the Punjab Information Technology Board (PITB) set up a free telephone help­line, staffed by operators with medical training. They took hundreds of thousands of calls from the public and provided an emergency triage service: callers would describe their symptoms and were then referred to hospitals which still had empty beds. A statistical software programme kept a tally of calls, analysed weather conditions and other variables and projected the likely progression of the epidemic, so that health workers knew precisely where to target mosquito control measures or alert hospitals in preparation for large numbers of patient admissions. The incidence of the disease decreased noticeably in subsequent years. 
Mongolia, too, is utilising the opportunities afforded by digitalisation in the health sector. Here, as in various other countries, telemedicine is supporting the surveillance of high-risk pregnancies in remote areas. Rural health centres are connected to specialists in the cities via the internet. This facilitates joint decision-making on the level of risk to mother and baby and on whether a patient needs to be moved to a city hospital for treatment. 
Multidrug-resistant pathogens and antibiotics
Infection control – along with information-sharing – also has an important role to play in preventing in-hos­pital transmission of diseases. Stringent compliance with hygiene regulations is essential, there must be adequate stocks of protective clothing and disinfectant available, and staff must act quickly to isolate patients who are contagious. Even well-resourced health systems do not always cope with these challenges, as the spread of MERS-CoV, a virus which causes severe respiratory disease, in South Korea shows. The first case – in a returning traveller – sparked a chain of in-hospital infections, with another 186 people in South Korea subsequently contracting the disease. The worldwide problem of multidrug resistance in bacteria is another example. 
Devastating multidrug-resistant pathogens are particularly prevalent in India. Infections are especially common in newborns – the most vulnerable group. Due to the frequent lack of toilet facilities and sanitation, harmful pathogens enter drinking water and contaminate foods, and many women give birth in unhygienic surroundings. Even untrained auxiliary midwives therefore administer broad-spectrum antibiotics as a precaution. However, this form of prevention has extremely adverse consequences. Multidrug-resistant bacteria which, in the past, were almost unknown outside hospital settings are now commonplace across India, and newborns are exposed to these pathogens, mainly through contact with their mothers. Every year, the resulting antibiotic-resistant infections kill some 60,000 newborns in India alone.
8 babies at once: the largest number of live babies ever delivered in a single birth
In order to mitigate these risks and make more effective use of the available expertise, governments need to create stronger linkage between vertical, i.e. stand-alone, health programmes, which focus on specific diseases, such as malaria, or immunisation campaigns, and horizontal programmes, which aim to improve general services within health systems. This is feasible even under difficult circumstances, as the example of Rwanda shows. 
After the genocide in 1994, the country and its health system lay in ruins. Recovery was heavily dependent on external support, such as the advisory services provided by GIZ. Today, 94 per cent of Rwandans have health insurance – more than any other African country. Rural health workers are able to make their own assessment of patients with the most common ailments and refer more serious cases to hospital, where patients pay just 10 per cent of the costs. For patients on very low incomes, children without parents or persons living with HIV, the costs are covered by international donors. Two decades after the genocide, child and maternal mortality has decreased by two thirds and the number of deaths from AIDS and tuberculosis is falling more rapidly than elsewhere. Life expectancy has risen from 42 to 67 years. 
Cultural and religious obstacles
Sometimes, however, cultural and religious obstacles stand in the way of progress. In 2003, the goal of eradicating polio in Nigeria was within reach. Then without warning, the political and religious leaders in three northern Nigerian states brought matters to a halt by encouraging parents to boycott the immunisation campaign. Their arguments sounded far-fetched: they claimed that the vaccine could cause sterility in girls or infect people with AIDS or cancer. It was all part of a Western conspiracy against Muslims, they claimed, and they had evidence to prove it. 'They presented us with thick files packed with articles downloaded from the Internet,' says Heidi Larson, an anthropologist at the London School of Hygiene and Tropical Medicine. 
It took 11 months for the leaders in the three regions to be convinced otherwise. A Muslim manufacturer of the vaccine was found and samples were sent for independent testing in Muslim countries. Various conferences were organised. The rumours have now died down. As a result of the conflicts with terror group Boko Haram, however, Nigeria is still one of three countries in the world with endemic polio.
Well-founded distrust
Time and again, experience shows how important it is to listen to people and to try to understand the reasons behind their behaviour, for without public support, disease control is impossible. Doctors Ranu Dhillon and Daniel Kelly still recall the case of six-year-old Fatou from Guinea. The little girl had a very high temperature and was vomiting – worrying symptoms, for Fatou, like the rest of her family, had been exposed to Ebola at the funeral of her uncle, who had died of the disease. A response team was dispatched to bring her to the Ebola treatment centre for testing, but her grandmother vehemently refused. 'You are going to cut her into pieces!' she screamed. 'Help me! They are trying to kill my grandbaby!'
As the doctors explain in The New England Journal of Medicine, the grandmother was not being uncooperative because she was backward or uneducated. Rather, her reaction reflected Guinea's complex historical circumstances. After 25 years of dictatorship, Guinea was taken over by a military junta. Understandably, this has fuelled a well-founded distrust of formal power structures, with people relying instead on their traditions, communities and family ties. 
The grandmother did not relent until the following day, when the response team came back, this time accompanied by gendarmes. And she was reassured when she saw that the team was treating her granddaughter with kindness. Fatou was taken to the treatment centre and was soon discharged – thankfully, she was Ebola-free.
published in akzente 3/16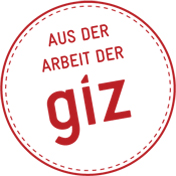 Strengthen the Health Systems
With a big smile, Hom Nath Dhakal holds up a plastic card – proof that he now has health insurance. Until now, any medical treatment other than basic health care had to be paid for out of his own pocket – and if he couldn't afford it, he managed without. But not any more: Hom Nath Dhakal is the first citizen of Nepal to use the social health ­protection phased in by the Government since April 2016.
Getting to this stage took a lot of preparation – from building political acceptance to establishing technical structures. On behalf of the German Government, GIZ has been actively involved in this process for many years, providing the Government of Nepal with support and ­advice on setting up the health insurance scheme. And Nepal is not the only country to close an insurance gap for its citizens with German support. GIZ has played its part in establishing similar schemes in India, Indonesia, Rwanda and Kenya. 
Health insurance for low-income groups is a key focus of GIZ's work in the health sector. Other priorities include infectious disease control; prevention of pandemics; promoting sexual and reproductive health, including maternal health and safer childbirth; reducing child mortality; optimising information systems and data management; strengthening health systems; and providing training for health workers. 
Drawing on decades of experience, GIZ is currently implementing health projects in more than 80 countries in Africa, Asia, Latin America and, increasingly, Europe. On such a sensitive topic as social justice – which ultimately encompasses health as well – GIZ makes it a priority to pursue a culturally appropriate approach, take account of diverse gender needs and minimise exclusion. Its guiding principle is 'leave no one behind' – 
the watchword of the 2030 Agenda for Sustainable Development.
Women and girls, low-income and other marginalised groups are a particular focus of GIZ's work, the aim being to ensure that quality health care is accessible to everyone. This has not yet been achieved everywhere. Nonetheless, considerable progress has been made in health care over the past two or three decades – in Nepal and many other countries around the world. 
HEALTH INSURANCE IN INDIA
130,000,000 people have joined India's National Health Insurance Programme (RSBY) in just six years, making it one of the world's largest schemes. The membership card provides access to hospitals across India.
AWARENESS-RAISING IN TANZANIA
12% is the teen pregnancy rate in some of Tanzania's schools. Thanks to an education programme supported by the German Government, the rate has fallen dramatically – from 41%.
WORKPLACE HEALTH IN BANGLADESH
99% fewer accidents and injuries have occurred among the 3,500 employees at Western Marine Shipyard Ltd. in Bangladesh since a new workplace health and safety system was introduced with the support of the German Federal Ministry for Economic Cooperation and Development (BMZ).
NUTRITION IN THE PHILIPPINES
2,500,000 primary school children in the Philippines have taken part in the Fit for School programme. They now have access to improved nutrition and are less likely to suffer from worm disorders and dental caries.
Related articles:
'We have to reach young people'