Vanilla production in Madagascar
Finest vanilla for a better life
René Totoantsarika finds the question highly amusing. 'Vanilla ice cream?' He wrinkles his brow. No, he says, he has never tried anything like that before. But he must have eaten something made with vanilla, the astonished visitor enquires. Totoantsarika thinks for a moment, leaning on his machete. A broad grin breaks out across his face: yes, of course, biscuits! He once tried biscuits made with vanilla. They tasted good, he recalls. The Madagascan, who is in his mid-forties, moves nimbly through the undergrowth towards a tree covered in pea-green creepers. He checks their roots, gives the leaves a careful stroke, trims a few tendrils. This plant and others growing in this part of the forest are his treasure: René Totoantsarika is a vanilla farmer. And he is taking part in a programme set up by GIZ to improve the living conditions of small farmers in Madagascar. The GIZ programme is run in cooperation with Unilever and Symrise.
Vanilla is not only one of the world's favourite spices, it is also one of the most expensive: as the 'queen of spices', it is second only to saffron in value. Today around 80 per cent of natural vanilla sold worldwide comes from Madagascar, and most of this is produced in the fertile Sava region in the north-east of the country. This is where Totoantsarika lives, in the village of Maroambihy.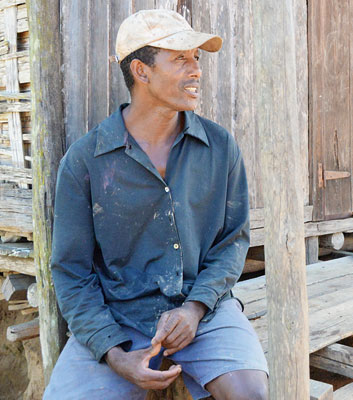 Labour-intensive vanilla production
Totoantsarika patiently explains the labour-intensive process involved in vanilla production. The climbing plant grows best in the dense jungle and takes three years to produce its first flowers. Each flower has to be individually pollinated by hand, since the species of bees and hummingbirds specialised in the vanilla orchid only exist in Central America. The plant produces its yellow-green flowers one by one – and one by one these blossoms wilt after just a few hours. 'The pollination process alone keeps me busy for weeks,' Totoantsarika explains. He demonstrates how it is done: using a splinter of wood, he carefully lifts the rostellum and gently presses the pollen onto the tip of the stigma. The green pods he will eventually harvest only get their characteristic flavour and black colour much later, after fermentation.
Despite the time he invests in growing vanilla, it is barely enough to provide a livelihood. Totoantsarika invites us into his home: a wooden hut measuring perhaps nine square metres and containing two beds for him, his wife and their five-year-old son and two-year-old daughter. A table and bookcase, a small radio, a torch and two suitcases with clothing. Not far from the house is a small rice field, which Totoantsarika inherited from his parents. 'But I can't feed my family from that alone,' he says. 
Prices vary a lot
Totoantsarika generally sells the vanilla pods he harvests to intermediaries. But since prices fluctuate widely – in 2004 one kilogram of vanilla soared to 500 dollars on the world market, before crashing to just 20 dollars shortly afterwards – he never knows until market day how much he will get for his work. Many farmers are even forced by difficult financial circumstances to sell unripe pods at very low prices.
Sound investment

develoPPP.de was set up by the German Federal Ministry for Economic Cooperation and Development to foster the involvement of the private sector at the point where business opportunities and development policy initiatives intersect. develoPPP.de targets companies that invest in developing and emerging countries and provides them with financial and technical support. GIZ has been involved in more than 700 such partnerships since the year 1999.
Based at Holzminden in Lower Saxony, Symrise AG is the world's fourth-largest manufacturer of scents and aromas and a supplier to Unilever. Symrise has been buying vanilla from Madagascar for years. But the company was growing increasingly dissatisfied. 'We were never sure we could buy enough high-quality vanilla from the intermediaries,' says Clemens Tenge, one of Symrise's vanilla experts. So in 2006 the company decided to adopt a hands-on approach. 'We put together our own team and we now buy directly from the small farmers,' Tenge explains. That was easier said than done. For with so many intermediaries involved, competition is fierce. And the small farmers are not accustomed to making permanent arrangements with just one company and instead decide who they will sell their vanilla to from one year to the next. As Tenge puts it, there's only one long-term strategy that really works in the company's favour: 'We build trust.' 
Health insurance for the farmers and their families
Symrise uses some of the money it saves by cutting out the middleman to train farmers in better production methods, thereby making a sustained improvement in quality. But the company has also undertaken a social commitment. It provides cash advances, subsidises health insurance and pays teachers in the region's primary schools. All this is based on a simple principle: we help you, and you sell us your high-quality vanilla. 
And that is where GIZ comes in. Commissioned by Symrise, GIZ may have a different motivation, but the two parties share identical objectives. 'Our aim is to achieve a better life for small farmers,' says Alan Walsch from GIZ. 'If we can do that through partnerships with companies in which ultimately both sides benefit, then it's a genuine win-win situation,' he continues. GIZ and Symrise currently cooperate with 4,000 farmers. 'We are seen as honest brokers,' Walsch explains.
Training fields for a wide variety of crops
With advisory services provided by GIZ, Symrise supports the creation of cooperatives to enable small farmers to divide up their work better and represent their interests jointly, for example in negotiations on vanilla prices. At first sight that would seem to run contrary to the interests of the company. But it is clearly less efficient for Symrise to negotiate separate deals with each farmer individually. Vanilla farmer Totoantsarika also belongs to a cooperative, and he sees that as having one major benefit: 'We help each other to keep watch over the fields,' he says, adding that their plantations in the depths of the jungle are occasionally visited by thieves.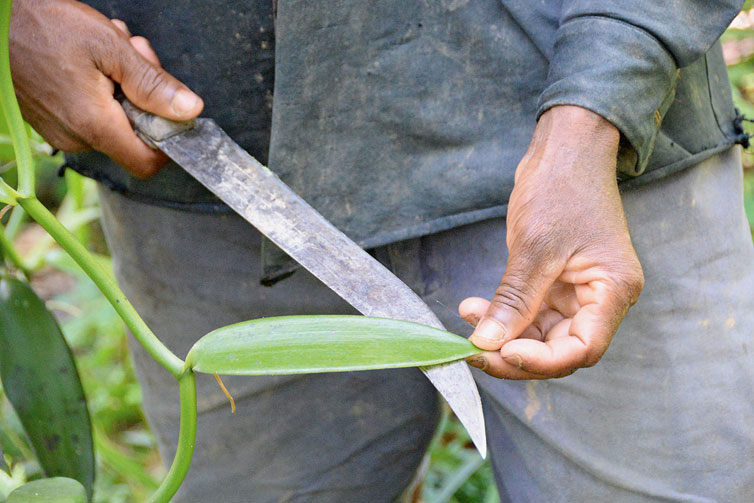 GIZ uses training fields to teach farmers how to cultivate vegetables, nuts and fruit. The aim is to enable families to grow a range of their own produce throughout the year and not rely solely on vanilla and rice. So what's in it for Symrise? 'If I don't know where my next meal is coming from, I'm certainly not going to be concerned about the quality of my vanilla plants,' says Walsch from GIZ. Another argument against excessive rice cultivation is the leaching effect it has on the soil. It is also important to strike a balance because farmers are clearing areas of jungle to make way for new rice fields. This land is then no longer available for vanilla plants.
Fair market prices for vanilla?
Earning the trust of the farmers is not easy. Vanilla farmer Totoantsarika, for example, has taken part in training courses and learned a lot about growing vanilla. Despite this, he sold only a few kilograms of vanilla pods to Symrise this year. 'We've heard lots of promises before,' he says. First he wants to see how things will go from here. 'The health insurance is fantastic, of course,' he says, since doctors are extremely expensive. 'If Symrise is serious and what they are offering is long term, then I'll make a partnership with them, no question,' he says. 
But one complaint comes up again and again. 'The price we get for our vanilla is far too low,' says Edward Todisoa, leader of one cooperative. Symrise says this remains tied to the international market price due to competition. The current price for one kilogram of black vanilla is around 80 dollars. For the unprocessed green pods, the farmers get about half that amount. In general, fermented vanilla is more valuable, but the process is too costly and labour-intensive for most farmers. So how fair is the price they receive? Nobody really knows. With a view to rectifying this situation, GIZ is currently undertaking a study to look into farmers' financial circumstances and how much vanilla production actually costs them. For like René Totoantsarika, very few farmers keep records of income and expenditure. He is unable or unwilling to say how much he earns. 'Too little,' is all he offers. But he is aware of the importance of putting money aside: 'I want my children to have a chance to study.'
> Contact: GIZ Madagascar giz-madagaskar@giz.de
published in akzente 1/15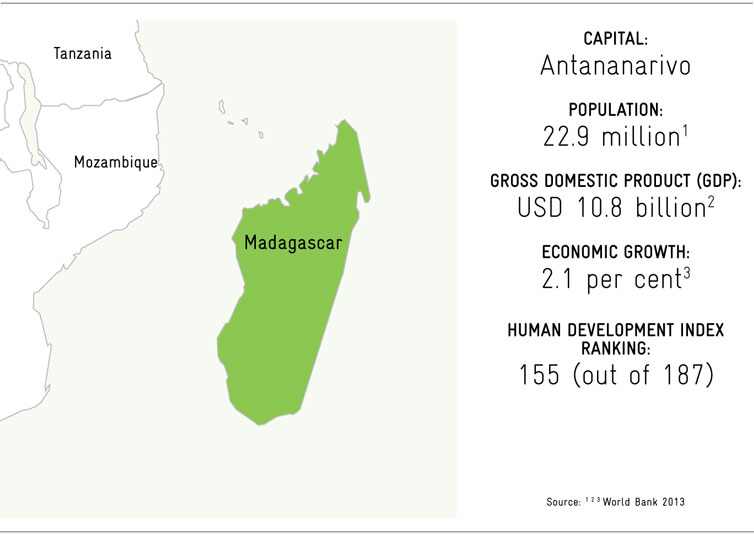 SUPPORTING SMALL FARMERS
Project: Four fifths of natural vanilla traded worldwide comes from Madagascar. Although the country's Bourbon vanilla fetches high prices on the world market, those who invest a great deal of time and effort in producing the spice receive only a small share of the profits. In order to improve the living conditions of vanilla farmers, GIZ has set up a partnership with scent and aroma manufacturer Symrise and food giant Unilever. Around 4,000 farmers currently supply vanilla pods to Symrise. One of the objectives of the project is to improve vanilla quality, so that farmers can negotiate higher prices. At the same time the project sets out to reduce farmers' dependency on vanilla by diversifying the range of arable crops grown.