A driving force for a better future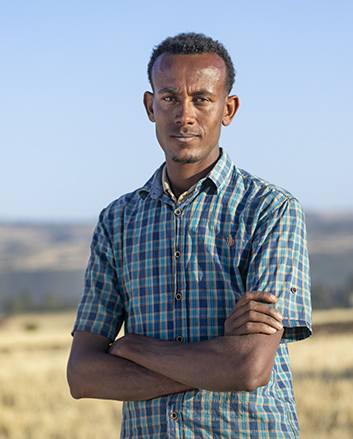 The tractor's engine roars as Solomon Girma takes a dirt track out of the small town of Huruta. Just outside the town, which is about three hours' drive south-west of Addis Ababa, he meets donkey carts on the road, loaded with yellow water canisters and sheaves of grain. Diesel-powered vehicles, to say nothing of tractors, are few and far between here. He stops at the side of the road, quickly checks the engine and then looks over at the harvested wheat fields. 'April to June is my favourite time of the year. That's when I spend the whole day out in the fields with people,' says Solomon Girma, almost six-and-a-half feet tall, with broad shoulders and chiseled features. Having finished with the engine, he jumps lithely back into the driver's seat of the tractor. It's not the right time to prepare the soil for sowing, he explains. That's why he's helping with the harvest. After work, he makes his way back to the village where he lives.
Solomon Girma has become what is known as a private contractor in the agricultural sector. The government provides the machinery he needs to work independently. Prior to this, he spent several months at the Agricultural Training Center (ATC) in Kulumsa, about 30 kilometres from Huruta. After leaving school, he looked for work in a number of towns – to no avail. He remained financially dependent on his parents. Girma learned about ATC from a friend who belonged to a youth cooperative. A stroke of luck, he now calls it.
A way for people to break out of unemployment and stand on their own two feet
Solomon Girma is not an isolated case. It takes a long time for many adolescents and young adults in Ethiopia to find a job. At the same time, the country's agricultural potential is not being fully exploited. Against this backdrop, GIZ is now working on behalf of the German Federal Ministry of Food and Agriculture (BMEL) to support Ethiopia in improving the conditions needed to produce higher yields. Enhancing training in modern agricultural practices is one of the ways it is doing this. 'The training gave me an opportunity to learn more and to network with other people,' says Solomon Girma.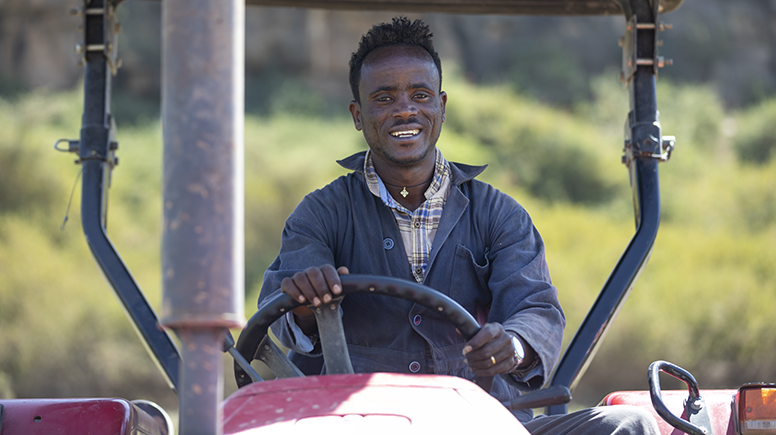 ATC also features a tractor driving school, which is where Solomon Girma met Eshetu Lemma, who also belongs to a youth cooperative. Its members work for farmers who grow vegetables or teff, a type of millet that is very common in Ethiopia. Eshetu Lemma lives near Wonji, Solomon Girma's home town. From there the only access to his village is a bumpy road beside the Awash River. Between them, he and another man divide up all the work there that needs a tractor.
Ambassador for modern agriculture
A farmer is digging over the soil with a spade and planting seeds. His five children help him in the fields. Eshetu Lemma offers to plough the field with his tractor and negotiates a price. Earning money is not his only concern: he also wants to be an ambassador for modern agriculture. But negotiating with farmers is not always easy, he says.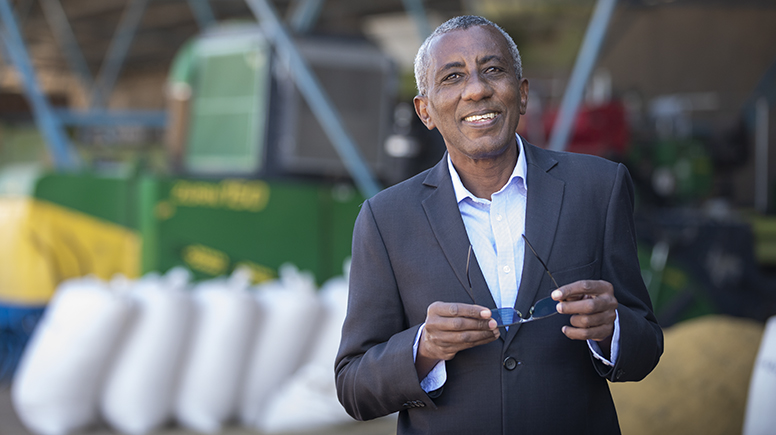 Debele Debela, campus coordinator at ATC, is familiar with this challenge: 'Before they trained with us, many of the young women and men had no status in their community. They were often seen as vagabonds. It is therefore especially important for them to have some communications training before they start out in self-employment.'
Achieving more as a cooperative
At the end of the training, which can last up to four months, participants receive a certificate and a licence to drive a tractor. With these documents and their newly acquired knowledge, they have better opportunities on the labour market. Almost 90 per cent of the adolescents and young adults who were previously unemployed find work in agriculture after their time at ATC – most of them, like Solomon Girma and Eshetu Lemma, as private contractors. Others get a permanent job with a business or cooperative.
In the ATC classrooms, painted green and yellow, experts teach the students about repairing machinery, organising the workshop, preparing soil, providing support with harvesting, and driving high-horsepower tractors. Management and communication skills are also on the curriculum. Here, ATC works with partners such as the Andreas Hermes Academy, a training institution within the German agricultural and food industry. The curriculum also includes ways to organise cooperatives and opportunities to generate additional sources of income through such networks.
ATC now in new hands
Almost every eighth Ethiopian works in agriculture. However, yields are not as high as they could be because of outdated practices and limited access to modern agricultural machinery. Debele Debela therefore sees the training at ATC as having a number of benefits: 'Once they have completed the training, the young people have the skills they need to support small farmers in their agricultural productivity. That way they earn a far better living.' Since the beginning of 2013, over 5,200 people have graduated from ATC with expertise in agricultural machinery and farm management. ATC also offers vocational teacher training. Debele Debela is convinced of the potential of Ethiopian agriculture and is confident that the younger generation will seize their opportunities.
ATC was handed over to the Ethiopian Ministry of Agriculture and the Ethiopian Institute of Agricultural Research (EIAR) at the end of 2020. The German ambassador to Ethiopia, Stephan Auer, took this opportunity to visit the training centre. Solomon Girma was one of the people he met. Auer was impressed by the way the young man had found a route out of unemployment and into a job with future prospects. 'He is now able to feed himself and also look after his family, who had previously supported him. It is moving to see that training at ATC is not only a great thing in theory, but also a success in practice.'
March 2021