As he recounts major dramas in his young life, Carlos Beltrán speaks so softly that you have to move closer to hear what he is saying. And the more dramatic his story becomes, the more quietly this slightly built young man speaks. There was the time his stepfather chased him out of the house, for example, before he set off alone for the USA, aged just 19, but failed to even make it as far as Mexico. If you ask Beltrán for details, he evades the question, stares into the distance and wrings his hands. He clearly finds it difficult to talk about this failed attempt to find a better life.
Beltrán is more forthcoming about his second attempt at securing a better future. He started by breeding rabbits, which he then sold, saving the money for an air ticket. That time, he made it to Italy, a hub for Salvadorian migrants to Europe. He had contacts in Milan, but these supposed friends gave him no help. With no valid documents, he lived on the streets, tried – and failed – to find work, and finally returned to El Salvador disillusioned.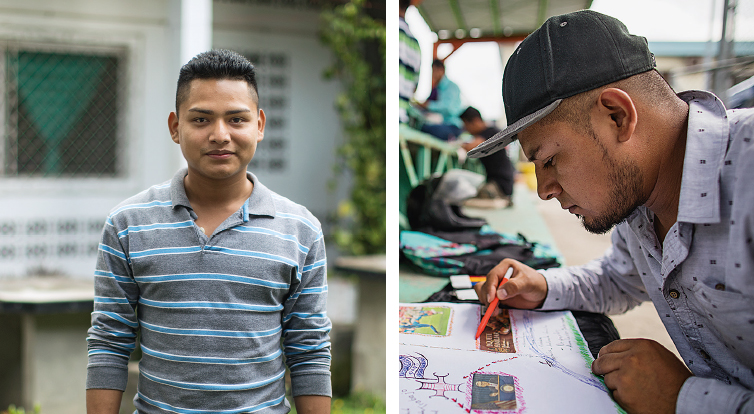 At just 23, Carlos Beltrán has already been through more than other people experience in a lifetime. Hundreds of thousands of young people in Central America have similar stories to tell. And for many, these stories do not have a happy ending in the supposed promised land but bring never-ending difficulty and despair. These young people often have to return to their home country, where the search for a better future starts all over again. Beltrán, too, is now once again pinning his hopes on a fresh start. This time, though, that fresh start will not be miles away but on his doorstep, in Zacatecoluca, a small town 60 kilometres south-east of the country's capital, San Salvador. This time, Beltrán's thoughts are centred on how he can do something in his own home town. And he has clear ideas: 'I want to open a shoe shop – people always need shoes.' To do this, Beltrán has calculated that he needs start-up capital of around USD 1,000.
He plans to save the money from his earnings. To this end, he has enrolled on a programme that GIZ is running in Zacatecoluca in cooperation with the town's youth training centre. Twenty young women and men are learning how to apply for jobs and how to boost their self-confidence. They can also complete online training courses for work in retail or bookkeeping.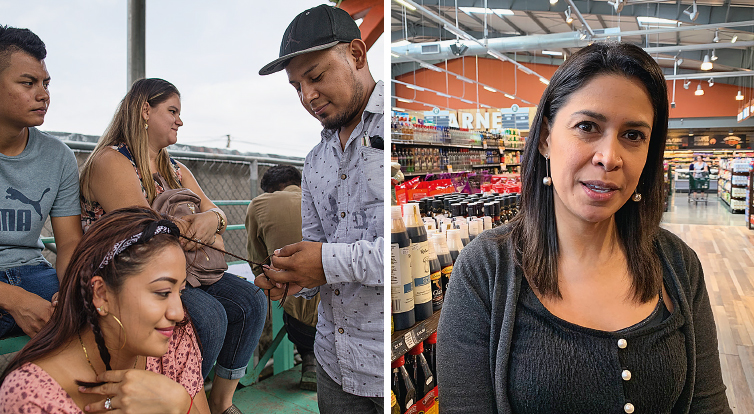 Manuel Novoa is Director of the ALTERNATIVAS programme, which GIZ is running on behalf of the German Development Ministry in rural areas of El Salvador, Guatemala and Honduras. 'Young people are desperately looking for work and an opportunity to earn money,' he says. The programme provides them with training geared specifically to the needs of employers, and companies are made aware of the scope for giving opportunities to young people at risk of displacement or to young returnees. In El Salvador, GIZ has a local strategic partner, the Fundación Calleja. This foundation forms part of the group of the same name that runs around 100 supermarkets. 'Our foundation has always supported training for young people in El Salvador,' says Fundación Calleja CEO Clara Emilia Rodríguez, 'and ALTERNATIVAS is an excellent fit.' The young people selected for the programme are given a permanent job and trained in the markets. 'We try to show them how important a long-term contract with social benefits is,' stresses Rodríguez.
Ongoing support for returnees
ALTERNATIVAS works in two crucial areas of migration. First, it aims to make young people aware of the alternatives to travelling north. Second, it supports those who leave and then return with reintegrating back into their home country. The programme involves psychosocial support measures, including both play and art therapy. Experts help participants overcome trauma and provide families with advice around migration – the latter being the all-consuming issue in the northern triangle of Central America, where many people's only goal is to emigrate. They are fleeing poverty and violence. El Salvador, Guatemala and Honduras all have high murder rates, placing them among the 10 most dangerous countries in the world. Gangs terrorise the population, blackmailing them for protection money or forcing them to join the gang.
In the first six months of 2019 alone, up to 500,000 people travelled through Mexico towards North America, twice as many as in 2018. According to information from the International Organization for Migration, the Mexico corridor is the busiest and most dangerous migration route in the world. People die of thirst in the desert or drown in the Río Bravo, on the border. Organised crime in Mexico also targets migrants along the 3,000-kilometre route. Only a small proportion of people actually make it to the USA.
Fulfilling new dreams
Veronica García knows this only too well, which is why this young woman with the winning smile has other plans for her future. On a windy morning, she sits on the wooden benches in the stands of a small sports stadium in Ahuachapán, a town around 100 kilometres north-west of San Salvador. García is one of the students at the youth training centre. Her teacher asked her and her fellow students to draw a 'mapa de sueños' – Spanish for a dream-map. Their maps show that these young people dream of having a career as a footballer, improving their nutrition or building a decent house for their parents. Migration does not feature among their dreams for the future. Aged 19, García does not want to leave her country either: the map she draws on the coloured paper shows that her dream is 'greater self-confidence', and she is focusing on work and on saving money.
When Veronica García left school, she could not find employment and had a series of casual jobs, occasionally toying with the idea of 'going north'. People without training have difficulty getting work in El Salvador. And if they do find a job, they earn the minimum wage of just USD 300 a month – too little to live on and to save for vocational training, which is usually expensive in El Salvador. She was dissuaded from emigrating by her mother. And when the young woman heard about the ALTERNATIVAS youth training centre, she immediately thought 'I want to be involved.' The programme is preparing her for employment and is filling the gaps in her skills. 'I've become more self-confident, I know how to present myself and I'm confident about speaking in public,' says García.
She now feels nearer to fulfilling the dream she entered on her dream-map: 'I would like to be a nurse, but first, I need a job so that I can save for the training. I now know that I can achieve a great deal but also that I have a future here in my home country.'
---
INTERVIEW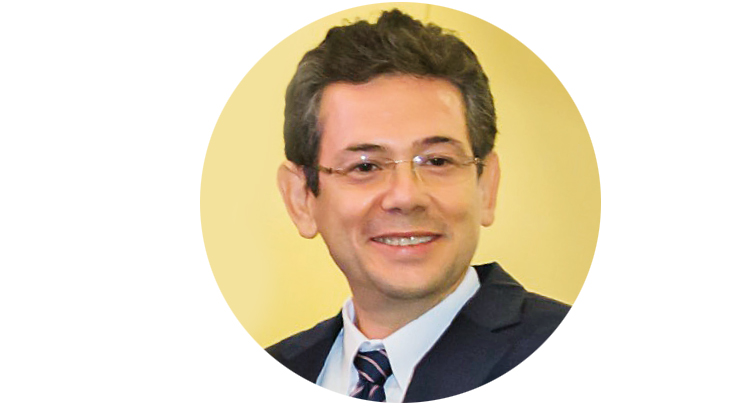 Why is it important to support migrants who return to their home country?
These individuals have often experienced violence and are disoriented, uprooted and have no money. In El Salvador alone, one or two flights a day now land with 'retornados' (returnees) on board, and many more arrive by bus. In the first six months of 2019, more than 18,000 people returned to the country. More than three quarters were men, and almost one in five were children. Over the same period, almost 55,000 people returned to Guatemala and nearly 60,000 to Honduras. The state processes returnees in the capital and pays for their travel home – but they are then left on their own. We are working to decentralise services so that individuals can also receive support in their communities of origin.
You also work with young people who are considering migrating north. What specific measures are involved?
We cannot stop migration but we can change it. We want to show young people that there are opportunities for a good future at home. We work with private sector partners to get young people into work rapidly and aim to find them decent jobs. The individuals we place in work serve as role models. And we are planning a campaign to make people aware of the risks of migration. If they still want to migrate, that is at least a well-thought-out decision. We want to tell them that they have the right to leave – but also the right to stay.
published in akzente 1/20