Creating jobs with argan oil
A visit to the Akkain Ouargane cooperative is a feast for the senses. Inside a production unit in south-western Morocco, around 50 workers – all women, all swathed in brightly coloured scarves – are sitting on the floor, stones in hand, hammering away at the argan tree nuts to extract the kernels within. Each woman produces around one kilo of kernels a day. To make their arduous task a little easier, the women sing traditional Berber songs.
Once extracted, the kernels are taken outside for processing. Here in the courtyard, some of the other women laboriously produce oil and amlou, a sweet honey spread, by hand. The cooperative also has a modern facility for faster mechanised production of larger batches of oil for cosmetic and culinary uses. Visitors can take a tour and then buy direct from the producers. It's a win-win situation: the tourists gain an insight into an age-old tradition, and the cooperative earns money.
Bearing fruit: a new marketing strategy 
'Selling argan oil was not always quite so profitable here,' General Manager Jamila Raissi recalls. 'Previously, the women processed the kernels by hand at home, and the men would then try to sell the oil at the roadside and in the marketplaces, the souks.' The income was far from adequate, however, so the women decided to form a cooperative as a way of marketing their products more effectively. 
In 2007, they had assembled all the paperwork they needed to launch the cooperative. Jamila, a qualified accountant, helped to set up its initial structures and processes. The Deutsche Gesellschaft für Internationale Zusammenarbeit (GIZ) GmbH has been supporting the project on behalf of the German Federal Ministry for Economic Cooperation and Development (BMZ) since 2013. The GIZ project is part of a special BMZ initiative to promote stability and development in North Africa and the Middle East by generating additional employment and higher incomes through sustainable tourism in rural regions.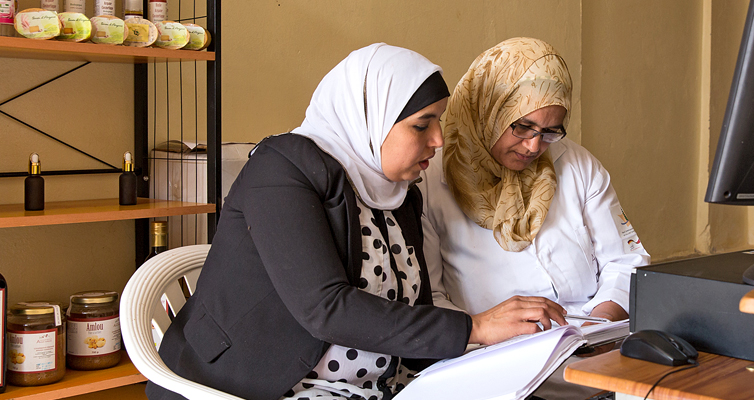 Forging links with hotels and tour operators
GIZ advises its local partners on ways of expanding tourism and making it more attractive by including elements such as experiences of nature, cultural programmes and high-quality natural products, such as the argan oil produced by the Akkain Ouargane cooperative. GIZ also funded the purchase of roasters, oil presses, filters and filling equipment, which substantially improve oil production and increase output. And with technical and business training also provided by GIZ, Jamila Raissi's workforce has become more professional and improved its marketing strategy. The cooperative has attended international trade fairs and forged links with local hotels and ecotourism operators. 'As a result, revenue has risen by 50 per cent,' says GIZ expert Julien Césana, whose team is supporting the cooperative's development.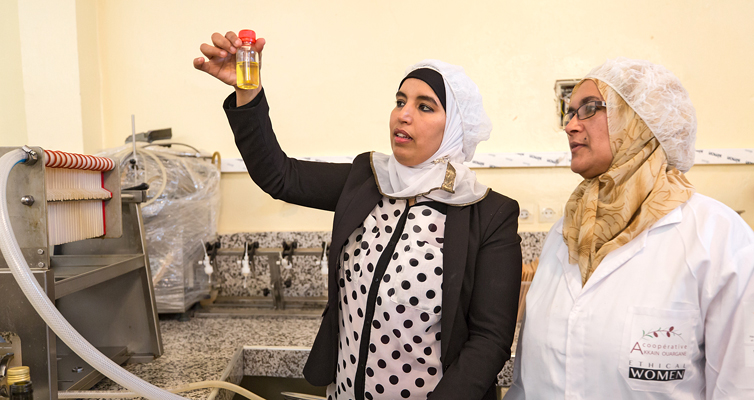 Akkain Ouargane is not only helping to satisfy the local demand, but is also supplying the growing national and international market for argan oil. The 72 women who make up its workforce can arrange their working hours to suit themselves. The revenue boosts their families' incomes – a major achievement, as employment for women in Morocco's rural regions is scarce. Many of the women have very little schooling, and most have never had a steady job outside the home. The women from Akkain Ouargane have teamed up with other women's cooperatives to form an association, Ethical Women Tifane, which represents the interests of 350 female workers and is designed to promote fair and profitable trade in argan oil. 
March 2018
THE BENEFITS OF TOURISM
Project: Sustainable tourism to promote employment and generate income in rural areas
Commissioned by: German Federal Ministry for Economic Cooperation and Development (BMZ)
Lead executing agency: High Commission for Water, Forests and Combating Desertification, Morocco
Term: 2015 to 2020
In rural areas of Morocco, there are few jobs and income-generating opportunities. This applies especially to the coastal region of Souss-Massa and to Béni Mellal-Khénifra, a region in the High Atlas mountains. Here, 18 per cent of the population is classed as poor. The benefits of tourism have largely bypassed local communities so far. Commissioned by BMZ, the project aims to address this issue by promoting sustainable tourism. With support from GIZ, local partners are expanding the existing tourism on offer and developing new and innovative amenities, such as eco-lodges. The project also supports local cooperatives and small and medium-sized enterprises that manufacture high-quality natural products, some of which are sold to tourists. Key priorities are protecting the environment and making maximum use of employment potential, with a particular focus on women and the young unemployed. The project forms part of BMZ's Special Initiative for Stability and Development in the MENA Region and aims to generate additional employment and higher incomes for at least 2,000 people by 2020.