A compass – even in times of crisis
Once upon a time, Marcell Shewaro was a dentist. Today, she is an opposition activist who has set up seven schools in her home city of Aleppo. They are 'underground schools' – banned by the government – in the rebel-held districts of the city. With the official schools destroyed in bombardments and the teachers gone, the underground schools set up by Shewaro's organisation Kesh Malek (Checkmate) hold classes for around 3,000 children in the relative protection of the city's basements. For the pupils, it is a little piece of normality in the madness of war – for life goes on, even for people living with the constant fear of death. An activist since 2011, Shewaro is working for a better, more democratic Syria. She has already been arrested twice – once by the government and the second time by Islamists. In 2014, she fled to Turkey while her organisation continued its work. But in September 2016, all the underground schools were forced to close, at least for now. In a letter to the Middle East Institute, one of the organisation's founders, Basel Aljunaidy, explained why: 'The Russian air attacks make it impossible for us to work in Aleppo. They are targeting civilians and killing our hope.'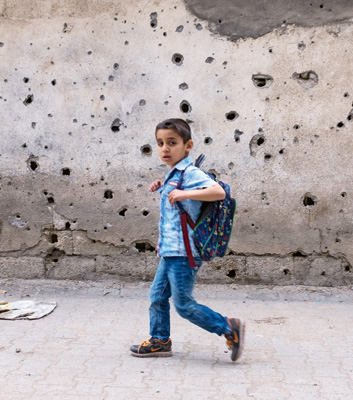 The story of Marcell Shewaro and Basel Aljunaidy, their courage and commitment, is a good ­example of how keeping faith with the 17 Sustainable Development Goals (SDGs) is always worthwhile, even in times of crisis. Quality education is listed fourth in the SDGs, right after the Goals on eradicating poverty, ending hunger and ensuring a healthy life. The work of the Syrian underground activists shows that the SDGs are never obsolete, even in difficult times. The opposite is true: that is when it is especially important for people to uphold the Goals in order to prevent any worsening of the situation. So these are not fair weather targets that the 193 signatory states can focus on when they have nothing else to do. On the contrary, the SDGs provide a compass in times of crisis; put simply, they are in some ways a blueprint for a better world. 
The new set of goals is more evenly balanced
The Sustainable Development Goals were adopted by the United Nations General Assembly in September 2015. The 2030 Agenda for Sustainable Development is a 15-year roadmap and follows on from the Millennium Development Goals (MDGs), which were adopt­ed in 2000 and expired in 2015. The MDGs were the first global consensus for joint action on peace and security, poverty reduction, education, equality, envi­ronmental protection, democracy and good governance. The new set of goals is more evenly balanced: for example, like all the other signatories, Saudi Arabia has committed to gender equality, Germany has undertaken to pursue a properly regulated migration policy and China has accepted that the overfishing of the oceans must end. And Zimbabwe, where Robert Mugabe has been in power since 1987, has endorsed the goal of democratic governance. However, it is a matter for each country to decide how it wishes to achieve these universal goals. 
Critics complain that with 17 SDGs and 169 targets, there is no longer one stand-out goal. Poverty ­reduction, they say, is fading into the background. But that's not the case: poverty reduction is still goal ­number one. Ending poverty without putting life on Earth at risk is still the key priority. However, greater prosperity should no longer be achieved through ­destructive economic growth. The fact is that along the coasts, on the Pacific islands and in the African ­savannas, the impacts of unregulated growth are already making themselves felt in the form of climate change.  
Poverty has decreased – but nature often pays the price
Major progress on poverty reduction has been made in the past 15 years – but nature has often paid the price. Figures from the World Bank reveal that in 1981, more than 1.9 billion people were living below the poverty line. Today, the figure is a little less than one billion. Progress is particularly marked in East Asia, which has recently experienced rapid economic growth. In Latin America, North Africa and the Middle East, too, large numbers of people have been lifted out of poverty. And the World Bank's projections point to a further decrease in future that would bring the international community close to its goal of ending extreme poverty worldwide by 2030.  
By balancing the environmental and economic ­dimensions, the 17 SDGs are now intended to establish the basis for a model of growth which protects the planet's resources and facilitates peaceful and equitable relations among nations – at least, that's the theory. However, crises and conflicts are obstructing the ­attainment of the Goals to an unprecedented degree.   
'We can and must be the first generation in human history to end extreme poverty in the world.'
Jim Yong Kim, President of the World Bank
After the end of the Cold War, we initially seemed to be moving towards a more peaceful world. According to figures from the Uppsala Conflict Data Program in Sweden, however, 2015 had the highest number 
of armed conflicts since the fall of the Iron Curtain: the number of conflicts involving a state increased to 50, and there were a staggering 70 conflicts in the non-state category, compared with 41 and 61, respec­tively, in 2014. Faced with these facts, what use is a 'pact on the world's future' like Agenda 2030? What can it achieve in a world which has 'come loose from its moorings', in the words of German Foreign Minister Frank-Walter Steinmeier? But it is now that Agenda 2030 has a vital role to play as a roadmap for international cohesion, providing guidelines for sustainable, forward-looking action to build a more peaceful world. Minister Steinmeier calls it 'an ambitious global transformation programme', which, if taken seriously, ­creates opportunities for progress and development – all over the world. 
Without this compass to guide the international community, entire countries would be at risk of being left behind – due to the outbreak of epidemics, as ­recently occurred in West Africa, due to the underemployment of millions of young people, as in the Middle East, or due to the pressure to adapt to climate change, which is already affecting some regions of Africa. All this creates inequality and increases the risk of new conflicts.
193 is the total number of United Nations members. The new SDGs are the first set of goals to apply to all countries, not just the ­developing world.
At present, some 65 million people are displaced from their homes – more than at any time since the end of the Second World War. Domestic and foreign policy, development and environmental policy are increasingly intermeshed. Global events can have major repercussions at domestic level – not only in Germany. Conversely, domestic developments can radiate out into the wider world, as the crisis in Greece, the attitude towards migration and displacement in Hungary and the US elections show. While many national governments, not least in the European Union, have now switched to full-scale crisis management mode since the start of the financial crisis in 2008, which was followed by the euro crisis and latterly the refugee crisis, Agenda 2030 offers long-term guidance for future-oriented action that promotes security, welfare and peace.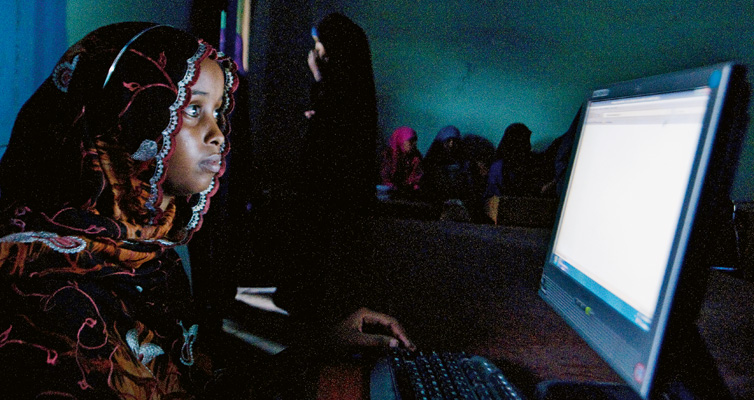 Crises bring out the worst but also the best in people – and unlock their creativity. Somalia is a good example. Amidst the general chaos of an ungoverned state, resourceful companies have set up a modern and reliable mobile phone network. In 1993, two Somali emigrants living in the US, working with two Ameri­cans, founded the Somali Telecom Group, which ­operated until 2013. At the same time, a subsidiary, Netco, was established in the autonomous region of Puntland. Its operations focused mainly on north-east Somalia. In 2002, two other leading telecoms providers – Hormuud Telecom and Golis Telecom Somalia – entered the market. Hormuud is owned by around 4,000 Somali businesspersons who have shares in the company. 
Standing together against militias in eastern Congo
In eastern Congo, too, it was the business community which promoted social and community cohesion, at least in some areas. The city of Butembo in North Kivu province is a good example. The conflict never reached the city because some local businessmen came up with the inventive idea of paying to keep the war away. The solution worked for decades: the militias never took control of Butembo. As these examples show, all over the world, unconventional solutions and digital technologies are creating new development opportunities, even for the poor.  
Even so, far too many people are still living in poverty. That is why the international community has pledged to end extreme poverty and hunger by 2030 – without destroying the natural environment. In making this pledge, it is building on the experience gained with the Millennium Development Goals which, while less comprehensive, achieved major successes. For example, in most countries, around 90 per cent of children now attain at least a basic education. The task now is to reach the final 10 per cent.  
'The best road to progress is ­freedom's road.'
John F. Kennedy, former US President
Major advances have been achieved in health care as well. Wherever they live, most people with HIV now have access to life-saving drugs. One of them is Maurine Murenga from Kenya. Diagnosed with HIV in 2002, she was convinced she was about to die. She was tested for HIV when she was pregnant. 'I was given the diagnosis in the full view of the public,' she says. At the hospital, the nurses simply called out the names of people who had tested positive. And at first, it didn't look good for Maurine. She lost her job and with no income, she couldn't afford the treatment. She unwittingly passed the virus to her newborn son although drugs to prevent mother-to-child transmission were available by then. 'I wrote a letter to my baby and made my peace with death,' she says. In the hospitals, there were emaciated figures lying in the corridors. The nurses and physicians were in despair: they had no idea how to help their patients or themselves. All they could do was watch their patients die.  
Fighting AIDS, Tuberculosis and Malaria
The situation started to improve with the establishment of the Global Fund to Fight AIDS, Tuberculosis and Malaria – one outcome of the Millennium Development Goals – in 2002. A group of wealthy philanthropists led by Microsoft founder Bill Gates and his Foundation persuaded a number of donor ­governments to set up a new fund to combat the three diseases. At the time, AIDS, tuberculosis and malaria were the main causes of death in Africa. With support from the Fund, life-saving medicines are now affordable, even for low-income groups, in numerous countries of the world. Around 9.2 million of the world's 36 million people with HIV/AIDS are now on antiretroviral treatment. The aim is to completely eradicate diseases such as AIDS by 2030. Many governments have launched programmes to bring this about. ­Maurine Murenga describes how this has changed her life: 'I can take out a loan for a house in the full expectation that I will live long enough to pay it back.'  
Gavi, the Vaccine Alliance, a public-private partnership, has also achieved some notable successes with its large-scale immunisation campaigns. Since Gavi was established in 2000, polio has been almost eradicated and millions of children have been vaccinated. The aim is to immunise a further 300 million people by 2020, preventing five to six million deaths.
Nobel Peace Prize recognises civil society's contribution 
Reaching the Sustainable Development Goals in countries with weak governance due to a lack of institutional capacities or conflict-related instability is a more difficult challenge. But it is not an impossible task, as the example of Victor Ochen in northern Uganda shows. Now 34, Victor was born in a refugee camp, where he spent 20 years of his life. For years, northern Uganda was terrorised by a Christian militia, the Lord's Resistance Army. In 2005, Victor set up the African Youth Initiative Network. It supports the peace process in northern Uganda and provides reconstructive surgery for people maimed or mutilated in the war, helping to restore their physical appearance and confidence. In 2015, Victor Ochen was nominated for the Nobel Peace Prize.  
Civil society can do much to promote social cohesion, as the National Dialogue Quartet, the 2015 ­Nobel Peace Prize laureate, shows. Through intensive dialogue, it made a decisive contribution to the building of a plu­ralistic democracy in Tunisia at a time when it was needed most. Trade unionist Houcine Abassi and industry leader Ouided Bouchamaoui, ­together with Abdessattar Ben Moussa, head of the Human Rights League (LTDH), and Mohamed Fadhel Mahfoudh, President of the Tunisian Order of Lawyers, guided Tunisia's conflicting political movements towards a compromise which contributed to the country's democratisation. 
The Sustainable Development Goals are intended to link the fight against hunger and poverty with sustainable economic development. This can be achieved with the use of renewable energies, for example. ­Energy therefore features in the list of goals for the first time (SDG 7). Morocco is pursuing a large-scale solution: at Ouarzazate in the south of the country, it is building the world's largest solar energy plant. Phase I of the project involves the installation of 150 MW of capacity. Upon completion, the project will provide 1.3 million people with clean energy. Ouarzazate is part of the country's comprehensive strategy to expand its renewable energy sector: renewables are to provide almost half the country's electricity by 2020. This large-scale solar power plant will be the first of several. The Kingdom of Morocco is also promoting wind power on a massive scale. More than 170 countries – including China and Brazil, but also Saudi Arabia, Ghana, Costa Rica and Mexico – have now set themselves national renewable energy targets, compared with only 55 a decade ago. Mexico – one of Latin America's oil-producing countries – aims to ­generate around 35 per cent of its electricity from ­renewable sources by 2025 and, like Morocco, is ­focusing on solar and wind energy, of which it has an abundant supply.
A solar panel for lighting, cooling and mobile phone charging
Many companies and individuals are investing in ­renewable energies as well. One example is Berlin-based Mobisol, which supplies solar panels to Ghana, Tanzania and other African countries. Mobisol trains technicians to sell, install and maintain the modules, thus creating jobs. The users pay for the panels in instalments; most own them outright within two years. After that, they simply pay a maintenance fee. The money is transferred via a digital ­payments ­system. One panel is enough to charge a ­battery for lighting, mobile phone charging and a TV or fridge.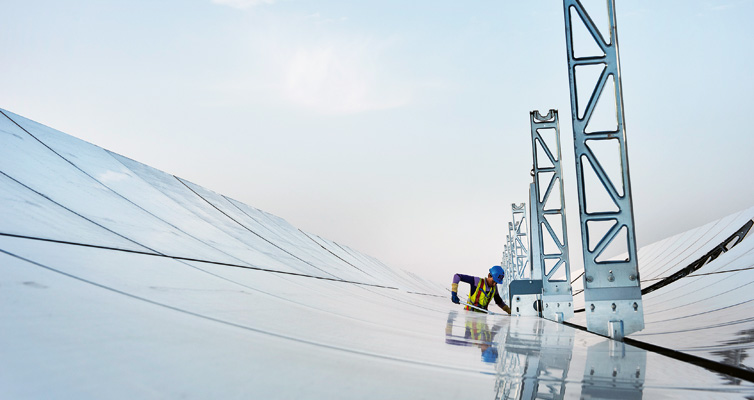 Smaller-scale projects like this one can therefore improve conditions too. Studies have shown that around 60 per cent of the SDGs can only be achieved with the involvement of local stakeholders. In November 2016, the German Environment Ministry granted additional support for Jordan's water sector. The grant will fund three local projects to reduce energy use in water treatment, for as researchers at the German Development Institute (DIE) explain, in this region '… both the energy and the water crises risk the reinforcement of existing social inequalities, triggering further political instability.' The projects in Jordan will substantially ­reduce energy consumption at a wastewater treatment facility by recovering biogas to power the plant.  
Another form of energy use has severe consequences in Africa and elsewhere: the use of fuelwood for cooking, which is detrimental not only to health. In East Africa, entire forests have been felled for charcoal production. In order to halt this deforestation, hundreds of thousands of families – again, with German support – are being provided with efficient, clean-burn cookstoves which consume just a third to half of the fuel previously required. As these examples show, the social, economic and environmental dimensions of progress can be brought into alignment. In order to achieve the SDGs, it is important to continue with development, even if we only take small steps, especially when the world around us appears to be falling apart. It is then that tilling the fields, teaching the children, offering vocational training in refugee camps, supporting businesses, protecting water sources, making use of digitalisation and strengthening democracy have an important role 
to play. 
Conflicts can only be permanently de-escalated if people see that they have access to alternative livelihoods: in other words, if they gain more from peace than they lose through conflict. The Sustainable Development Goals open up a shared view of the future for the entire world. However, a positive approach is essential if this global pact is to become reality. Agenda 2030 is, after all, the most ambitious roadmap for a sustainable future ever adopted by humankind. 
published in akzente 1/17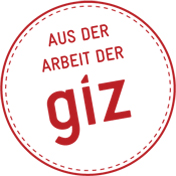 A roadmap for all projects in which GIZ is involved
The 2030 Agenda for Sustainable ­Development and the Paris Agreement are the framework for international policy-making in the years ahead. The Agenda will also influence GIZ's work. As Tanja Gönner, Chair of GIZ's Management Board, explains: 'The Sustainable Development Goals will be our roadmap for all the projects in which we are involved worldwide.' 
In Brazil, for example, GIZ is working to protect the Mata Atlântica forests on the Atlantic coast – and fulfilling several of the Agenda's objectives at once: combat climate change (SDG 13), protect terrestrial ecosystems (SDG 15) and ensure availability of water (SDG 6). The Mata Atlântica includes cities such as São Paulo and Rio de Janeiro and generates more than 70 per cent of the nation's economic output. Over recent decades, however, vast areas of forest have been cleared – with potentially devastating consequences, for the forest acts as a carbon sink of global importance and provides essential eco­system services, such as supplying drinking water to large numbers of people. On behalf of the German Federal Ministry for the Environment, Nature Conservation, Building and Nuclear Safety (BMUB), GIZ and the Brazilian Ministry of Environment are working together on forest conservation – for Brazil is already feeling the effects of deforestation: longer periods of drought, at least a 1° C rise in average temperature compared with the pre-industrial level in some areas, and more frequent storms. In partnership with the municipalities, GIZ is developing spatial plans, supporting ­replanting schemes based on local species, training multipliers in climate change adaptation, and planning conservation ­projects – all of which will benefit the 120 million Brazilians who live in the Mata Atlântica.
On behalf of the German Federal ­Ministry for Economic Cooperation and ­Development (BMZ), GIZ is helping partner countries to start implementing Agenda 2030 as soon as possible. This may include building reliable tax systems to pay for education and health systems or ­securing private donors for the partner countries, perhaps through Green Bonds, which are used to fund projects that have environmental and/or climate benefits. Small-scale investors can also subscribe to these bonds. GIZ also builds partner countries' capacities to assess their own progress ­towards the SDGs, for example by expanding national statistical offices.
INVESTING IN THE FUTURE
30.000.000 euros is being invested in a 'first movers' programme on the SDGs, which GIZ is ­implementing in 14 countries on behalf of BMZ.
ADVICE IN MEXICO
Mexico has set up a team of advisors on the implementation of Agenda 2030, which reports to the President. GIZ is providing support to the Government on behalf of BMZ.
WATER SUPPLY IN ABU DHABI
90 days: the length of time Abu Dhabi's stocks of freshwater will last since its supply system was modernised. Previously, it would have run out of water after just three days. GIZ planned and supervised the works, which were commissioned by the Abu Dhabi Water & Electricity Authority (ADWEA).
TRANSPARENCY IN THE EXTRACTIVE INDUSTRY
The Extractive Industries Transparency Initiative (EITI) promotes transparency in the resource sector – including in Germany since 2014 (D-EITI). It involves governments, companies and civil society. GIZ hosts the EITI Secretariat on behalf of the German Federal Ministry for ­Economic Affairs and Energy.
Weitere Beiträge zum Schwerpunkt
Guest article: Agenda 2030