Illustration
Julian Rentzsch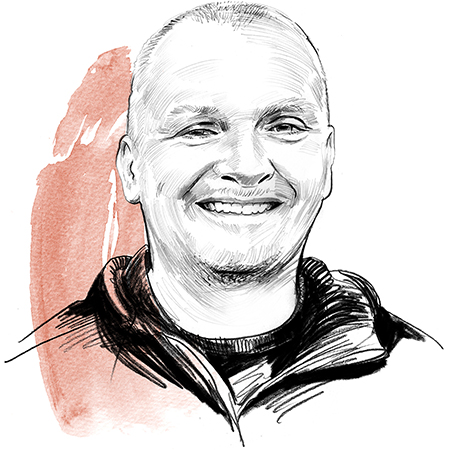 KRISTIAN LEMPA  
is Head of GloBe's Transitional Development Assistance Section in the Crisis and Conflict Management, Migration, Construction Division.
A few months ago, a hospital was inaugurated in Mosul, Iraq, at the exact same location as the former IS headquarters; where people were tortured and mistreated. A conscious decision was made to erect the building here – to signal to the population that the atrocities are over and that times are changing.
The site now houses a medical complex, the Al Jamhouri Surgical Teaching Hospital. It was built from used shipping containers but is fully functional, with an operating theatre, an intensive care unit, an ENT department, 150 beds, and more. The adjacent polyclinic can treat more than 1,500 patients a day. GIZ supported the construction of the complex with transitional development assistance, the crisis management instrument of the German Federal Ministry for Economic Cooperation and Development (BMZ).
Our assignments are not always as spectacular and symbolic as this one in Mosul, but we always create a bridge from an acute crisis to new prospects, from emergency assistance that covers a population's immediate needs through to long-term international cooperation.
With the rising number of fragile situations that we have seen in recent years, the need for such support has also grown. Two thirds of GIZ's cooperation countries are affected by crises, violence and conflicts. This is compounded by natural disasters such as droughts and floods, which are increasing even more with climate change.
'Transitional development assistance creates a bridge from an acute crisis to new future prospects.'
Whether in Yemen, Afghanistan, Iraq, Syria, the Horn of Africa, the Sahel or, probably very soon, Ukraine – the conditions vary, but the objective always remains the same: from the short-term outlook, we develop medium-term prospects, which will hopefully lead to long-term development and better living conditions.
To give a concrete example: if a flood occurs and washes away local fishers' jetties, boats, nets and rods, humanitarian assistance provides food for them and their families. For one, two, three or even thirty days. At some point, this flow of international assistance ceases, but boats and other equipment are still unavailable – fishers still have no income. We work less with governments in the capital cities, and more on the ground with those affected, local governments and civil society. We work with authorities and social organisations to identify the fishers' needs, and we take a joint approach. If necessary, we work together to build a new jetty, perhaps even a small harbour. We ensure that fishers can return to sea and provide for themselves. However, we do not define the rules for fishing, establish supply chains to the market, or organise fishers' cooperatives, that is, the institutional framework conditions. This is where regular development cooperation comes in:
The crisis task force
Assignments like these require significant flexibility, which works because we are not tied to any particular sector. Crises usually have various causes, so it is often necessary to work in more than one area. In a sense, we work like a crisis task force, continually adapting our measures to the changing local conditions as necessary.
We send our own international or national staff to a particular crisis region, depending on what the situation requires. At present we have around 30 projects with a total value of approx. EUR 520 million, and the figures are rising. Our scope of action ends where there is immediate fighting. However, in every crisis country there are areas where no direct military conflicts are taking place, and this is where we can get to work and rebuild structures.
Up to now, the focus was primarily on infrastructure projects and peacebuilding, but food security will also be included in the future. We will then do everything possible to ensure that farmers can sow and subsequently harvest their crops, even in times of crisis. We see considerable need for this in all regions and it therefore represents a major field for us. It is essential to defuse any potential conflicts over resources at an early stage. Transitional development assistance makes a key contribution in the wake of conflicts, but primarily helps to avoid new ones – the bridge works in both directions.
June 2022