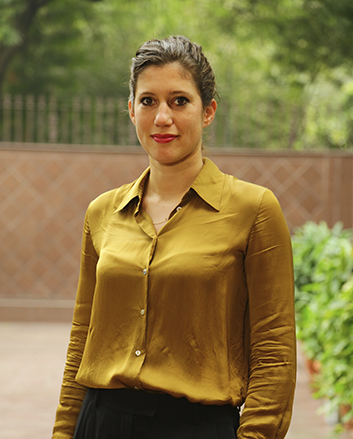 'I am passionately committed to sustainable economic development and strengthening the role of women. Her&Now combines both these things. Up to now, women have only run around 20 per cent of companies in India. This is largely due to patriarchal norms. At Her&Now, our focus is empowering women to become self-employed and run a successful business. An important part of this is boosting women's self-confidence and self-image as entrepreneurs. The goal is not only to get more women into business, but also to achieve social transformation – these women inspire others to be self-determined entrepreneurs and are breaking with traditional gender roles.
'Women are empowering women and making each other stronger.'

Julia Karst (37), GIZ project manager with Her&Now
As part of Her&Now, GIZ is working with regional partner organisations in twelve Indian states. Rajasthan, in the north-west of the country, is particularly traditional. Women find it very difficult to persuade their families to allow them to work. We funded a local organisation there called Startup Oasis. Together with partners in other states, Startup Oasis has developed and implemented a curriculum for support programmes run over six months. Her&Now supports women in setting up and growing their businesses. They receive training, mentoring and other assistance offered by the programme. And the good thing is, women need no educational qualifications or previous experience to participate. We focused only on whether the business idea was innovative, if there was a market for it and growth potential, and if it could offer jobs to other people in the future. We advertised the programme through social media, radio, newspapers and at local events.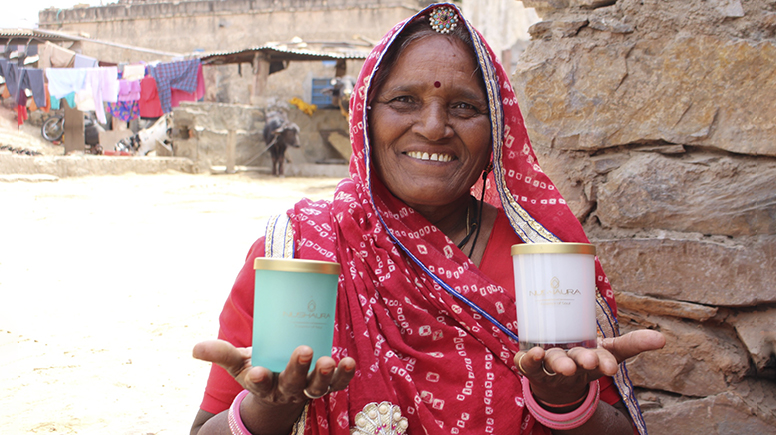 We had just six months to establish these support programmes before COVID-19 hit and we were forced to shift from face-to-face to purely online support. Prior to the pandemic, we regularly held three-day workshops for the entrepreneurs. The workshops were a space for the women to discuss things like the obstacles and societal resistance they have had to overcome as entrepreneurs. Since the pandemic, we've had to do all this in virtual events, which hasn't always been easy. Part of the programmes also involved assigning a mentor to each participant, to work with her on the specific challenges for her company or business idea. The programmes in Rajasthan have now ended, but they are still running in other states. To complement the workshops and mentoring, there are also digital courses with experts on topics such as VAT registration or compliance with legal requirements, which many of the entrepreneurs need assistance with.
In Rajasthan, Startup Oasis succeeded in developing a strong sense of community among the participants. A number of them have formed a new network called AWARE, to support other women entrepreneurs – women are empowering women and making each other stronger.'
'It's beautiful to see this change'

Tanushree Jain (26), founder of the company Nushaura in Rajasthan
'When I took part in the first programme with Startup Oasis in Rajasthan, I was just starting out as an entrepreneur. I had no business experience, and there were no entrepreneurs in my family or among my relatives. I come from a modest background. Before he retired, my father worked for a railway company. My mother is a teacher. She inspired me and taught me the importance of financial independence. My mother mainly teaches in rural Rajasthan, in remote villages and regions. Through her, I met the women artisans I now work with.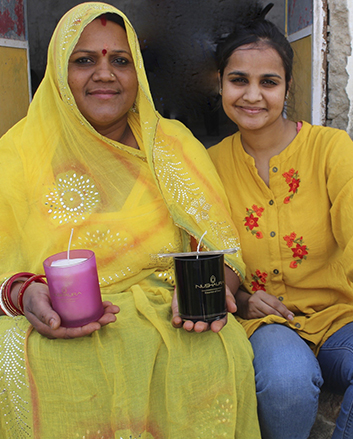 I came up with the idea for my company when I was studying in Delhi. I suffered a lot from the air pollution. While I was lying in the hospital as a result of this, I thought about the many unhealthy products we use in our homes. For example, candles made of paraffin. I started looking for solutions to the problem and got hold of the materials to make aromatherapy candles from natural raw materials like beeswax. After I recovered, I started working with ten women from Kalwad village to produce the candles. Soon other women from the area also took an interest. My company has now grown from ten to 300 women. I founded Nushaura with my own money, and there was no safety net. My parents and brother have been very supportive along the way, but I definitely received criticism from more distant relatives.
Together with my team, I supply the women in the villages with raw materials like wax, wicks, essential oils, measuring tools, moulds and screw-top jars, and we bring the end product to the market. Today we don't just sell the candles in India, but also internationally using online sales platforms. During the 2020 lockdown, when only essential supplies could be sold, we also produced breathing masks, disinfectants and protective clothing. This allowed us to navigate through the pandemic. In 2022, we anticipate sales of around 1.5 million rupees – equivalent to just under EUR 18,000.
All the women own shares in Nushaura, and they all get an equal share of the profits. In many of the villages where we work, society is still so patriarchal that families don't let women leave home to work. At first, there was strong resistance from men, but now they see the benefit for the whole family. The women now own smartphones and they can pay for their children's education. We have helped them open bank accounts and apply for their own identity cards.
We also provide them with training in how to run a business. At the beginning, many of them had no self-confidence. Now they are very confident and it's beautiful to see this change. I am immensely proud that some of the women have started to replicate the Nushaura business model and are becoming self-employed. It makes me happy that I can help women become independent.'
In the Economic Empowerment of Women Entrepreneurs and Start-ups by Women project (known in India under the name Her&Now), GIZ has so far provided more than 800 women with entrepreneurial skills on behalf of BMZ. GIZ is working with various partners and promoting the important role of women entrepreneurs for India's development. Channels used include videos, television and radio spots and podcasts.

 

Contact: Julia Karst, julia.karst@giz.de
The programme contributes to the following United Nations Sustainable Development Goals (SDGs):

| | | | |
| --- | --- | --- | --- |
| | | | |