The geological map of Afghanistan is like an abstract painting: a kaleidoscopic patchwork of interconnected areas. ­Orange, yellow, green, blue – the colours serve to illustrate the fact that hardly a square centimetre of the chart is without mineral ­resources. The map hangs not in an art museum, but in an exhibition of rock samples on the third floor of Kabul Polytechnic ­University. At the end of a broad corridor is ­Afghanistan's most prestigious mining ­institution, the Underground Mining ­Engineering Department.
When the university was established by the Soviet Union over 50 years ago, little was known about Afghanistan's underground riches. Only in recent years have geologists begun to explore the extent of mineral deposits in the Hindu Kush. But today there is no doubt: the metals and precious stones hidden beneath Afghan soil are valued at around USD 1 trillion. These resources include ­lithium, currently in great demand from the electronics industry, as well as a whole array of rare earth elements.
'Mining has the potential to solve our country's economic problems and create many new jobs,' says Amanullah Zahid. The subjects he teaches at the university are mining machinery and manual processing. His courses focus on the way machinery is used to extract natural resources and how the minerals, once ­extracted, are processed. Zahid explains these issues with the focused precision of a true technician.
Outside his office stand four painted polystyrene boxes, illustrating the most common types of mine. The models were made by fourth-year students from the Bachelor's degree course. But Afghanistan still has few mines that extract minerals on an industrial scale. What's more, the country lacks companies with the technology necessary to process the raw materials efficiently.
A new laboratory
That's why promotion of trained technical experts is at the heart of a project to develop higher education courses for the Afghan mining industry. In partnership with the ­Afghan Ministry of Higher Education, GIZ is developing new curricula for mining courses on behalf of the German Federal Foreign Office. Experts have been busy revising the old, heavily theoretical curricula, many of which hail from the Soviet era. In addition, a new laboratory is currently under construction at the Kabul Polytechnic University.
Since much of the department's equipment was looted during the years of civil war, there has been little practical teaching in recent years. But that is all set to change. Soon students will gain valuable insights into mining practice in the freshly renovated rooms of an adjoining building. The concept for the room layout was developed by Germany's leading mining university, TU Bergakademie Freiberg. The plan shows the departments contained within the laboratory: a rock collection and experiment rooms for geology, rock mechanics, hydrogeology, geochemistry, oil and natural gas.
No field trips in the country – the risk is too high
During two visits to Freiberg, Amanullah Zahid was able to see for himself what a modern mining training programme might look like. In particular, excursions to the university's opencast mine were a revelation for the engineer. From blasting and drilling to transportation, here he witnessed the different processes of mineral extraction at first hand – and for the first time.
Finally, the theoretical knowledge ­acquired from a four-and-a-half year ­Bachelor's degree course became real. 'I was able to see with my own eyes what I had ­always tried to show my students as theory on the blackboard,' says Zahid. 'And I also discovered things I had been explaining ­incorrectly.' He now uses the video footage he filmed at the mine in his courses for ­students.
Study visits of this kind are out of the question in Afghanistan, since the Taliban maintain a presence in many regions of the country that are suitable for mining. The poor security situation also deters foreign investors and mining companies. That is why most mining is done by hand – and generally on an illegal basis. In Zahid's home province of Wardak, southwest of ­Kabul, the Taliban use mineral extraction as a means to great self-enrichment. According to some estimates, around half of all revenues from Afghan mining ends up in the pockets of local warlords.
Zahid is well aware that exploiting Afghanistan's mineral wealth involves significant risk. Conflicts over resource allocation ­between local warlords could plunge the country once again into civil war. So responsible governance is key when it comes to mineral resources.
The provinces see too little benefit from their mines
Passed in 2014, Afghanistan's new mining law stipulates that five per cent of revenues from any mine must make a direct contribution to development of the relevant province. However, the country currently lacks the highly trained experts required to control and monitor such processes. There is little dialogue between the Ministry of Mines and Petroleum and the mining experts at the Polytechnic University. But that is set to change. 'Once graduates of the six modernised Bachelor's degree courses are able to feed their expertise into Afghanistan's political system, we will be able to make a significant contribution to the country's development,' says Arnim Fischer of GIZ.
Training courses in Iran
A conversation with Zohra Hazrati gives reason for hope. The cheerful mining student in her eighth semester is the only female in a programme of 32 participants. Hazrati sits at a well-worn desk in the front row, closely following the PowerPoint presentation in which Amanullah Zahid explains mining machinery and how it works.
When Hazrati opted for a degree course in mining, her friends were genuinely astonished, wondering what it was about mining that attracted her. 'Most areas of technology have already been investigated exhaustively, but in mining there is still a lot to be done,' she says. When she finishes her course in Kabul, her plan is to study for a Master's degree in Freiberg. One day she hopes to work for the Ministry of Mines in Kabul and to help exploit Afghanistan's mineral wealth.
In addition to visiting Germany, the delegations from the Polytechnic University also flew to training courses in neighbouring Iran, which has much greater experience in issues of mining compared with Afghanistan. Afghan lecturers also took part in international conferences in Teheran. These marked the start of a regional partnership between Afghanistan, Iran and China in which German universities participate as well. Students now complete internships with Iranian mining companies. And with the publication of a regular mining journal, Kabul University is seeking to reach out to the international academic community.
Latest research literature in­stead of out-of-date periodicals
The mining section of the university library, equipped with funding from GIZ, is a promising start. It is immediately evident that the library's reading room has suffered greatly in recent decades. The windows are covered in dust, the fluorescent lamps flicker, the overriding colour is the grey of out-of-date periodicals, which cause the rickety metal shelving to buckle under their weight.
Standing in marked contrast to all this is a bookcase filled with colourful new ­publications. Amanullah Zahid proudly ­indicates the gleaming spines of the latest research literature in his field, with titles such as 'Fundamentals of Rock Mechanics' and 'Applied Geomorphology'. Zahid and his colleagues are very determined to achieve the leap to a state-of-the-art mining training programme.
Contact: Arnim Fischer > arnim.fischer@giz.de
published in akzente 2/17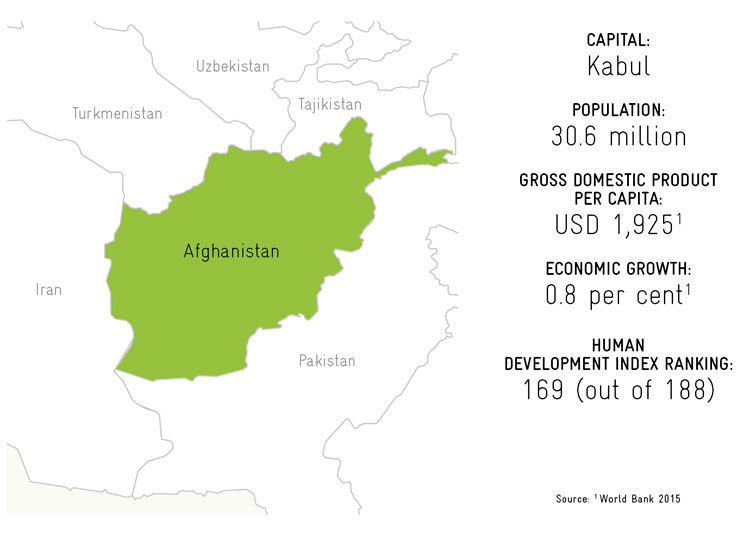 EXPERTS OF TOMORROW
Project: Academic mining education in Afghanistan
Country: Afghanistan
Commissioned by: German federal foreign office
Lead executing agency: Afghan ministry of higher education
Overall term: 2014 to 2017
There are enormous opportunities in the Afghan raw materials sector – but the ­country lacks the experts necessary to extract, process and market the mineral ­resources in a professional manner. Although relevant courses of study are ­available, they offer much too little practical experience and do not meet the ­required ­level. GIZ is therefore working on behalf of the German Federal Foreign ­Office to support the training of future technical experts in the field of mining. In the ­German Academic Exchange Service (DAAD) and the TU Bergakademie Freiberg (Freiberg University of Mining and Technology), GIZ has found two partners able to provide ­invaluable support on technical and educational issues. Degree courses such as ­geology and mining are now undergoing a thorough revision process. By training its own experts, Afghanistan will be less dependent on foreign consultants and ­companies and able to achieve higher revenues. Ultimately this will also contribute to political and economic stability.