Sparks are flying in the electrical engineering lab. The air is heavy with the smell of molten metal. Three young men in white shirts are busy trying to solder electrical cables. Opposite them on the bench, some of their colleagues are tinkering with screwdrivers on an electrical testing wall. Their task is to get to grips with and reconfigure a life-like circuit board.
Haroon Halimi keeps a careful eye on what his young students are doing. He is a teacher of practical and theoretical electrical engineering at the Technical School of Kabul, the Kabul Mechanical Institute. Today the 27-year-old is wearing a shirt and black jacket. With a shock of dark hair gelled into position, his smart appearance underlines the professionalism with which Halimi has been doing his job at the school for the last two and a half years.
'For me, being a teacher means having the freedom to pass all my knowledge on to my students,' says Halimi, himself a former student at the institute. One of his own teachers was his father, who has been a lecturer at the Technical School for 45 years. As a teenager, Halimi was allowed to watch his father doing rewiring jobs at houses in Kabul. That is where he developed the passion for circuitry and electronics that he passes on to his students today. He acquired the skills for the job by completing a two-year course at a training academy, funded by GIZ on behalf of the German Federal Ministry for Economic Cooperation and Development (BMZ).
In short supply: schools with a practical bias 
High-quality vocational training in Afghanistan is in short supply. Dissatisfaction with teaching staff results in over half of all vocational students abandoning their training early. Moreover, many families cannot afford to send their sons and daughters to a vocational school in the first place. Children in Afghanistan are often required to ­contribute to the family income or care for relatives at an early age.   
Although many new vocational schools have been established in Afghanistan in the last five years, their reach currently remains limited. Compared with traditional apprenticeships in small family-run businesses, ­vocational school training courses still play only a minor role. Out of the 1.4 million Afghan youths not in mainstream schooling, just five per cent are enrolled at a vocational school. Over three quarters however receive training in the informal economy, typically from their fathers.  
Improving the quality of vocational training
Since 2010, GIZ has been committed to developing a nationwide vocational education system in Afghanistan on behalf of the German Federal Ministry for Economic Cooperation and Development. The approach builds on existing structures: modernising conventional apprentice training and improving the quality of classroom-based vocational training. 
But it is about much more than improving employment opportunities for young people. In a land as fragmented as ­Afghanistan, 'vocational training is a key to improving social integration,' explains Gustav Reier from GIZ. But to achieve that, there has to be effective governance, which recognises the value of vocational education and responds accordingly. 'Afghanistan has a highly motivated youth,' the expert continues, 'but in the country's vocational schools, these young people often encounter poorly qualified and uncommitted vocational school teachers, as well as school management teams that are failing in their duties.' GIZ hopes to change this.
Up-to-date course content, new teaching material
German involvement in the Afghan TVET system goes back a long way: the ­vocational school concept was founded with German aid over half a century ago as the first technical school in Afghanistan. Today, German experts are collaborating with ­Afghan vocational school teachers to develop up-to-date course content and equip vocational schools with new teaching and learning materials. This one institute alone benefits 1,300 students – predominantly boys, but also 70 girls.
In particular, modern machines and apparatus are required for practical teaching. Aspiring technical students must learn as much as possible about everyday professional life while at school. Part-time study models are also being introduced to enable young people from poorer families to attend school. These models ensure there is enough time for a traditional apprenticeship or temporary job alongside the course. 
A new generation of teachers for rural regions  
Haroon Halimi knows all too well the challenges facing his country. 'As a child I always wondered why we had no electricity at home in the evenings,' he recalls. He and his family spent eight years as refugees in neighbouring Pakistan during the Afghan civil war. Electricity was a luxury commodity – which is why it is all the more important, he adds, that Afghanistan today has good teachers to train a new generation of capable electrical engineers. 'Afghanistan needs ­electrical engineers who are committed to ­providing a better electricity supply.'
As a graduate of the first year's intake at the Technical Teacher Training Academy (TTTA) in Kabul, Halimi not only added to his knowledge of the subject. In addition to technical training, his course also included modules on aspects such as teaching theories and methods and psychology. 'I now feel I'm able to read my students' faces better and respond to their individual needs,' says Halimi. He attaches particular importance to establishing a friendly classroom environment.
Developed jointly with the Afghan Deputy Ministry of TVET, the academy is situated in the south of Kabul at the foot of the Chehel Sotun hill, overlooking one of the city's smog-covered districts. The academy's modern brick complex accommodates classrooms, workshops, and a hostel providing accommodation for students from rural areas. 
Energy and enthusiasm
One of these is 20-year-old Majnoon Safi. Safi comes from Kapisa, a small province 80 kilometres northeast of Kabul. Safi's textbooks are spread out on the bunk bed he shares with a classmate, along with a neatly folded prayer mat and an immersion heater to make tea.
The young man exudes energy and enthusiasm. After completing the training course in Kabul, he plans to work as a teacher in his home province. 'The lecturers at the training academy have all the qualities I missed in the teachers back home,' Safi says, before going on to explain what makes a good teacher. 'Just like the students, a teacher should never stop learning. And they shouldn't make snap judgements about their students,' Safi says.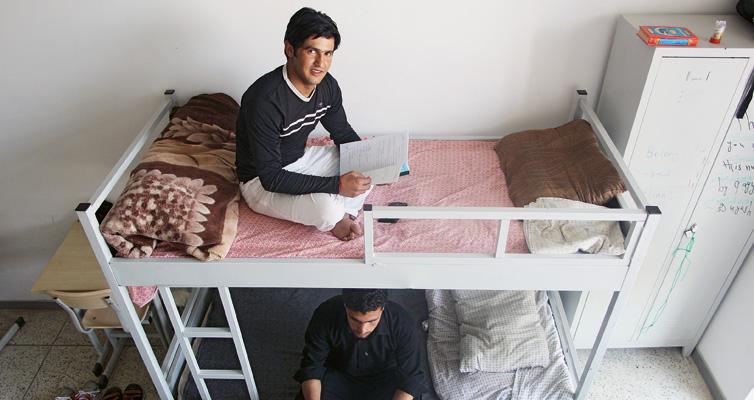 Picture gallery: Vocational training in Afghanistan
Like him, most of the students come from rural areas. 'Only 20 per cent of our students are from Kabul, the rest come from the other 33 provinces,' explains Dena Azizi, the TTTA principal. With a policy that ­targets recruitment of young people from the provinces, her aim is to counteract the shortage of teachers in rural regions. 800 graduates have already successfully ­completed the training course since the school opened in 2011. 
Using one's talents to help others
In addition to electrical engineering, the academy provides specialist rooms for ­technical subjects such as woodwork, metalwork, sanitary engineering and motor mechanics. Together with its sister school, the Technical Teacher Training Academy in Mazar-e Sharif, the teacher training programme is currently providing training for around 600 aspiring vocational school teachers. As multipliers, their role is to promote modern, high-quality vocational education and training in rural regions also. 
For Haroon Halimi from the Technical School in Kabul, training to become a vocational school teacher has been well worth the effort: in a test for 100 Afghan teachers of electrical engineering he ranked in the top ten. He is determined to use his skills to encourage other young people: ­'After two years' experience in the job, I feel I'm well equipped to assess the potential of my students.'
Contact: Gustav Reier > gustav.reier@giz.de
published in akzente 1/17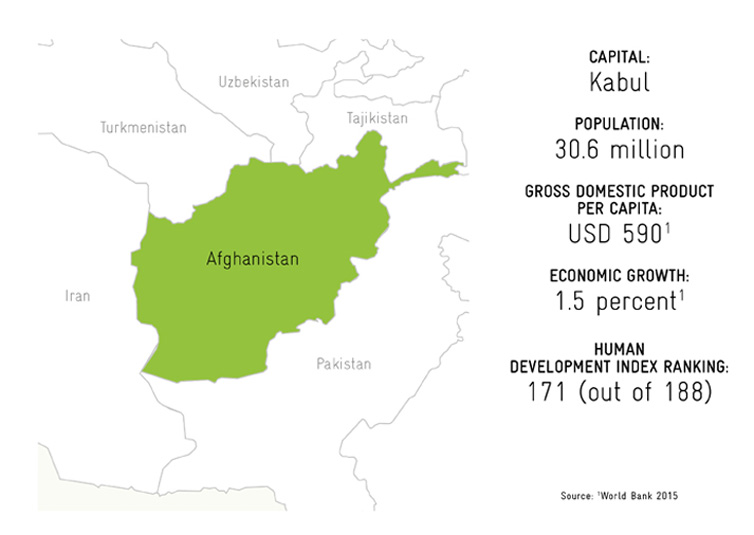 FIT FOR THE JOB
Project: Förderung der Beruflichen Bildung
Country: Afghanistan
Commissioned by: German Federal Ministry for Economic Cooperation and Development (BMZ)
Lead executing agency: Afghan Deputy Ministry of Technical and Vocational Education and Training, Afghan Ministry of Education 
Overall term: 2010 to 2017
There are currently around 1.7 million young people in Afghanistan of an appropriate age for vocational training. But traditional informal training and courses at the ­country's existing 250 vocational schools are failing to meet the demands the economy is placing on young employees. For this reason, GIZ is helping Afghanistan to develop a network of modern vocational schools. GIZ provides initial and further training ­courses for teachers and is developing curricula for vocations in future-oriented ­industries. Around 19,000 young people, a quarter of them women, are currently ­undertaking training in these occupations at one of 35 vocational schools. Experts have developed special courses for the large number of illiterate young people in Afghanistan. Around 1,500 young people have already taken part in these special training courses.