It is Tuesday at a baraza in northern Uganda. Forty people from the surrounding villages have squeezed onto the benches at the primary school in Amuca for this community meeting. This scene is repeated every few weeks in the village, which lies a good 300 kilometres north of the capital, Kampala. The chairwoman presents today's subject: Energy and the Environment. Then a woman gets up from her plastic chair at the side of the classroom and walks to the front.
Claudia Apio introduces herself briefly. She runs the Lira NGO Forum, an umbrella group for non-governmental organisations (NGOs) in the district of Lira. Radiating energy and with all eyes on her, Apio captivates the entire audience. 'It's really important that you tell us what your concerns are,' the 37-year-old says. 'That is the only way we can influence policy so that the energy projects benefit you, the communities.' She urges them to stand up for their interests. 'Do you remember the petition you sent to the district authorities? You needed a new road, and it was built. You should do the same with energy policy.' Those present nod in agreement.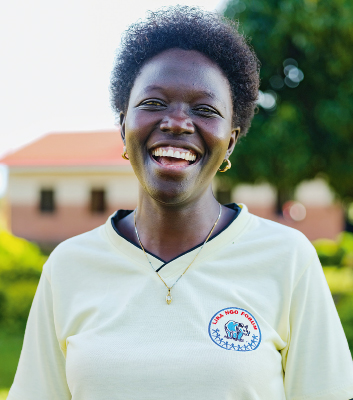 Anna Peter (48) and her husband Benson Apita (56) both took part in the baraza. They live just a few minutes' walk from the school. On their farm, which covers an area equivalent to around half a football pitch, they grow maize, peanuts and the root vegetable cassava, among other things. Anna recently sold her orange harvest, and soon, for the first time, she expects to have a crop of coffee beans ready for the market. They also keep pigs, cows, goats and chickens. Of her six children, two are still school-aged.
'We go to the barazas whenever we can,' says Apita. 'It's a chance to find out important information, explain what our needs are and pass on our own knowledge as well.' With regard to the environment and energy, for example, there is still a need for greater awareness. Like most people in the village, Anna Peter admits that they still use charcoal for cooking: 'We should really buy a biogas cooker. That would be cheaper in the long run and protect the forests.' The couple have a small solar power system that allows them to light a room, charge the mobile phone and listen to the radio. For household appliances that need more energy, they would have to connect their home to the electricity grid. 'The line passes right by our house,' says Apita. 'But electricity is still too expensive for us.'
ESTABLISHING NEW LINKS

 

On behalf of the EU and BMZ, GIZ is trying out a new approach in Uganda that involves combining support for civil society organisations with its priority areas of energy, water and rural development – starting with the energy sector. Building on a strong track record of cooperation, GIZ persuaded the Ugandan Ministry of Energy and Mineral Development that energy policy-making will improve if it draws on the knowledge and responds to the demands of civil society. According to the Ministry, the approach has been so successful that there are now plans to expand the role of civil society groups. At the same time, on behalf of BMZ, GIZ is focusing on measures to strengthen human rights in Uganda. These include courses, legal advice and campaigns for women's rights and for tolerance towards minorities, such as LGBTIQ (lesbian, gay, bisexual, transsexual, intersex, queer) groups.

 

Contact: Wolff-Michael Mors, Head of the Civil Society in Uganda Support Programme, cusp@giz.de
His wife hopes that electricity prices will soon fall, thanks in large part to the work of civil society organisations that stand up for people's interests. Now that they are getting older, Anna Peter would like an electric iron and a television. Above all, an electricity supply would make it easier and cheaper to process their maize crop into flour. For now, they have to hire a generator to power the peeling and grinding machines.
It was in 2015 that Claudia Apio started highlighting the issue of government accountability in her region at the traditional community meetings, which have always been held to express local concerns and negotiate how policies are implemented. 'We are all responsible for what we do,' she says at her office in the district town of Lira. 'That includes citizens, civil society organisations and, above all, government representatives. We need to make sure that our taxes are used properly.' More and more meetings are now attended by local non-governmental organisations offering support. Claudia mainly goes along whenever a contentious issue is due to be discussed – confrontations between the army and villagers, for example.
Expanding role for civil society under an authoritarian regime
Democratic practices, including mechanisms for public involvement in decision-making and holding the government to account, cannot be taken for granted in a state such as Uganda. This landlocked country in East Africa has a population of almost 45 million and has been ruled since 1986 – in an increasingly authoritarian manner – by President Yoweri Museveni. Uganda is considered one of the most corrupt countries in the world, and human rights violations are commonplace, especially against sexual minorities (see interview).
Despite these circumstances, Claudia Apio believes that considerable progress has been made in recent years: 'When I first got involved in civil society activities in 2003, there were still regular arrests of many high-profile figures,' she recalls. 'They were treated as members of an opposition movement who supposedly wanted to overthrow the Government.' Today, she explains, civil society is in a much stronger position with respect to the state. 'We even receive money from the Government to control construction projects, for example,' she says. Nevertheless, civil society activists are still arrested if they adopt an overtly political stance. 'When that happens, though, the security forces notify me. Then I can call the police station and negotiate.'
Narrow childhood escapes from the terror of the LRA
Whenever Apio sees a problem, she wants to solve it. Not for a second does she doubt that everything must have a solution. Perhaps it was this mindset that helped her to survive at all as a child. She grew up in northern Uganda in the midst of the war that the Lord's Resistance Army (LRA) began to wage in 1987 against the then new President Museveni. The guerrilla army, led by Christian extremist Joseph Kony, kidnapped thousands of children and abused them as soldiers or sex slaves.
Apio spent her childhood in a 'protected village', as it was officially called, which also took in people from elsewhere who had been driven out of their homes. The village was guarded by some 250 soldiers. Even so, LRA troops repeatedly entered the village. 'I was nearly kidnapped four times,' she says. 'I tricked the men every time, hid in the house or ran away.'
Later, as the LRA was gradually expelled from Uganda, the young woman wanted to do her bit to ensure that Kony and his commanders were held to account for their crimes: 'So I studied law.' Apio set up her first civil society organisation as a student. After graduating from university, she worked for the German aid agency Workers' Samaritan Federation (ASB) and had one big goal: to enable hundreds of thousands of displaced people in more than 150 camps to return to their villages. 'We didn't just have to rebuild the infrastructure. People also had to learn all over again to look after themselves,' she recalls. 'It was no longer about providing humanitarian aid but about development, and to make that happen I had to find ways of getting people involved in the political process.'
Mouthpiece for local people
Apio has pursued that goal ever since. She joined the Lira NGO Forum in 2014, helping its seventy member organisations to perform their role as a mouthpiece for local people more effectively. She organises training courses, in financial management or in the area of advocacy and lobbying, and encourages public involvement in decision-making, for example at the barazas held in local communities.
The Lira NGO Forum is supported by GIZ on behalf of the German Federal Ministry for Economic Cooperation and Development (BMZ) and the European Union (EU). 'For me, the focus is not on money,' says Apio. 'What's more important are the new opportunities created by sharing ideas and having access to information and networks.' Together with other NGO colleagues, she is now also directly involved in a review of national energy policy.
For Claudia Apio, it's a promising start, albeit not yet a democratic transformation. But where there is a problem, there must also be a solution. After the energy debate during the community meeting at the primary school in Amuca, she makes a final appeal to the audience: 'It is your duty to elect politicians who serve you. Register now for the coming election and urge your neighbours to do the same!' —

published in akzente 1/20