Internally displaced persons in Afghanistan
Good neighbours
The bright colours worn by the children stand out like splashes of paint against the mud-coloured houses and the brown folds of the Hindu Kush mountains. Young girls carry even younger siblings along the sandy dirt roads. Every so often, a shop owner peers out from the shadows of a modest store at the corner of a street. This is Hamdard, a settlement on the outskirts of the city of Mazar-e Sharif in northern Afghanistan. In 2012, the village became home to more than 1,000 people who fled here from other parts of the country.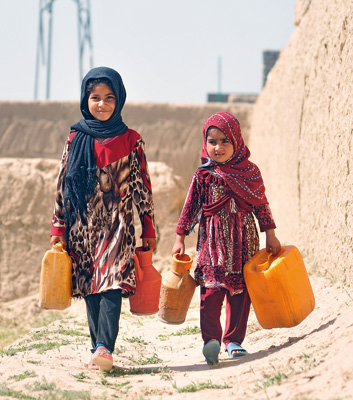 One person who has started a new life in Hamdard and now lives in a mud house with a garden of its own is Faiz Mohammad. His face furrowed, the 53-year-old family man wears a light-green turban. His skin is deeply tanned by a lifetime of work in the sun. When the Taliban invaded Mohammad's village south of Mazar-e Sharif in 2012, the family fled to the nearby provincial capital. Initially, the new arrivals found shelter in facilities provided for refugees by the inhabitants of Hamdard. Accommodated in a tent beside a sinkhole, the family literally found themselves being left with nothing.
Escape from vulnerability
Four years on, Faiz Mohammad sits on the carpet of his living room and talks about how hard life was here for him, his wife and their nine children at first. It took some time for anything resembling normality to resume. 'Four of my children now go to school. They love their lessons.' The other five have already finished school or are working, one of them as a builder of mud houses. Mohammad, too, can read and write – by no means something that can be taken for granted in a country with illiteracy rates close to 70 per cent.
A project to integrate internally displaced persons (IDPs) in Afghanistan has equipped refugees in Hamdard and other municipalities with the essentials for everyday life. In addition to providing drinking water wells, sanitary facilities and two primary schools, GIZ has worked in partnership with the Afghan Ministry of Refugees and Repatriations to construct mud houses for more than 800 Afghan families. And where refugees were keen to construct the houses themselves, the project provided building materials such as clay. Implemented by German experts on behalf of the German Federal Foreign Office, the project has reached around 40,000 people in total. 
Better income thanks to a training
Faiz Mohammad's pride and joy is the small garden in the inner courtyard of his two-roomed mud house. His flower bed is filled with herbs, roses and tall canes of Virginia creepers. The borders of the courtyard are lined with yellow vegetable oil containers, which Mohammad uses to collect water for his plants.  
Behind the flower bed, the family's two eldest sons are busy building a mud wall for a third room with their bare hands. A training course taught them the necessary skills. While one of the brothers shovels fresh clay, the other shapes the wall and uses a measuring tape to check that the work is bringing the required results. Thanks to the building course, the brothers can also offer their services to others and earn money. As unskilled labourers they previously earned at most 250 Afghanis per day; now they can get 800 Afghanis for a day's work, equivalent to around EUR 11.50.  
Violent conflicts, natural disasters, economic reasons
'Internally displaced persons are among the most vulnerable members of the Afghan population,' says project officer Yama Omari. 'They often come from poor backgrounds and by fleeing their homes run the risk of slipping into even greater poverty.' Over a million Afghans are internally displaced as a result of the violent conflicts since 2004. This does not include those who have been forced to flee from natural disaster or leave their homes for economic reasons. And the numbers are rising. 'In recent months alone, 6,000 families have arrived in Mazar-e Sharif as a result of the Taliban offensive in Kunduz,' says Abdul Saboor Qaderi, director of the relevant provincial office of the Ministry of Refugees and Repatriations. And an increasing number of refugees are returning from Pakistan, which is home to the largest Afghan population outside the country. These are being expelled, because the Pakistan Government considers that the country is no longer able to accommodate 2.5 million Afghans.
The internally displaced families settle on the outskirts of large towns and cities. Their arrival increases pressure on the labour market and local infrastructure, which in turn often gives rise to disputes with the local population. 
Women and men seek solutions through dialogue
In order to defuse such disputes, the authorities in Hamdard set up a shura – a traditional neighbourhood council made up of elders from the host communities and refugees. In selecting the delegates, the villagers ensured that all tribes had equal representation: Tajiks, Uzbeks, Turkmens and Pashtuns. Faiz Mohammad was a member of the shura from the beginning: 'Whenever there is a problem in the community, we call a meeting and try to find a solution.'
The people of Hamdard developed this awareness for a positive dialogue culture as a result of training courses on peaceful conflict resolution, which were implemented by a local non-governmental organisation. Today, disputes are rare. In fact, the host communities recognise that many of the improvements to their village are thanks to the arrival of IDPs. 
Five minutes' walk from Faiz Mohammad's house, seven bearded men take their seat on red cushions for a meeting of the shura. A prayer rug hangs on the wall. The topic for today's session is the construction of a clinic, which the village urgently needs. Mohammad chairs the discussion; he is a good speaker. Currently, he explains to his neighbours, villagers have to make their way to the city in an emergency. But transporting the sick and injured along Hamdard's bumpy roads is a difficult job. Their faces etched with intent, the men discuss whom they should approach with their request. 
From the countryside to the city in search of work
The women of Hamdard have their own shura, which provides a platform for exchange on everyday issues and pressing problems. The women then put their concerns before the men's shura. One of the roles of the women's council is to provide support for women in particularly vulnerable situations, such as widows and single mothers. Individual cases are discussed in the round so as to mobilise collective assistance.  
The spokesperson for the women's shura is Zahra Nazari. Although a black headscarf covers the 18-year-old's face, she is not afraid to make eye contact. Nazari's family came to Hamdard six years ago. Her father did not have enough money to send his daughter to school. So the family moved from the countryside to the city in search of work. Now the daughter is the person on whom the family has pinned its hopes. 
Zahra Nazari's dream: to be Hamdard's first midwife
Nazari reads out a list of women's names. All of them have attended courses organised by the project in recent years. In addition to reading and writing, the courses offer training in housekeeping, parenting and health. Nazari found hygiene training particularly interesting. Now her dream is to become a midwife.
'Many families in my neighbourhood don't allow their women to be seen by a male doctor,' says Nazari. 'That saddens me.' Since very few women work in the health care professions, pregnant women are often denied medical treatment. Nazari's aim is to become Hamdard's first midwife so that she can assist women at childbirth. She takes a taxi every day to the centre of Mazar-e Sharif for her training. She is the first of seven sisters to learn a profession. Training in skilled crafts such as carpet weaving or wool spinning has also helped to boost self-esteem among the women of Hamdard. 
A better start in life for the next generation
'The many changes in Hamdard have given us hope,' says Faiz Mohammad, gently rocking the cradle in which his six-month-old grandson Seyed Mobin is sleeping. In Afghanistan prosperity is measured not just in financial terms, but also in the number of descendants. Mohammad glances at the slumbering infant with a look of devotion. He hopes that Seyed Mobin's life will be easier than his own – right from the start.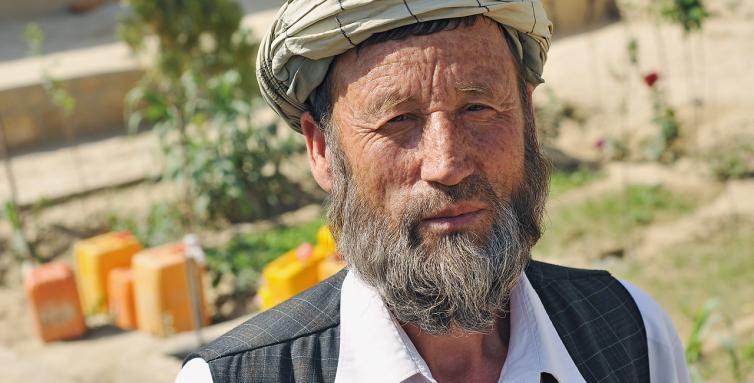 Picture gallery:Faiz Mohammad is now settled in Hamdard. His family live in a proper house and his children go to school or have jobs.
Contact: Helma Zeh-Gasser  > helma.zeh-gasser@giz.de
published in 3/16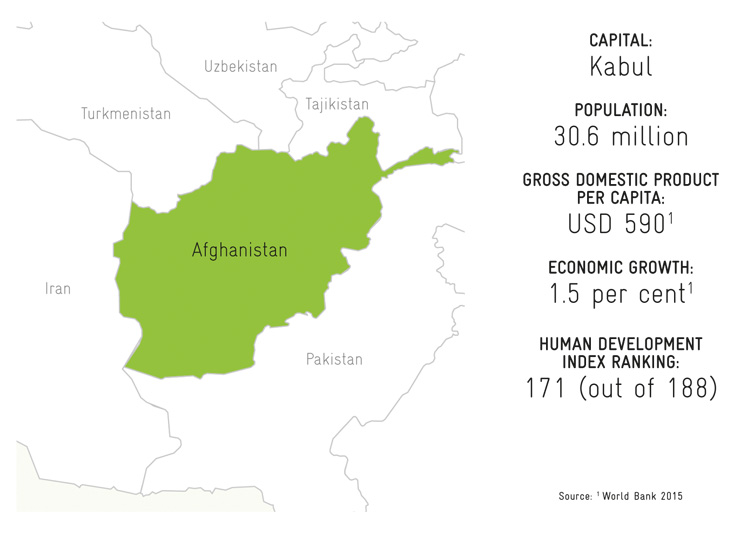 The consequences of displacement
Project: Integration of internally displaced people in afghanistan
Country: Afghanistan
Commissioned by​: German Federal Foreign Office (AA)
Lead executing agency: Afghan Ministry of Refugees and Repatriations (MoRR)
Overall term: 2013 to 2016
Over 750,000 people in Afghanistan are internally displaced as a result of the country's political conflicts. This has led to significant problems in the cities and municipalities in which IDPs settle – in particular because of the lack of living space and the fact that displaced people are often unable to provide for themselves. For this reason, GIZ is supporting the Afghan Ministry of Refugees and Repatriations (MoRR) in various ways. This includes the construction of temporary accommodation and a new school building, handicraft courses and basic courses in reading and writing, as well as in conflict resolution and citizenship. So far, around 6,000 people have taken part in the training courses, which are designed to help people to help themselves and improve their employment prospects. The courses are implemented by Afghan non-governmental organisations under the direction of GIZ.