Text und Fotos
MARIAN BREHMER
The snow-capped peaks of the Hindu Kush mountains glisten on the horizon. The morning air is crisp and clear, there is not a cloud in the sky. A dirt road leads to a rock face in which two giant statues of Buddha once stood watching over the city of Bamiyan, with its 100,000 inhabitants – until the Taliban reduced them to rubble with a truck-full of dynamite in 2001.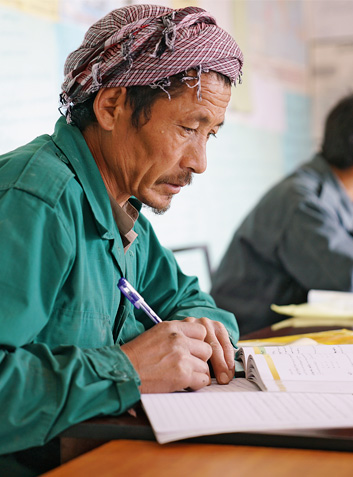 Times are better now in the province of the same name in central Afghanistan. Bamiyan is considered one of the country's most stable regions. Just a few minutes' walk from the Buddha caves, at the police station in the first municipal district of Bamiyan, police officer Karima Hosseini is on duty today. In front of the entrance gate, she waits for visitors in a steel container. There are checks that have to be carried out before anyone can enter the police station. Hosseini asks an old woman to step forward, enters her name in a register as well as the exact time, to the minute.
A few years ago, Karima Hosseini would not have been able to perform this routine task. Like many people in Bamiyan, she did not go to school. Today, the 33-year-old has successfully completed the literacy programme implemented by the Deutsche Gesellschaft für Internationale Zusammenarbeit (GIZ) GmbH on behalf of the German Federal Foreign Office to prepare police officers for their working lives. Since 2015, 700 police officers in the central Afghan province have learned to read and write. The basic course on reading, writing and numeracy is followed by further classes focusing on job-specific knowledge: what is an arrest warrant? How do you document a suspect? What rights does the person have?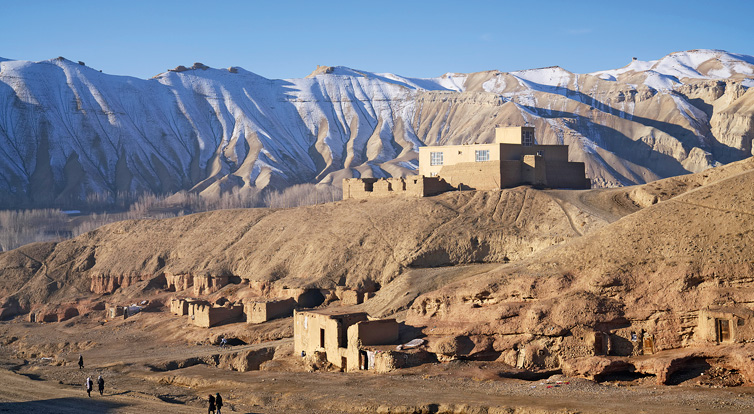 But it all starts with learning to read and write. Afghanistan has approximately 36 million inhabitants, 65 per cent of whom are illiterate. Many police recruits are also unable to read and write. They often come from socially disadvantaged households. Instead of going to school as children, they had to work to contribute to family income. The police force is a popular career choice for people with no schooling in Afghanistan. In return, they have to accept a high level of risk: in many parts of the country, police officers are injured or killed in Taliban attacks.
'I'm a different person now that I can read. I think that education changes your character.'

KARIMA HOSSEINI, graduate of the literacy course
Karima Hosseini grew up during the civil war of the 1990s. There were hardly any functioning primary schools at that time. This was then followed by the Taliban regime, which prohibited education for women. If a woman broke the Taliban's rules, Hosseini remembers, she was beaten on the streets. She decided to join the police seven years ago. A woman in her neighbourhood tried to take her own life because of her husband's violence. With no female police officers to turn to, the woman was desperate. The neighbour did not want to confide in a strange man.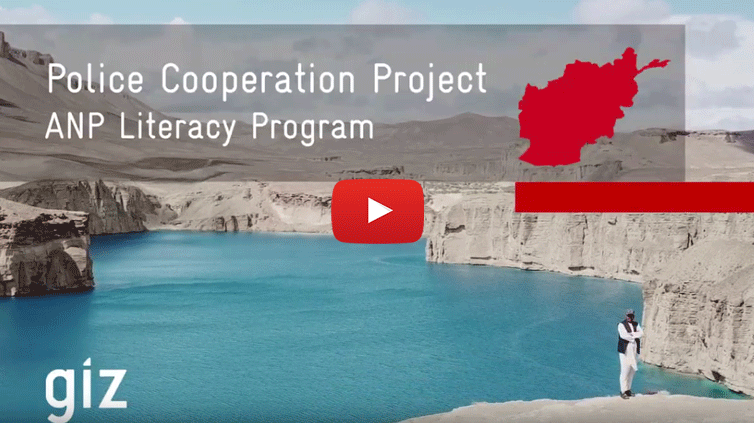 Giving women a voice
'That experience was a turning point for me,' remembers Hosseini. 'I wanted to give women in Bamiyan a voice and help them solve their everyday problems.' Being a female police officer also has its advantages in Afghanistan's conservative culture, she says: 'It's easier for us to call on households in which violence is a daily occurrence. Men would not be able to gain access as easily.' Hosseini's family supported her career choice, but many in her social circle had their doubts. A woman who does not stay in the kitchen seemed suspect to many. Yet over the years, her confidence has grown. 'When I first joined the police, I couldn't even read an arrest warrant,' she says. 'I'm a different person now that I can read. I think that education changes your character.' After work, she can now help her son and daughter with their homework.
The police station where Hosseini works six days a week from 9 am to 4 pm is built in the traditional wattle and daub style of Bamiyan. As well as a department of criminal investigation, a narcotics department and an intelligence office, the courtyard also contains a classroom where courses for young police officers are held six days of the week. 'How do you behave at a checkpoint when you have to stop vehicles and search people?,' teacher Abdulwahid Hamta asks his class, which consists of nine men and four women. The walls of the classroom are decorated with posters of different types of weapons, a map of Afghanistan and motivational messages in Dari. A student in military uniform and a turban raises his hand: 'I start by introducing myself by name and explaining why I'm carrying out checks – for example, if there is a specific risk of attack.'
AFGHANISTAN

 

Capital: Kabul / Population: approx. 35 million / GDP per capita: USD 586 (1) / Economic growth: 2.6 per cent (2) / Human Development Index ranking: 168 (out of 189)
Source: (1, 2) World Bank 2017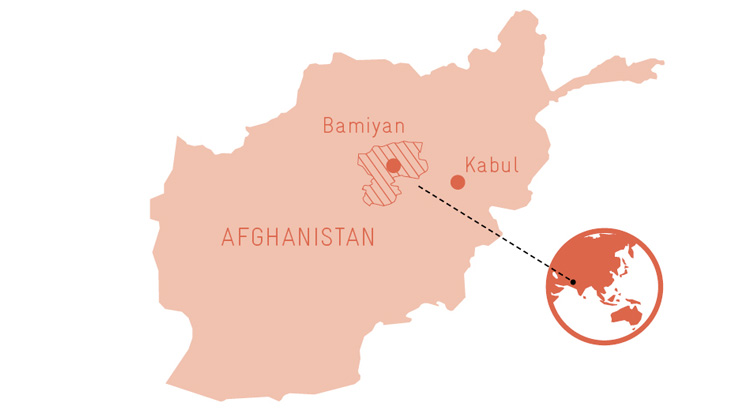 Being able to read and write are essential skills for professional police work. GIZ is supporting efforts to raise literacy levels in Afghanistan on behalf of the German Federal Foreign Office.
www.giz.de
Contact: Georg Fritzenwenger, georg.fritzenwenger@giz.de
In fact, dealing with civilians respectfully is a core element of the special curriculum of the follow-on police course developed by GIZ. The security situation in Afghanistan often requires police officers to carry out military tasks, with clear orders and strict compliance. This can make them seem harsh. 'The more inconsiderate and incompetent the police is perceived as being, the less people trust it – and therefore the state. And when mistrust of the state takes hold, this opens the door to radical, armed groups,' says Georg Fritzenwenger, who is responsible for the project. Well-trained police officers are therefore an important factor in ensuring stability in the country, which is still fighting Taliban militia in many provinces. Bamiyan, however, is a few steps ahead of other regions. Thanks to its stability, the police there can focus on training.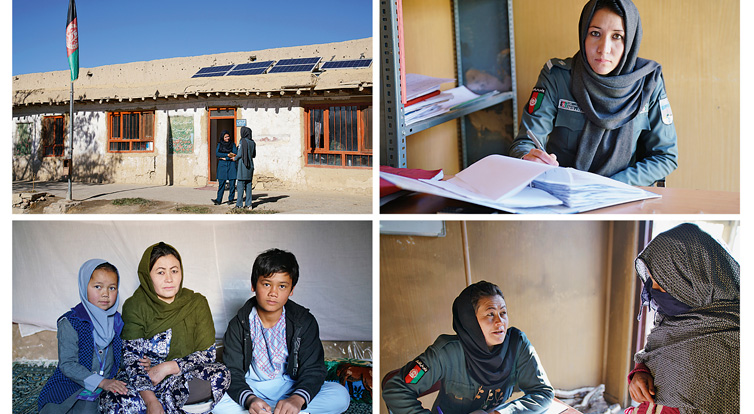 Security deployment during elections
The percentage of women who have completed the literacy course is still low, at two per cent. But the potential for social change offered by the young female police officers is high, as Gulsoom Hosseini knows. She has been coordinating the police literacy course in Bamiyan for four years. The 28-year-old has a watchful eye and wears subtle makeup and gold bangles under the sleeves of her uniform. She attended the police academy in Kabul, is now studying law and wants to be a role model. 'We women should be able to work in all areas of public life as easily as men, whether in private organisations or in government,' she says in a determined voice. The fact that women already play an important role in society in Bamiyan was demonstrated during the national parliamentary elections in October 2018: around 500 women, most of them illiterate, were trained by female police officers – who themselves had already undergone training – to carry out body searches of female voters in front of polling stations. They therefore contributed to ensuring that the elections ran smoothly.
Police officer Karima Hosseini is, in any case, happy to have found her calling. The monthly salary of 8,000 afghanis (almost EUR 100) is a solid income in Bamiyan. Is there anything she would like? 'Safety, security and education for all Afghans,' she says without hesitation. 'My primary goal is to serve my fellow human beings. To do that, I'll keep working for the police until they throw me out.' She laughs and points to the empty office chair, which belongs to the officer in charge of the police station. 'My goal is to sit there one day. The first thing I would do as head of police would be to introduce courses in reading and writing for all women in the city, to strengthen their position in society.'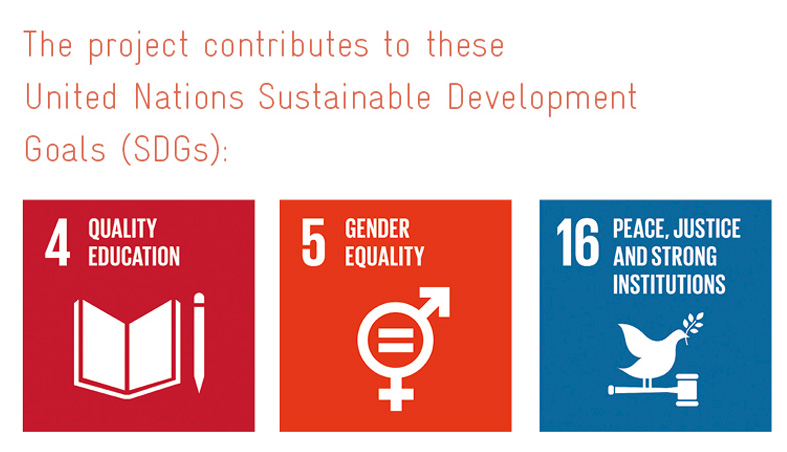 published in akzente 1/19